That's what strategists at Nomura are saying. Nomura says that commodity markets are now mis-priced with risk skewed to the downside. Despite emerging market equity weakness and tightening, inflation fears have dominated and resulted in this skew. Nomura says it's time for an adjustment (via Hedge Analyst):
Nonetheless, commodity prices too have begun to look stretched relative to other growth assets. Figure 2 looks at the normalised pricing error between each of our growth-related assets and the overall measure of growth implied by the basket, both today and at the launch of QE2 in early November. A few things are clear. First, a lot of the mispricing gaps have started to close since the beginning of the New Year, as G10 rates sold-off and G4 equities caught up with positive growth surprises in the developed economies. Second, in EM equity markets have corrected quite sharply as countries have started to face challenging inflationary winds and tighter monetary policies. Commodities, however, stand out.

Despite the fact that they were already too optimistic with respect to growth in early November, they appear to be even more so in the first months of 2011, with the CRB index making new highs. Clearly, risks in commodities seem to be skewed on the downside, as they are the only asset class that has not reflected the tighter EM policy/ weaker growth backdrop at all. In an attempt to capture those risks we recommend short positions in copper, expecting commodity prices to revert to the recent path lower of commodity currencies.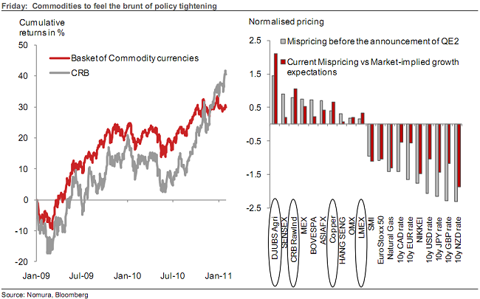 click to enlarge
Source: Nomura, via Hedge Analyst