Cisco Systems (NASDAQ:CSCO), a former darling for tech investors, was being thrown in the trash can Thursday as investors asked, "What have you done for me lately?" (See recent earnings report here and earnings call transcript here.)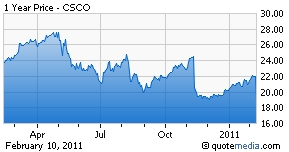 With CSCO down over 13% as of this writing, it's this type of carnage that piques my interest. Usually, selling like this can create a great buying opportunity for investors looking for value. Granted, a big down day does not make a stock a buy, as a stock must have value from the underlying business, or it truly is worthless. One only needs to look at stocks in the dot-com days which had no earnings, ever, meaning there was no value and no price made it worth buying the company stock. Is this the case for CSCO today?
I love looking under the hood of big, brand-name companies like CSCO when they are getting crushed to see if I can uncover a hidden gem of a business. Today, I very much like what I see when I look at CSCO.
As many of my followers know, the first thing I love when buying a company is a dividend. Most of my articles in the past have focused on dividend paying companies. While Cisco does not pay one currently, they will begin this fiscal year paying their first ever. So that is a plus in my book as I will start to see some business profits hit my clients' accounts this year.
More importantly, I like to pretend that I have enough money to buy the entire company when I look to buy the stock, and determine if that would be a good idea or not. Today, Cisco has a market cap of $106 billion. On the balance sheet they have about $39 billion in cash and a little over $12 billion in long term debt. So what I do is pretend I have $106 billion to buy the entire company and see what kind of return I can expect on my money.
To do this, I like to look at the Free Cash Flow the business generates. This is the amount of cash I could look to pull from the business as its sole owner, after paying all expenses to run the business, and investing in expenditures to grow the business. When I look at the previous three fiscal years of free cash flow, I notice that Cisco has generated $28.8 billion during this time. Assuming no growth going forward (although the CEO said he expects revenue growth to be 2-4% per this coming year), I can hope for a 9% annualized return based on my purchase price of $106 billion. For the world dominator in internet infrastructure, this is a pretty healthy return.
But it gets better...
Remember that the company has $39 billion in cash and $12 billion in long term debt. When I buy the company, I get all of that cash. Let's again pretend that I use $12 billion to pay down the long term debt, which I am assuming averages 6%. This would bring my free cash flow up another $700,000,000 or so. I then use the remaining $27 billion and give it to myself as a special dividend, thus bringing my true cost to buy the entire business down from $106 billion to only $79 billion. Now I am making $9.7 billion of free cash flow on my $79 billion cost for a return of 12.2%.
Not such a boring company anymore.
Finally, I like to look and see if Cisco could take itself private by buying itself. Using the $79 billion true cost to purchase the business from the above example, let's pretend that Cisco will be able to do a $79 billion bond sale at 6% interest. The cost on the debt will be $4.75 billion per year. With $9.7 billion in free cash flow, they can not only afford to pay the $4.75 billion in interest, but they will have almost $5 billion in free cash flow left over each and every year, assuming no growth. The bottom line is Cisco could buy itself with a 100% Loan-To-Value bond, and still return 6.2% of free cash flow to itself on the purchase price.
That my dear reader, is a company loaded with value. It is a company that any serious long term value investor who does not already own it, should be putting on their radar and asking, "What was I thinking?"
Disclosure: We are long CSCO in client accounts and we added to our position Thursday on the large drop. We own a 1% position in core client accounts now.