Rick's Cabaret (RICK) announced FY 1st quarter earnings and they surpassed expectations. Consensus for the quarter was $0.17 a share and management generated $0.21, rocketing past same quarter last year performance of $0.08. Revenues were down by 5%, but costs were slashed, leading to the earnings gain.
RICK operates 22 adult entertainment clubs, also known as strip clubs. RICK has developed a cluster of clubs in the Dallas area, operating 7 in the greater metro area, or about 30% of its locations.
More information can be found in previous articles here. RICK investors' page can be found here.
Wall Street has increased earnings estimates and price targets to coincide with the better-than-anticipated earnings. Full FY2011 eps estimates are now in the $0.85 to $1.00 range, with price targets of between $12.50 and $13.00.
The Las Vegas club continues to be a drag on earnings, even though the club's losses were less than last year. On a per share basis, the Las Vegas club lost $0.037 in the most recent quarter, an improvement on the $0.05 experienced during the same quarter last year. Revenues tumbled to $1.1 million for the quarter, down substantially from the $3.1 million recorded last year. The improved profit picture was a direct result of lower marketing expenses, mainly from less "payola" to taxi drivers for delivering clients to their front door.
RICK continues with its roll-up expansion plans of adding one club per quarter, and has plenty of cash to continue its growth. Management bought back a few more shares this past quarter, believing its stock is undervalued.
The high-end client base is starting to return with spending per patron improving. During the recession, this customer profile was hardest hit, and RICK had become more dependent on the middle of the spending profile. The return of the high-end clients drives higher revenues and profits over time.
Earnings were announced after the market closed on Feb 9th. The next day, Feb 10th, the stock opened flat and traded uneventfully, both in volume and price, until about 3:00 pm. At that time, volume picked up substantially and share prices took off like the space shuttle, closing the day up 12.5% on more than 7 times average volume. Either someone really wanted in or there is pending news soon. Keep a close eye on the ticker over the next few days to see if there is follow-through or an announcement.
RICK has the potential to earn a minimum of $1.00 to $1.20 per share over the next few years, and, with growth rates in the high teens, a $15 share price is not out of the question. Longer-term, club expansion and an improving consumer discretionary spending profile should push profits higher, allowing share prices to regain the $20 level.
A 3-yr chart of RICK stock price is below:
click to enlarge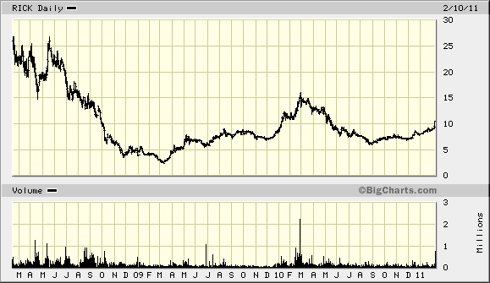 As always, investors should conduct their own due diligence, should develop their own understanding of these potential opportunities, and should determine how it may fit their current financial situation.