by David Urani
Three significant items in the housing sector popped up this week, and they weren't pretty. Foreclosures, mortgage rates and prices took a turn for the worse according to RealtyTrac, Freddie Mac (OTCQB:FMCC) and Zillow respectively. We and the market already anticipated these being three of the biggest headwinds to the housing market this year and these reports are some more confirmation of those fears.
Foreclosure filings according to RealtyTrac went up month to month in January to 261,333 total filings from 257,747 filings in December. The report was mostly indicative of a resumption of higher levels of foreclosure activity after the process had been slowed significantly in the last few months of 2010 by the bank "robo-signing" scandal.
The main item to look at is the "Real Estate Owned" (repossessions) column, which increased by 8,286 to a total of 78,133. More normal repossession activity looks to have resumed after banks were forced to take a long second look at their pending foreclosure supply to make sure all the legal issues were resolved. That being said, this item is set to continue to rise, having dropped off from a level of more than 100,000 monthly in September. Generally speaking, even though there was an uptick of activity in January, lenders are still waist deep in paperwork so there is certainly more to come.
click on all charts to enlarge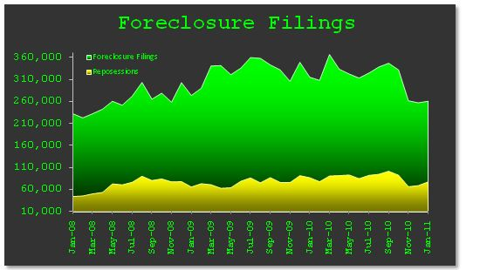 Freddie Mac's 30-year fixed mortgage rate went up this week to 5.05% from 4.81% last week. That's the highest it's been since April. With all of Ben Bernanke's quantitative easing and low interest rate talk, mortgage rates have nevertheless continued to rise. The all-time low was set in November at 4.17%, and psychologically the rise in rates will not be too welcome. Comparing this week versus November, the monthly payment on a $200,000 home is now roughly $80 higher.
Potential customers who have been watching the market might begin looking for some relief on the sticker price as an offset. As Zillow's home price index confirmed on Wednesday, home prices had already been falling through December, touching a new low for the cycle at $175,200. The hangover after the national tax credit for home purchases combined with winter seasonality has been too much for prices to withstand. The increases in foreclosures and mortgage rates will not be helping the situation.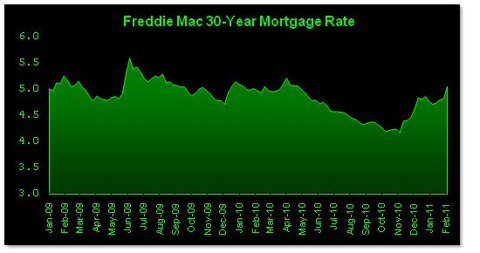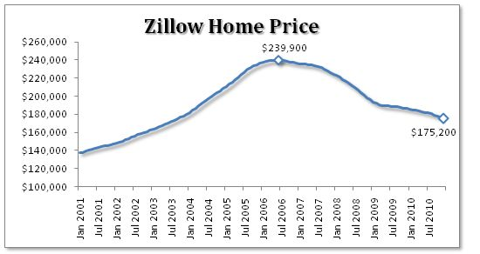 These developments are coming right as the housing sector begins to move into the post-super bowl selling season. It will be an intriguing clash of opposing forces and it will be a critical time in the housing market, as we will begin to get a picture as to whether or not housing demand for 2011 will be strong enough to overcome the many hurdles that remain. As we have deduced previously, we suspect annually adjusted existing sales will need to go higher than the 5.3 million rate posted in December before prices can rise. We are inclined to stay bearish until sales can hit the 6 million mark.