If you are interested in dynamic networking stocks, then you might have come across an ETF known as PowerShares Dynamic Networking (NYSEARCA:
PXQ
). This ETF invests in companies such as Juniper Networks (NYSE:
JNPR
), Qualcomm (NASDAQ:
QCOM
), and VMware (NYSE:
VMW
), just to name a few.
The performance of the fund has been impressive. I took a look at a two-year time span so that I could analyze what happened to the fund on the way to and from the March 2009 market lows. The fund managers seem to be earning their keep, as the ETF yielded a 59.8% return from 1/2/2008 through 2/10/2011. What was more impressive were the gains in the individual holdings of the fund. Below is a snapshot of the ETF's top 10 holdings:
Amphenol Corp.






Fund holdings as of 2/10/11.

Source: invescopowershares.com.
Looking at the top 10 holdings made me wonder if I even needed the fund at all. The fund currently has an expense ratio of 0.63% and an asset turnover rate of 29%. I checked the performance of these stocks using the same date range -- 1/2/2008 through 2/10/2011 -- to see if a $10,000 investment would have performed better in PXQ or split equally among these 10 stocks.
[Click to enlarge]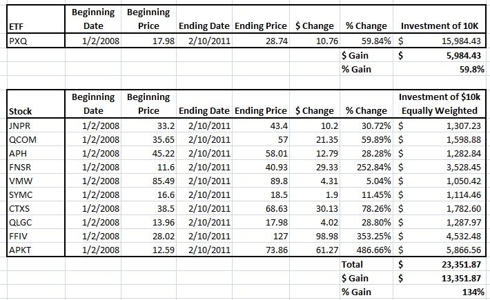 Click to enlarge


















As you can see, by simply giving an equal weighting to the fund's top picks, it is possible to beat the fund without the heavy turnover rate. Of course, I do not know for sure when PXQ added those stocks into its top 10 holding list, but I think, as with the case of most ETFs and mutual funds, that you can outperform it by sticking to its top bets. I think this is especially true of PXQ, in which the fund managers have shown that they are successful in picking the top stocks. I currently own PXQ but am considering employing this type of strategy.
Disclosure: I am long FFIV, PXQ.