In 2008, Teck Resources (NYSE:TCK) purchased Fording Canadian Coal Trust (FDG) for $14 billion in cash, leveraging the balance sheet up just before the financial crisis was about to hit. At the time, Teck took on $9.8 billion dollars in debt in order to help finance the purchase, and at the time it appeared as though Teck was going to have major problems for years to come.
In 2009, Teck made deep cuts, attracted an investment by the China Investment Corporation, and embarked on a program to pay down the debt acquired in the Fording purchase. In two years' time, Teck has completely repaid the bank debt and achieved an investment grade rating despite going through one of the worst economic periods in history.
By the end of 2011, Teck is projected to be net debt free, allowing for the possibility of an acquisition to continue filling out the portfolio, returning cash to shareholders through dividend increases and stock buybacks or some combination of both.
We have already started to see the latter scenario being borne out with an increase of the semi-annual dividend by 50%.
Teck's key products are in great demand: Copper in housing and electrical buildout, metallurgical coal for Chinese steel mills, and zinc, which is primarily used to galvanize iron and steel.
Copper prices have climbed to the $10,000 level, leading the metals higher. Strong demand growth will continue to pressure supply, and while there will be a switch to aluminum through the substitution effect, the supply/demand balance will continue to remain tight for the foreseeable future.
Teck's metallurgical coal is in strong demand as the full effects of flooding in the Queensland area of Australia are beginning to ripple through the coal market. Dalrymple Bay, Australia's largest coking coal export terminal, was shut due to Cyclone Yasi, compounding problems caused by heavy rains associated with the Pacific La Nina.
Heavy rains and flooding in the Queensland area have shuttered mines and forced companies to declare force majeure on contracts, sending smelters racing for supplies, while the Baltic Dry Index has collapsed due to the influx of supply on the market.
The major reason investors should consider Teck is the Red Dog mine in Alaska, which is ramping up production and coming online. Red Dog is expected to be one of the largest zinc mines in the world once full production is reached, with a significant lead byproduct.
Lead is a known substitute for tin in solder operations, as well as for its use in batteries. Tin prices have gone up significantly since 2007 when Indonesia, a primary supplier of tin, tightened exports and sparked a major bull market.
Technically, zinc has traced out a reverse head and shoulders pattern from the the beginning of 2010, as shown in the chart below, and is on the verge of a breakout.
[Click to enlarge]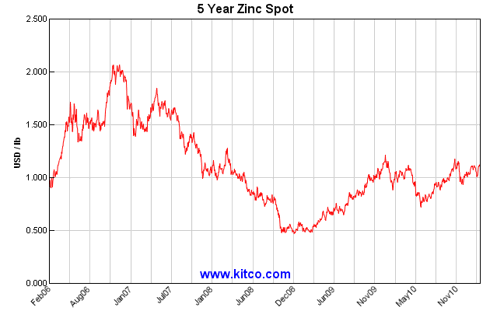 Click to enlarge
Teck has pulled back in recent days as the stock consolidates its recent gains (up 100% since August).
Tuesday's earnings report was a bit disappointing as Teck is being hit with a strike at one of its mines, landslides in British Columbia delayed some coal shipments in the fourth quarter, and the market was surprised at the size of Teck's debt retirement -- but none of these issues should be looked at as a long-term negative on the stock.
On the positive side, Teck reported record revenues and operating profits during 2010, and $3.1 billion in debt was paid down, resulting in an annual interest savings of $225 million.
With its three major lines of business hitting on all cylinders in terms of demand and pricing, investors would be well-advised to give Teck a look, as the pullback presents an opportunity to dollar cost average into a position.
Disclosure: I am long TCK.