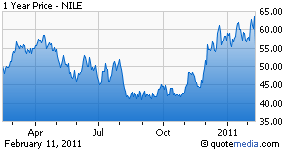 We want to go short on Blue Nile (NASDAQ:NILE), and we're suggesting it's got legs to head deeper in the red Friday after dropping 12.5% to 55.60 in Thursday's night trade after disappointing Wall Street with its results and guidance.

However, the historical data on earnings-driven downside moves in NILE is downright demoralizing. It's like that feeling you get when you buy that ring and realize, "that's one tiny diamond."

NILE has recorded an earnings-driven after-hours decline in six of 12 quarters tracked in our MT Pro database. 100.0% of the time (6 out of 6 times) the stock reversed in the opposite direction by the close of the next day's regular session compared to the Extended Hours "effective close."

When it reversed, the price closed in the opposite direction on average by 8.5% (in 6 events) from the "effective close."

The strong reversal trend in place in NILE shares has us leery of loading up on the short side so we would look to play the downside early tomorrow and set up for quick exits if negative momentum starts to wane.

Early, more risk tolerant shorts may want to eye possible entry points near the 58 to 56 range, levels that could see weakness into the mid-50s. On the long side, there was a tentative floor established tonight close to 55, an area to watch as a possible entry point, but one we wouldn't nibble at until we see some decent upside liquidity flow in.

In Thursday's after-hours trade, NILE tumbled through the 60 mark to a first-half after-hours low of 54.87 before firming to still downside levels between 57.87 and 55.60, a range where it stayed through the bulk of after-hours trade.

A pre-bell open Friday may have legs surrounding the 56 level.

Disclosure: I have no positions in any stocks mentioned, and no plans to initiate any positions within the next 72 hours.