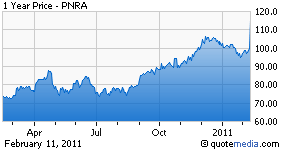 Sorry, New York City, the rest of America doesn't have a deli on every corner. But we still gotta eat some decent food for lunch. Panera Bread (PNRA) is the 2nd Avenue Deli of the other 49 states, and it appears we're drinking the Kool-Aid.

PNRA jumped 10% to 110 in Thursday's after-hours trade after reporting better-than-expected results and guidance.

The strong evening gain, combined with some consistent historical data on the upside would have us looking at a long play on PNRA Friday.

PNRA has recorded an earnings-driven after-hours gain in five of the last 12 quarters tracked in our MT Pro database. Also, 60.0% of the time (three out of five times) the stock followed-through in the same direction by the close of the next day's regular session compared to the Extended Hours "effective close." When it followed through, the price closed further in the same direction on average by 4.8% (in three events) from the "effective close."

The historical data is decent in terms of offering optimism on a possible long play in the shares Friday. Combined with what looked liked tempered confidence in the ranges tonight, we would look to play the long side of the shares at around 107 to 109, an area that could set up as a base support and perhaps see some bumps back toward 110 to 111.

In Thursday's after-hours trade, PNRA firmed from 104.63 to an after-hours high of 111.10 early in night trade before steadying between 108 and 110 through the bulk of its evening action.

A pre-market open Friday looks to have potential in the 108 to 110 range.

Disclosure: I have no positions in any stocks mentioned, and no plans to initiate any positions within the next 72 hours.