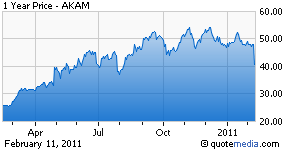 Back in September, I wondered if Akamai (NASDAQ:AKAM) was ready to come back to Earth. The stock had run up so quickly and yet the growth in earnings, revenue and free cash flow seemed to be faltering. The company's growth appeared to be decelerating. It hardly warranted such a lofty PE. Its stellar climb was undeserved. I initiated a short position.
This week, Akamai fell back to Earth. The company guided down earnings and revenues below consensus estimates. Revenue was forecast between $265 million to $275 million, below even the lowest analyst estimate of $278 million (average consensus at $283 million). EPS forecast was 1 to 3 cents below consensus. Management blamed a return to "more normal seasonality" and "a step down in revenue for Q1 due to normal renewal price adjustments."
So, will this be the new "more normal" AKAM we will see in the future, a vision of a sluggish future? A company that lowers its prices to keep its customers? A company at the mercy of the seasons? Investors shot the stock. It was a meteor crashing into the Pacific Ocean, plummeting 15%.
During the conference call analysts appeared dumbfounded. They were taken aback by the weak guidance. Look at some of the questions:
"And then if my math is right, it looks like there's 45 net new customers added sequentially, which is the lowest it has been, and certainly low for a Q4. Is there anything unusual in the demand environment, or did the churn rate go up somehow?"

"First on value-added services growth, if I'm doing the math correct, it looks like about 35% growth in the first three quarters of the year. It slowed down to about 22% growth in the fourth quarter. So why did you see that deceleration?"

"So is this - up until now, each quarter for quite a while, you've said that volume growth rates and bandwidth have been accelerating. So are we now at the point where volume growth is beginning to decelerate? Even though it's another snap back given some of the larger trends on video, et cetera, I guess I'm surprised to see that decelerate in a lower growth rate."
AKAM has indeed fallen. Investors and analysts may need to get used to AKAM's "new normal."
Disclosure: I have no positions in any stocks mentioned, and no plans to initiate any positions within the next 72 hours.