By Chris McKhann
Earnings results and downgrades have pushed Expedia (NASDAQ:EXPE) down 15 percent, but option traders appear to be calling a bottom in the stock.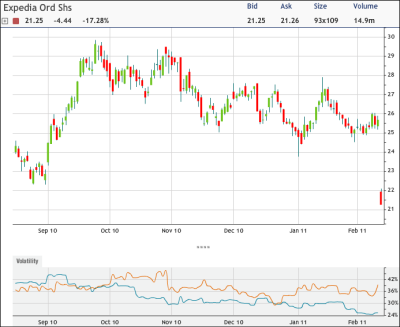 The online travel service gapped sharply lower at the open and now trades at $21.25, down 17.28 percent on the day, after reporting that fourth-quarter earnings were down 30 percent. This puts EXPE back to where it was in July as it recovered from the 52-week lows. Shares almost broke $30 in late September but were trending lower into yesterday's trade, which saw the stock close at $25.69.
Not surprisingly, today's option action is in the puts. More than 46,000 contracts have changed hands already this morning, more than 10 times Expedia's average for a full day.
Puts outnumber calls by almost 2 to 1. Leading the volume is action in the March 20 strike, where more than 18,000 puts have traded against zero open interest.
Most of those contracts went for $0.30, and 20 minutes later another big block of 5,000 traded for $0.35. It appears that the institutional size blocks were all sold.
There is obviously a lot of trading in the stock, so it could be that these puts were sold against short shares. But this also continues the interesting theme that we have been following of put selling after earnings. For the most part we have seen it done on stocks that have risen, but it appears that at least one fund likes selling near-term puts after earnings releases to capture the volatility premium once the news is out.