By Angus Robertson
Analyst upgrades of retailers again outnumbered downgrades in January, but only just, according to data compiled using Alacra Pulse.
In the fourth quarter, upgrades of retail companies had slightly exceeded downgrades, but breaking the data down by month showed a strongly improving trend over the three months. In October, there were only two thirds as many upgrades as downgrades, while in November there were a few more upgrades than downgrades. In December there were 72 upgrades and 53 downgrades or 1.36 upgrades for every downgrade. There was less rating activity in January, with 26 upgrades and 24 downgrades of retailers (excluding online only and food stores) for a ratio of 1.08 to 1.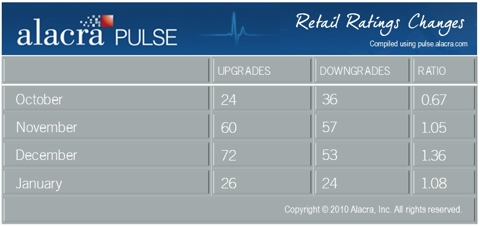 Click to enlarge
(Click to enlarge)
Retailers showing the greatest rating activity in January were The Talbots Inc, (NYSE:TLB) and RadioShack Corporation (NYSE:RSH) with four actions each.
Talbots was downgraded from Buy to Hold or Neutral by Janney Capital, Jefferies, Miller Tabak and Nomura after reporting disappointing sales numbers.
The women's apparel retailer revealed Thursday that John Fiske is departing as chief stores officer to pursue other opportunities. The departure follows Talbots slashing its fourth-quarter guidance last month, another setback in the retailer's erratic success at trying to transform its image from a stodgy women's clothier to a more trendy destination for younger women.
Fiske's departure "is further evidence that the turnaround at Talbots is still far, far away," said Randal Konik, retail analyst at Jefferies. (Fox Business)
RadioShack was downgraded to Neutral or equivalent by Credit Suisse, FBR Capital Markets and RBC Capital Markets. Wedbush upgraded the struggling electronics retailer, but only to Neutral from Sell. RadioShack was downgraded in the last quarter by Goldman Sachs and Barclays Capital.
Aeropostale (NYSE:ARO) saw nine downgrades in December, with no upgrades in the quarter. The clothing retailer saw two more downgrades in January, to Underperform by Jefferies and Wells Fargo, while Piper Jaffray has cuts its price target. Wells Fargo expects "Q4 to be the first down comp and EPS quarter since 2007."
Abercrombie & Fitch (NYSE:ANF) which received six upgrades in December, was downgraded to Market Perform in late January by FBR Capital Markets.
Piper Jaffray downgraded AnnTaylor Stores (NYSE:ANN) to Hold but the women's retailer was upgraded to Buy at Citigroup (NYSE:C) in January, following upgrades by UBS and Cowen & Co in the fourth quarter.
The Home Depot (NYSE:HD) received an upgrade to Buy from Goldman Sachs (NYSE:GS), adding to the five upgrades received in the fourth quarter. Goldman simultaneously downgraded rival Lowe's (NYSE:LOW) to Neutral.
Analysts' favorite dollar store seems to be Dollar General (NYSE:DG), which was upgraded to Outperform by Avondale in early January and by Wedbush in early February, following three upgrades and no downgrades in the fourth quarter.
Morgan Stanley (NYSE:MS) upgraded Dollar Tree (NASDAQ:DLTR) to Outperform in January, but the company has since been downgraded to Neutral by Piper Jaffray, following three downgrades and two upgrades in the fourth quarter.
Piper is even more negative on Family Dollar Stores (NYSE:FDO), which it downgraded to Underweight last week after RBC Caital had upgraded it to Outperform in January. Family Dollar had two downgrades and one upgrade in the fourth quarter.
For the previous analysis of retail upgrades and downgrades, click here.