With the U.S. unemployment rate still over 9%, the Federal Reserve will most likely keep interest rates at low levels for quite some time. Thanks to booming ETFs, new asset classes such as preferred are available for retail investors. Here are four reasons why preferred ETFs should be included in your portfolio:
1. High Stable Dividends
The top three preferred ETFs are iShares S&P US Preferred Stock (NYSEARCA:
PFF
), PowerShares Financial Preferred (NYSEARCA:
PGF
) and PowerShares Preferred Portfolio (NYSEARCA:
PGX
). Currently their yields are around 7%. This chart from ETFreplay.com shows their dividends are stable, even during the financial crisis:
Click to enlarge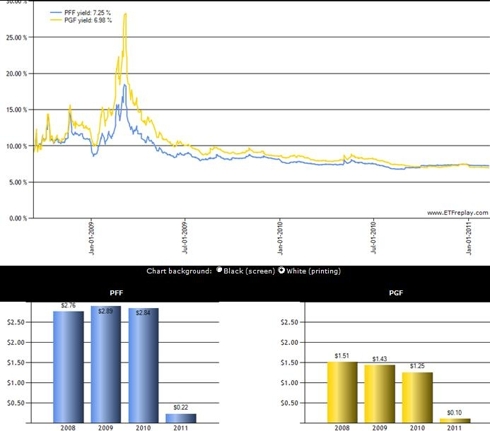 On the other hand, many stock dividend yields are now much lower due to the recent equities rally. For example, the yield for the Dow Jones Select Dividend Index Fund (NYSEARCA:
DVY
) is 3.42%.
2. Low Volatility
Preferred has lower volatility than common stocks. iShares.com shows that over the last three years, PFF's beta vs. S&P 500 (NYSEARCA:
SPY
) is only 0.22.
3. Tax Benefits
Dividends may be taxable at lower rates than bond income: 15% for preferred dividends, vs. ordinary income tax rates for income from bonds.
4. Preferred Has More in Common With Stocks Than Bonds
The majority of preferred stocks are issued by financial companies. PowerShares Financial Preferred (
PGF
) consists of pure financials. Even though the top two holdings of PFF are General Motors (NYSE:
GM
) and Ford Motor (NYSE:
F
), 83.7% of PFF is in financials.
I ran a single linear relationship between the price of PFF and Financial Select Sector SPDR (NYSEARCA:
XLF
). The correlation is 0.91 between them over the last two years, which means there is a very strong positive relationship between PFF and XLF. However, in the same period, the correlation between PFF and Barclays 7-10 Year Treasury Bond Fund (NYSEARCA:
IEF
) is only 0.51. In other words, PFF is more related to stocks than to bonds.
While the financial sector was hurt badly during the recession, it has rallied back. Big banks like Goldman Sachs (NYSE:
GS
) and JPMorgan (NYSE:
JPM
) continue to increase their profitability. With preferred, you can benefit from the recent strength in the financial sector.
However, preferred also has the following three drawbacks:
1. Preferred Is Callable
Preferred is interest-rate sensitive. Many preferreds are callable and they can be retired by issuers when interest rates go down.
2. Suspended Dividend
Just like common stocks, the dividends on preferred stocks can be suspended by companies.
3. Higher Risk Than High Yield Bonds
Standard deviation is used to gauge a fund's risk. It shows how much variation there is from the average. The more a fund's returns fluctuate from month to month, the greater its standard deviation. The following shows that preferred is riskier than junk bonds, but at a lower yield:
| | | |
| --- | --- | --- |
| | | |
| U.S. Preferred Stock Index Fund (PFF) | | |
| High Yield Corporate Bond (NYSEARCA:HYG) | | |
| Investment Grade Corporate Bond (NYSEARCA:LQD) | | |
Conclusion
Given the severity of the recession, it can be hard to judge when the economy will fully recover. People who are desperately looking for a dependable yield might add small portions of preferred ETFs into a portfolio. Not only is preferred a safer way to participate in a thriving economy, it also adds diversification benefits to a portfolio.
Disclosure: Long PFF. Data is from iShares and Yahoo Finance and is valid as of February 9, 2011.