Below we highlight the average short interest as a percentage of float for stocks in each S&P 500 sector. As shown, Consumer Discretionary stocks in the S&P 500 are the most heavily shorted, with an average of 5.74% of shares sold short. Materials, Technology, and Financials are the three other sectors with short interest numbers higher than the S&P 500 as a whole. Unsurprisingly, given their high yields and low volatilities, Utilities stocks are the least shorted in the S&P 500. But it is somewhat surprising to see the Industrial sector as the second least shorted sector in the S&P 500.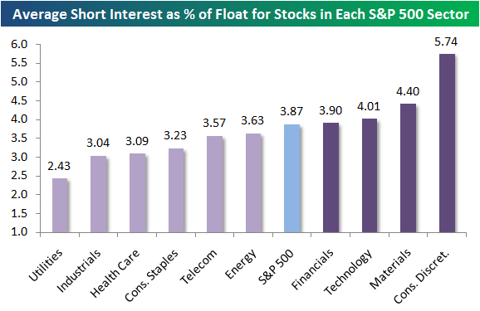 Click to enlarge
(Click charts to enlarge)
Below we highlight all S&P 500 stocks with more than 10% of their sales sold short. As shown, AutoNation (NYSE:AN) is the most heavily shorted at 30.71%. AN is followed closely by Sears Holdings (NASDAQ:SHLD). First Solar (NASDAQ:FSLR) ranks 3rd, followed by GameStop (NYSE:GME), Netflix (NASDAQ:NFLX), SUPERVALU (NYSE:SVU), and Cephalon (NASDAQ:CEPH).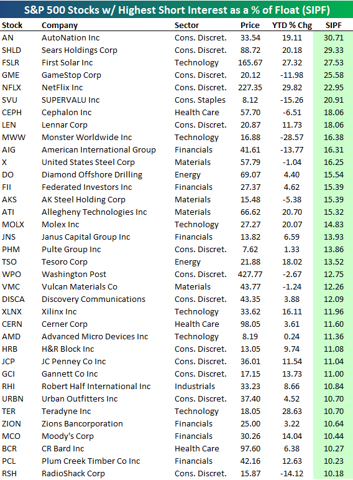 Click to enlarge