Millennium Management was founded by Israel Englander in 1989. Englander, a graduate of New York University with a B.S. in Finance, started Millennium with $35 million. The assets under management figure now stands at $9.2 billion. He managed to raise more than $2 billion during the second half of 2010. Given Millenium's low correlation with the market and relatively better performance in 2008, this wasn't very challenging.
Millennium Management has in excess of 120 different portfolio managers, all managing a quite diversified portfolio. These portfolio managers try to exploit inefficiencies in the marketplace probably in a similar way to Jim Simons. The fund had nearly 2,000 positions in its latest 13F portfolio, so they may be engaged in several arbitrage strategies.
Millennium 's compound annual return is slightly more than 15% during the past 20 years or so. Last year its return was 13.3%. The return was around 17% in 2009, -3.5% in 2008, and 11% in 2007. In contrast to the industry standard 2 percent management fees, Englander doesn't charge any. This is a bit strange because hedge funds with high portfolio turnover, such as Ken Griffin's Citadel, usually charge enormous management fees. Millenium only charges a 20% performance fee.
In its latest 13F filing, Millennium had $8.9 billion in stocks and options in its portfolio. We aren't sure we can uncover a profitable way of imitating Englander's positions. This is the first article in a series that will focus on Englander's holdings over the next six months. The performance of the 20 largest new positions that Englander initiated during the third quarter is summarized below:
20 Largest New Positions

Value
(Million $)

Return

REHABCARE GROUP INC (NYSE:RHB)

20.16

86.29%

LINCARE HLDGS INC (NASDAQ:LNCR)

18.83

6.91%

JONES LANG LASALLE INC (NYSE:JLL)

17.25

18.05%

PHARMACEUTICAL PROD DEV INC (NASDAQ:PPDI)

15.94

9.51%

VODAFONE GROUP PLC NEW (NASDAQ:VOD)

15.85

4.41%

BJS WHOLESALE CLUB INC (NYSE:BJ)

14.01

5.04%

SL GREEN RLTY CORP (NYSE:SLG)

13.72

15.91%

GENCO SHIPPING & TRADING LTD (NYSE:GNK)

12.84

-27.86%

COOPER COS INC (NYSE:COO)

12.53

19.84%

FLIR SYS INC (NASDAQ:FLIR)

12.11

14.54%

MGM RESORTS INTERNATIONAL (NYSE:MGM)

11.27

21.42%

SUNOCO INC (NYSE:SUN)

11.20

10.13%

BARNES & NOBLE INC (NYSE:BKS)

11.03

10.87%

ASTRAZENECA PLC (NYSE:AZN)

10.68

0.45%

FAMILY DLR STORES INC (NYSE:FDO)

10.53

-10.99%

GRUPO TELEVISA SA DE CV (NYSE:TV)

10.24

4.77%

HUDSON PAC PPTYS INC (NYSE:HPP)

9.75

-10.33%

QLOGIC CORP (NASDAQ:QLGC)

9.49

2.30%

GLIMCHER RLTY (GRT)

9.49

13.91%

MASSEY ENERGY COMPANY (NYSE:MEE)

9.22

32.70%
The last column in the table shows each stock's return since the middle of November, when the latest filings were announced. Weighted average return of these 20 stocks was 13.8% vs. 10.3% for the SPY. One could have beaten the SPY by 3.5 percentage points by imitating Millennium's holdings.
[Click to enlarge]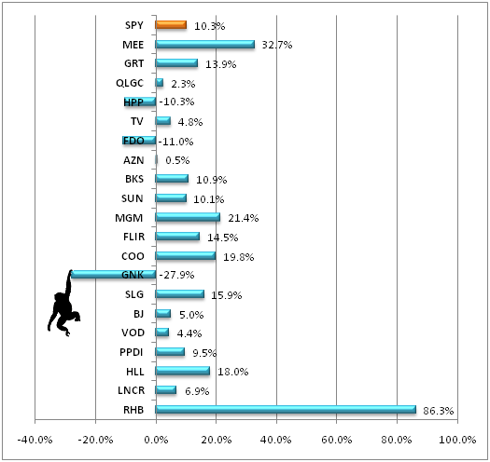 Click to enlarge
Alternatively, one might consider imitating Englander's largest positions in his portfolio. At the end of September, Englander had most money riding on the following six companies:
1. King Pharmaceuticals (KG): Englander had an $82 million investment in KG at the end of September. Pfizer (NYSE:PFE) agreed to buy KG in October for $3.6 billion, and the acquisition will be finished at the end of February. KG will be delisted at the end of February.
2. Boston Scientific Corp (NYSE:BSX): Millennium had $77 Million of BSX shares. The stock lost 4% since Nov. 15. Englander increased his stock holdings of BSX by 21% during the third quarter. BSX was also one of the long term investments of John Paulson.
3. Chevron Corp (NYSE:CVX): Chevron returned 15% since mid November , beating the market by 4.7 percentage points. Millennium invested about $75 million and stock holdings increased by 14% since June.
4. Cephalon Inc (NASDAQ:CEPH): CEPH investment returned -7.2% since November. The amount of investment was $74 million and stock holdings stayed same during the third quarter.
5. Potash Corp (NYSE:POT): Englander's $60 million investment returned 32.7% since mid November, beating the SPY by a huge margin. Englander increased his POT holdings 137% during the third quarter. Dan Loeb's Third Point and Mohnish Pabrai also have large Potash investments.
6. Genzyme Corp (GENZ): Millennium had $58 million in GENZ. The stock returned 5.48% in the last three months, underperforming the SPY. Englander increased his Genzyme holdings during the third quarter. Thomas Steyer's Farallon has Genzyme in its portfolio too. Genzyme is actually one of the top 10 stocks owned by hedge funds.
Disclosure: I am long VOD, SPY.