Historically, the early phases of a post-recession recovery are very powerful. Earnings and cash flow are driving equities now, and this is why this market has continued to trump negative geo-political events and other uncertainties.

Due to its durability, this type of market can cause investors to doubt the market's ability to continue to power higher. Selling out too soon causes investors to return and "chase" later. The "Wall of Worry" creates additional buying volume churn: fuel for equities.

The hallmarks of this phase of the economic cycle are smart YoY earnings improvement, across-the-board business investment, and the restoration or increasing dividends and share buybacks. It is a classic uptrend.

How can one tell that this market remains valued appropriately versus one that's overvalued?

Let's look at three clues as to why there is room to run.

Exhibit A: Market Price-to-Earnings Multiple

The S&P 500 trailing (ttm) PE is currently 17.5X. The forward multiple is estimated below 14X. One year ago, the multiple was 27X.

The long-term average PE is about 15. We are a bit high now, but the one-year forward future earnings will bring the figure back down below the average.

Therefore, while the market may be a bit frothy today, it's anticipated to fall back into line with a margin of safety given forecast earnings. We're fairly valued; not wildly overbought or oversold. If EPS continue to improve, as forecast, the thesis remains intact. Green light.

Five-year S&P 500 Price/Earnings Ratio Ticks: Quarterly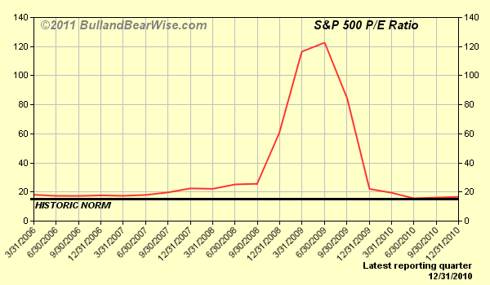 Exhibit B: ISM Manufacturing Index

The ISM Manufacturing index has been a reliable leading stock market indicator since the depths of the 2008-09 Crash. Of late, the correlation between the ISM index and the S&P500 has been over 90 percent. If the index reads greater than 50 percent, it indicates manufacturing is on the upswing. Increased manufacturing is part and parcel to an improving economy and related business expansion. Such economic expansion provides momentum for corporate earnings. Green light.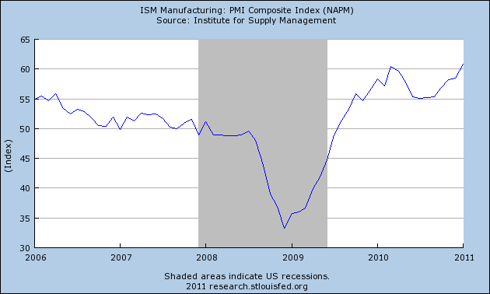 Exhibit C: The Fed

An old Wall Street adage states, "Don't fight the Fed."

Historically, low interest rates and sustained loose monetary policy juices the market. The Fed has embarked upon a period of unprecedented loose monetary policy. The market is lapping it up. Low interest rates spur corporate growth.

While there are many academic arguments about the merits of QE, I prefer investing to philosophy. As long as the Fed dishes up easy money, the stock market has a reason to move higher. When the Fed tightens interest rates, it's time to begin to move to more defensive equity sectors.

What Sectors Will Outperform?

The Industrials, Basic Materials and Energy sectors historically outperform the market averages during the early and middle recovery phase. Indeed, I expect these three sectors to outperform through at least 2011. Select Tech stocks will also shine in this environment.

Large-cap Industrial bellwethers in the Industrial sector include Honeywell (NYSE:HON), Cummins Inc (NYSE:CMI), Emerson Electric (NYSE:EMR), Caterpillar (NYSE:CAT), Illinois Tool Works (NYSE:ITW), Raytheon (NYSE:RTN) and Waste Management (NYSE:WM). While Apple (NASDAQ:AAPL) is typically classified as a Tech stock, I see it as arguably the premier manufacturing stock on the planet.

Basic Materials standouts include International Paper (NYSE:IP), Nucor Steel (NYSE:NUE), Alcoa (NYSE:AA) and Dupont (NYSE:DD).

Sound energy securities include Exxon (NYSE:XOM), Royal Dutch (NYSE:RDS.A), BP (NYSE:BP) and Total (NYSE:TOT).

Disclosure: I am long HON, CAT, ITW, AAPL, IP, NUE, XOM, BP, RDS.A.