Near Field Communications (NFC) is the buzz word of the day. NFC will enable users to make purchases by waving a mobile phone near a payment terminal – essentially making your phone an electronic wallet. Also you can finally say good bye to all of those loyalty cards bulging out of your wallet. That's enough to make me want one. NFC has been around for awhile; however, the rumor that Apple (NASDAQ:AAPL) plans to embed NFC in iPad2 and iPhone5 (Bloomberg) has taken the buzz to the next level.
NXP Semiconductor (NASDAQ:NXPI) is one of four NFC chip companies identified in my blog "Semis Waiting on an iPhone Tear-down to Rip." On Friday, the stock traded down 3.5% on 2X normal volume. This is rarely a good signal especially with the market trading up. Making matters worse, NXPI reports earnings on Tuesday before the market opens. The market has not been kind to stocks that disappoint. Cisco (NASDAQ:CSCO) is the latest to be woodshedded.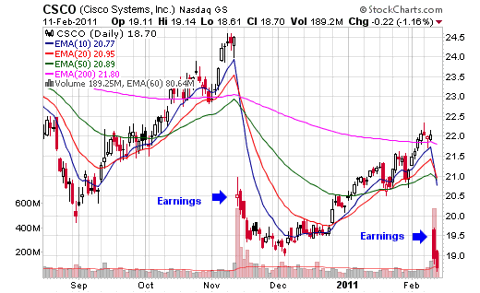 Click images to enlarge
Taking all of this information into consideration, in my opinion, the market is saying sell, or at the very least buy some protective puts. That being said, the tea leaves are never that easy to read. On Friday, while NXPI was selling off someone was loading up on Mar 25 Calls.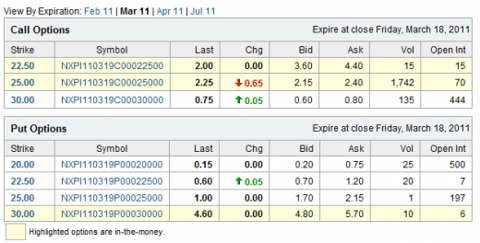 If you are not confused by now – throw this into the mix. If NXPI is going to be included in the iPad2 – the company would almost have to "show their hand" on the conference call. Inclusion on the iPad would significantly increase their revenue, thus requiring an increase in their earnings guidance.
If this stock market stuff was easy – everyone would be rich.
Disclosure: Currently long NXPI. That may change before Monday's close.