eBay (NASDAQ:EBAY) hosted an Analyst Day (seen here) last week to present an update on progress and provide new, aggressive, financial targets, almost two years after it presented goals to analysts at the 2009 analyst day. The tone of the meeting was upbeat and the shares increased over 7% during the presentation on promises to stabilize the ailing marketplace business and robust financial forecasts for the PayPal unit. In fact, eBay expects 20% growth for PayPal and high single to low double digit growth rates for the marketplace segment.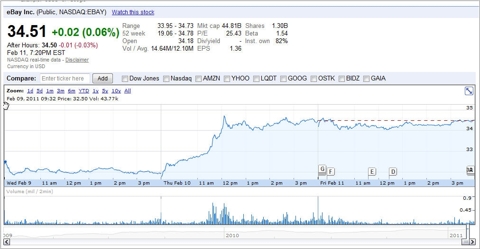 The financial targets provided for 2013 at Analyst Day:
$13B - $15B in total revenues (+15% CAGR)
$7B - $8B revenues from the marketplace business with 38% - 42% segment margin
$6B - $7B revenues from PayPal with 24% - 26% segment margin
$7.5B - $8.5B in free cash flow generation over the next three years
10% - 14% growth in non-GAAP EPS
PayPal continues to be the key focus of management's attention and the unit continues to work driven by the merchant services business. The unit has proven to be the best acquisition eBay has made and it gets us thinking that management should rename the company eBay PayPal. PayPal has done an effective job at leveraging its more than nine-million merchants and over 90 million active accounts, which are expected to grow to 130 million by 2013, increasing its penetration on eBay, adding merchants, integrating Bill Me Later, and expanding internationally, while warding off competitive threats, to-date.
Despite widely-speculated competitive threats from upcoming payment systems from Facebook as well as from Apple (NASDAQ:AAPL), and a regulatory overhang, management believes that PayPal's revenues could double by 2013. That growth will be powered by international growth, increasing eBay penetration to 75% from 69% today; new initiatives with credit growing revenues in the 40% range; and merchant coverage market share increasing to upwards of 24% from 18% today.
For the struggling Merchant-Services segment, which has undergone a bevy of changes over the past few years in a futile attempt to reinvigorate growth, management believes it can stabilize the auction business and grow fixed price and classifieds. On the core eBay platform, management expects to increase GMV (Gross Merchandise Volume) to $75B from $60B today, driven by fixed price listings growth in the double digits, and stabilizing the auction business. Revenues from Marketplace are expected to grow at a high single digit CAGR (compound annual growth rate) through 2013, with help from the classifieds business, which is expected to grow in the mid-teens. Despite this aggressive growth, management expects margins to remain flat at the midpoint of 38% to 42%, from 40% today, due to increased marketing spend to support this growth.
From a valuation perspective, shares should trade to the downside. Using the 10%-14% non-GAAP EPS CAGR provided by the company as the multiple range to use to value the business, we arrive at a share price of $22 to $30 (Editor: shares closed Friday at $34.51). This is based on the 2012 consensus pro-forma EPS estimate of $2.15, implying a 13% to 38% downside from current share prices. We believe that the shares should trade at a price-to-earnings-growth (PEG) of 1.0x due to the challenging marketplace business, which continues to underperform overall ecommerce, and faces steep competition from Amazon (NASDAQ:AMZN). As an example, ChannelAdvisor's January same-store sales figures for January showed growth of 85% for Amazon versus 6% from eBay.
The strength at PayPal is encouraging, but the Marketplace business continues to account for a majority of the profits of the company, and will continue to do so in 2013, per our estimates. As such, we cannot justify multiple-to-growth scenarios that are above the current growth forecast by the company. A sum-of-the-parts valuation could argue for a share price roughly near the current price depending on how aggressive we want to get with our PayPal multiple. However, despite PayPal being a great growth business, we are loath to buy the shares solely for PayPal. With all that said, we applaud management for pursuing a strategy that at the minimum has halted the slide in the company's structurally challenged core business. Give some credit where credit is due.
Disclosure: I have no positions in any stocks mentioned, and no plans to initiate any positions within the next 72 hours.