A military operation involves deception. Even though you are competent, appear to be incompetent. Though effective, appear to be ineffective.
-- Sun Tsu, The Art of War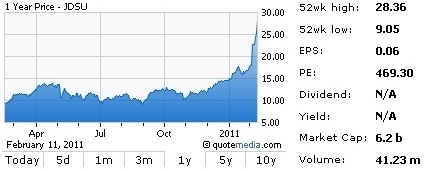 Along with several other members of my chat room, I watched JDS Uniphase (JDSU) on Friday as it moved to new multi-year highs. More than one person shorted it, and while it came within cents of triggering a short signal, I spent the day on the sidelines with my offers, waiting in vain to get lifted.
At the very end of the day, I had read through the earnings 10-Q and the conference call and came to the conclusion that if JDSU closed at or near the high of the day, I was going to short it into the weekend. It used to feel very unnatural to short strong stocks at the close or after hours if the closing is strong. After reviewing the data related to how often "unstoppable" stocks trade lower the next day, it became clear that if one is to go beyond seeking alpha and actually achieve alpha, one must get out of their comfort zone. Fortunately, after many repetitions of doing this, it became a natural habit - just like driving a car.
Almost all my trading is shorting stocks that have run far above a pace that can be maintained, and JDSU appears to be one that looks great - until you dive deeper into the numbers. For example, even looking at the latest earnings release in a positive light, it is difficult to get around the trailing twelve month (TTM) PE ratio that is in the hundreds. For JDSU stock to not fall back under $20 again, JDSU must maintain the growth rate it just reported, and not slow down. This appears to be somewhat like an elephant riding a bike - if there is any slowdown, disaster awaits. One has to ignore everything this company has done over the past few years and completely buy into the idea that this one last quarter represents the future of the company. Some may buy into it, but I believe it will not be enough to continue the price appreciation.
JDSU is up over 50% for the year. After the recent gap and go-go, and the weekend to give investors a chance to think about locking some gains, JDSU looks ready to have a pullback in price. Here are some of the relevant characteristics of the company that I believe will make profit taking happen this week. I will start with the conference call transcript:
Tom Waechter
"A good baseline for our financial results is our fiscal year 2006 when we further diversified our portfolio and became a player in the contest industry. Since that time our financial results have never been stronger. In fiscal Q2, we reported record revenues of $477.2 million dollars, record gross margin of 48.8%, and record operating margin of 15.3%. Our book to bill was greater than one, and our market outlook remains positive."
Really? If 2006 is used as the baseline, what about all the years between then and now? How about those investors who bought before 2000 and are down 60% or more, even after the new multi-year highs that were just chalked up?
"These results reflect a strong market demand for our products that carriers continue to invest to meet the needs for greater bandwidth worldwide. We are all familiar with the drivers behind the bandwidth demand: video and mobility."

"With the proliferation of Tablets and Smartphones as well as internet TV and HDTV, the outlook is robust. An industry leader reports that video will be over 90% of global consumer traffic by 2014. Infoetics forecasted the compound annual growth rate of mobile broadband subscribers will be greater than 38% over five years, to $1.8 billion by 2014 with the steepest projected growth coming from emerging markets."
Maybe, but investors may want to see a string of more than one quarter put together before chasing this stock up further.
"We are also using our technology to participate in non-telco markets such as commercial lasers, currency pigments, brand protection, jester recognition and solar and 3-D cinema."

"This is an exciting time for JDSU. Market drivers are strong. Our innovation, engine and pipeline for new products is robust. We continue to make progress in increasing our operating leverage. We are achieving our financial goals and progressing towards setting higher targets."
While I understand that solar and 3-D cinema is a small part of the business, these two buzz words added in don't instill confidence that profits will continue. Solar, which requires subsidies to be competitive, are losing government welfare at a rapid pace and 3-D has been more flop than sizzle.
"With steep video and data growth, we are seeing strength in lab and production for 100g Ethernet and 40g ether net tests. During the quarter, we maintained our leadership position in this segment, particularly in China where our growth exceeds 20% across several top network equipment manufactures."

"In Asia Pacific we won our first LT service assurance deal in Hong Kong and 100g testing at multiple customers in China as I had noted earlier."
Depending on continued growth coming from China has two fundamental problems that are nearly impossible to overcome: First, the yuan is expected to continue its appreciation against the dollar, squeezing margins. Secondly, Chinese companies have been able to copy-cat new technologies at a much faster rate than even recently expected. High-speed train technology comes to mind.
The last annual report on page 23 appears to support the need for caution:
"Taken together, these factors limit our ability to predict future profitability levels and to achieve our long-term profitability objectives. While some of these factors may diminish over time as we improve our cost structure and focus on enhancing our product mix, several factors, such as continuous pricing pressure, increasing Asia-based competition, increasing commoditization of previously-differentiated products, a highly concentrated customer base for many of our product lines and seasonal Communications Test and Measurement segment revenue fluctuations, are likely to remain endemic to our businesses. If we fail to achieve profitability expectations, the price of our debt and equity securities, as well as our business and financial condition, may be adversely impacted."
Those buying are also going against what management is doing. A review of EDGAR Online reveals very quickly what management thinks about owning the stock. I believe that actions speak much louder than words. Management can tell us that things are going well all day long, and that the stock is great, but if at the same time they are selling, I tend to question why. Those who have read my short bias articles know I like to include insider selling activity. Sometimes insiders are not selling much and sometimes they are. Many still cling to the notion that you can't learn much from tracking insider sales. How many times have we heard the tired saying, "Insiders sell for many reasons"? That is like telling me the stock market is a random walk and you can't predict the future price of a stock. Maybe that's true, but one thing is apparent, and that is we can believe that management does not think the stock is about to go much higher quickly or they would not be selling. In the case of JDSU, we see something we do not see that often: ZERO, nadda, none, no buying at all by insiders. In the last 12 months, when almost 2 million shares were sold by insiders, not one share was bought by insiders. Look back at the conference call transcript and remember Tom Waechter's line:
"This is an exciting time for JDSU. Market drivers are strong. Our innovation, engine and pipeline for new products is robust. We continue to make progress in increasing our operating leverage. We are achieving our financial goals and progressing towards setting higher targets."
This statement, combined with the selling activity, clearly shows a disconnect between what is being said by management to investors and what management thinks about being an investor. The pace of selling by insiders in the last year is accelerating. According to Vickers Stock Research via COMTEX the selling continues with another form 144 filing made on Friday. While not a large sale and not included in the chart below, it appears tht Andrew Pollack disclosed his selling of more stock as recently as this month:
I use a proprietary mix of technical analysis, financial crowd behavior, and fundamentals in my short-term trades. While not exactly the same in longer swing trades to investments, the concepts used are similar. I believe the company and the company stock correlation have separated, thus leaving the stock to be over-priced relative to the performance of the company. I was not able to short call options due to the options market being closed, but I was able to short the stock into the closing of after-hours trading. The after-hours trading price action was of particular note late Friday near the end of the after-hours session. On a small amount of volume the price kept moving higher and higher until it went above the high of the regular trading hour's session. It appeared that shorts that did not want to hold overnight and did not have the sense to close out in regular trading hours had to pay up. It is not like there are big money managers still in the office at 7:30pm on a Friday trying to buy up 2000-5000 more shares.
Because JDSU options are trading at such a rich premium, if JDSU doesn't open sharply lower on Monday, I will be looking to short the February $30 strike price calls. The premium is expected to be only about $0.30-0.32, but the time decay will crush the price if the stock does not continue its sprint and move above $30 quickly. A good example is DIS, which I wrote an article about a few days ago. With $30 being such a perfect pinning price and round number price for profit, taking the reward appears to justify the risk.
Disclosure: I am short JDSU