We commented last week on crude oil's recent fall after briefly skyrocketing due to fears of Middle East unrest. We believe that crude oil is becoming even more attractive of a long commodity position due to its recent troubles (click to enlarge image):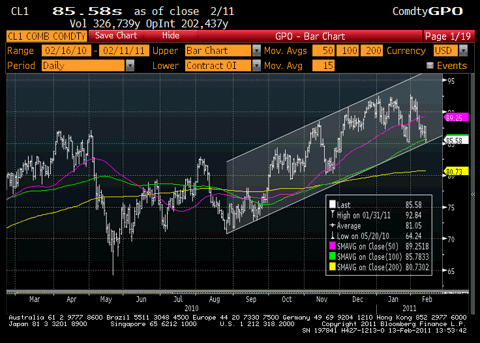 Click to enlarge
As can be seen from the chart, after the recent 2 day breakout during Egypt's political upheaval, crude has fallen back to exactly where it was before geopolitical issues sparked the rally. Even though it has fallen precipitously recently, we remain attracted to crude oil as a play on rising inflation and loose global monetary policy.
Fundamentals
We have commented at length about our belief in commodities as a beneficiary of the coming inflationary period. Inflationary policies enacted by the US, UK, eurozone and Japan are causing the loss of confidence in traditional major currencies, a phenomenon already underway. The European debt crisis, the US municipal debt problems, Japan's currency debasement policies, and the UK's recent relapse into negative GDP territory show that these economies have no recourse other than to print money to get out of their problems.
The prime beneficiaries of loose global monetary policy are commodities. Since commodities are priced in US dollars, as the US dollar loses value, the prices of commodities rise due to demand by foreign buyers. This phenomenon should provide a bid to commodities, and crude oil in particular.
In addition, as we discussed last week, US manufacturing is recovering more quickly than the overall economy due to the US dollar losing value against emerging market currencies. This should be bullish for energy demand going forward.
Technical Picture
The chart shows that crude has been rising slowly in a steady trend as denoted by the trend channel. Currently, crude is at the very bottom of the range. However, given the exuberance in the equity market, a pullback in stocks could cause crude to fall slightly further before resuming the uptrend.
We view the current entry point as attractive, but with a possibility of further correction. The 200 day moving average at $80.73 should provide hard support for crude. A break below $80 for crude would require a large macroeconomic shock.
Trade Recommendation
As the outlook is not completely certain, but long-term fundamentals look good, we favor a more conservative strategy than an outright long position on crude oil. With crude oil volatility continuing to be elevated, we recommend selling out of the money put options against crude oil futures.
The May 78 puts can be sold for .54, or $540 per contract. Such a position would be profitable as long as crude oil trades above $78 per barrel on April 14. Because crude oil futures are in contango, the May futures contract is trading at 92.35. As long as crude does not fall more than 15.5% over the next 60 days, the trader will collect the full $540 per contract and the option will expire worthless.
Disclosure: I am long crude futures, short crude put options