In anticipation of this week's Mobile World Congress in Barcelona, Immersion Corporation (NASDAQ:IMMR) announced the MOTIV Development Platform for Android (NASDAQ:GOOG), a tool designed to simplify haptic integration for both OEMs and application developers.
During the 13th Annual Needham Growth Conference in New York, Immersion's CEO, Vic Vegas, quickly mentioned the renewed company's focus on gaming, as we mentioned previously.
With over 200 million phones incorporating its technology sold so far, Immersion has finally reached the critical mass that might allow the company to explore new royalty streams, like gaming with tactile effects and other applications that engage the user's sense of touch.
The MOTIV Platform consists of two core elements:
The MOTIV Integrator, a tool for OEMs that quickly injects tactile feedback into the OEM build.
The MOTIV SDK, which helps application developers to easily design their apps with haptics. The MOTIV SDK is expected to be available in March 2011.
The first reactions from some of the first people to test the new platform seem positive. From Engadget:
Playing a guitar app on the dev unit was satisfying -- we could feel each individual string as we strummed the screen.

Ditto for the pinball game we played next -- both Samsung (OTC:SSNLF) devices let us feel the bumps and shakes you'd expect from such a game, but the dev handset was better able to localize and differentiate the different types of feedback built into the game thanks to the piezoelectric element.

We also got to feel how the effects are incorporated into the general Android UI, and came away impressed -- for us, the addition of haptic feedback really did make touchscreen use a more precise experience. The click-click-click vibration under our fingers (like a tactile iPod (NASDAQ:AAPL) clickwheel) as we scrolled through a list or the feeling of individual on-screen buttons as our fingers dragged across them were welcome additions, especially for free, although we have to admit the slightly more expensive piezoelectric handset was where we felt the offering truly compelling.
And PCmag's Sascha Segan wrote about his experience, including a speculation on Sony Ericsson (NASDAQ:ERIC):
I saw Motiv on a hacked Samsung Nexus S, and it's pretty neat. Motiv's OEM component automatically attaches haptics to standard Android buttons and controls. So when you press a button to start a stopwatch, for instance, you feel the button-tap, and you feel the numbers on the stopwatch "turn" or "click" over to the next digit.

I also saw haptics integrated into Angry Birds, a guitar simulator, and a pinball game. The piezo engine in the phone did a pretty good job of simulating the tension of pulling the bird's slingshot back, and the pinball game vibrated like a real pinball machine does. A "reverb module" can translate sounds into vibration for game developers who don't want to write their own code; the company also includes 100 "effects," such as the feeling of things bouncing off of metal, wood, or rubber.

The Motiv platform lets you customize haptic "themes," too. You can have different levels of vibration - a lot of vibration when the phone is ringing in your bag, but only a little when it's sitting on the table, for instance. You can change subtleties of the "tap" feeling on a touch keyboard to make it feel more like a typewriter. It's neat stuff.

Immersion's Dennis Sheehan was coy about who Immersion is working with for its next-generation haptics, but he included Sony Ericsson on a list of partners. Given that Sony's "dual-shock" haptics are such a key part of the PlayStation (NYSE:SNE) experience, I wouldn't at all be surprised to see this technology — rebranded by Sony, of course — in the Xperia Play platform.
In support of haptics, Immersion also released a recent consumer study, based on interviews made with over 200 smart phone users (iOS and Android), to determine the value consumers give to the integration of haptics features in mobile phones.
The study participants were introduced to a new concept for HD haptics called "expressive alerts," which give users the capability to use haptics to personalize the various types of messaging alerts and other notifications they receive on their phones. The suggested features had extremely high appeal and almost all participants said they were likely to use the feature if it becomes available on their phone.
According to this study, the sophistication of the HD haptic implementation had a significant impact on consumers' responses: Their preference for HD options increased substantially when the implementation was customized to deliver specific rather than generalized tactile effects.
Most participants ended up choosing HD haptics over no haptic or basic haptics:
[Click all to enlarge]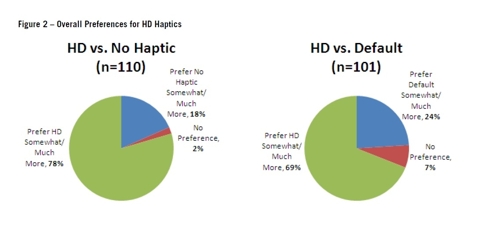 What the company is trying to show through these studies, to its partners and the general public, are the advantages in going beyond the use of haptics for basic touch feedback in messaging or other basic user-interface functions, moving to HD haptics to enhance features or applications.
While a simple "feedback" can also be achieved without Immersion's technology, the variety of effects that Immersion can offer is unmatched (and protected by its patents). A move toward HD haptics would also dramatically increase the company's royalties even in the mobile phone segment, where it has traditionally been quite low in absolute terms.
Participants in the study were also asked to evaluate the same games with and without HD haptics: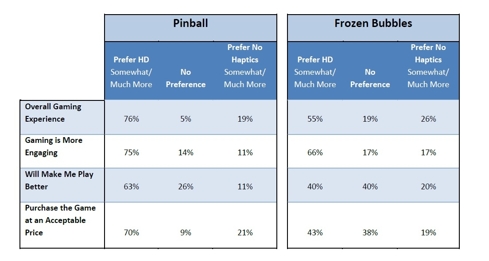 Interestingly, the pinball application, which was specially custom-designed with specialized HD-haptic effects enabling the user to sense the texture of the game's surface as the virtual pinball rolls over it, generated a higher level of enthusiasm overall, compared to the HD haptic effects used in the Frozen Bubbles game, which was not specifically designed with haptics in mind.
Immersion also released a few short videos showing some of the advantages and customers' reactions to the new MOTIV platform, which are available on the company's site.
In the meantime, it sounds like Immersion is also coming on more people's radar screens, as both Capital Research Global Investors and BlackRock (NYSE:BLK) recently filed their increased ownership of the company, now at 9.2% and 5.75%, respectively.
Disclosure: I am long IMMR.