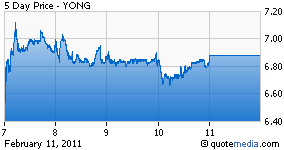 This past Monday, the stock of Yongye International (NASDAQ:YONG) fell significantly in the wake of a downgrade from Brean Murray and an article I wrote suggesting that the Yongye story might be too good to be true. The company issued a press release addressing the downgrade from Brean Murray based on concerns from the recent drought, and a press release addressing my article. The company also reached out to me personally, with Sam Yu, CFO of Yongye and myself having a phone conversation this past Wednesday. I will provide some of the highlights of our conversation, along with a summary of my current thoughts on the company including a new concern at the end of this article.

Starting off the interview, Mr. Yu sought to reinforce the credibility of the company, suggesting that people with questions about Yongye use Google or Baidu to search for the company in Chinese and see the favorable media attention they receive. He noted that the company has won awards including the "Best Practice Award of Harvard Business Review" (press release here), and that CEO is widely respected and has had a book written about him.

Mr. Yu addressed my concerns about the company's rapid growth without the hiring of that many employees by stating that their nearly 800-member strong team of distributors is responsible for much of the revenue growth, and that their employees did not have to do that much work to brand each new Yongye-branded store. I asked if he could give me an updated employee count, as several people had questioned my use of an older figure. Understandably, he could not disclose this as it is not yet publicly available.

I asked Mr. Yu why he felt the company was successful -- was it a better product than the competitors making similar fulvic acid products or was it better marketing? He suggested that, in fact, both of these factors led to Yongye's outstanding performance. He specifically stated that its competitors are quite small and can't effectively market nationally, giving Yongye a sizable advantage that the company has seized with its innovative distribution network. He also stated that Yongye's awards set it apart from competitors.

I asked about the future growth of the company, and whether that growth would be oriented domestically or internationally. He stated that while growth may come internationally at some point, the company estimates that only 4% of Chinese land is being fertilized with Yongye product and so an immense growth opportunity remains domestically.

I asked about the six-month credit terms that Yongye offers to its customers. Mr. Yu suggested that this was a standard business practice in China and that competitors such as China Green Agriculture (NYSE:CGA) and China Agritech (OTCPK:CAGC) offered similar terms. He also noted that the company's accounts receivables were generated by their trusted distributors rather than end users of Shengmingsu, thus lowering the risk of non-payment in the case of a drought, flood, or other unforeseen problem. Mr. Yu makes an excellent point here, and this does allieviate one of my concerns with the company's finances. It is also true that Yongye has been able to collect its accounts receivable from the last growing season despite a significant drought.

We discussed Yongye's corporate structure, with Mr. Yu noting that the structure with several shell companies is common to Chinese firms even as large as Baidu (NASDAQ:BIDU). While I am uncomfortable with this sort of structure as it doesn't seem to be shareholder-friendly, I do acknowledge it is standard operating procedure for many Chinese firms, and thus is probably not of specific concern for Yongye investors.

I asked what Yongye was doing to enhance its credibility in light of the recent wave of controversy surrounding many Chinese RTO corporations. Mr. Yu responded by saying that Yongye is one of the few Chinese firms audited by a big four auditor and that the company attends many road shows, investor meetings, and other such functions that display the trustworthiness of their company to investors.

Mr. Yu also strongly defended the wisdom of Yongye's decision to acquire a distributor network (technically a "customer list") in Hebei province for $3 million plus stock. Mr. Yu stated that the distributor was gaining too much bargaining power and that the company was able to buy the distributor at 6x their earnings -- thus increasing Yongye's profit margin. That seems reasonable.

As a result of this discussion, many of my concerns were sufficiently addressed. I am reasonably satisfied that nothing is amiss in the finances at Yongye.
However, I am remain less than convinced of Shengmingsu's efficacy. In particular I would note the part of Yongye's press release where they reported research to support their company's product. Their press release stated: "The benefits of fulvic acid-based plant nutrients applied directly to the plants have been supported by academic literature, including an article by Dr. Robert Petit of Texas A&M University."

There are several issues with this claim. Dr. Pettit was an associate professor who retired from Texas A&M in 1992. It doesn't appear that his report was vetted by academic sources or published in any peer-reviewed journals. As best I can tell, the report isn't even available on Texas A&M's website. The only places it can be found online are at small companies selling humic acid such as this one (the site Yongye pulled it from). I'd also note that in his 19 years away from Texas A&M, Dr. Pettit has adopted some rather unusual beliefs that you can find on his website.
I return to two of the concerns of my original report. One, this company is simply selling a product with questionable effectiveness. Two, it sells its product at a price premium over its competitors. Fundamentally, it can be hard to maintain high profit margins on what may be a commodity, particularly on easily reproducible chemicals rather than more brandable consumables such as food or toothpaste. However, given Yongye's past notable success, it is quite possible that their successful distribution network and advertising will be able to help the company maintain its rapid expansion and high profit margins despite these concerns.

I applaud Yongye International for reaching out to me after my recent report, and I thank Mr. Yu for speaking with me. He cleared up quite a few of my concerns about the company's finances. After speaking with him, I am convinced that Yongye is a far more credible company than many other Chinese agriculture companies such as China Agritech, which has come under fire from Bronte Capital. However, given concerns about Shengmingsu's efficacy and Yongye's ability to retain its current premium pricing and margins into the future, I still remain skeptical of Yongye shares as an investment.

Disclosure: I have no positions in any stocks mentioned, and no plans to initiate any positions within the next 72 hours.