It almost seems counterintuitive that majority shareholders of Depomed (NASDAQ:DEPO) have been adding shares after the FDA approval of Gralise, a once-daily treatment for post-herpetic neuralgia. One might expect that large funds would look to the high volume created with an FDA decision as an opportune exit strategy. Yet that hasn't happened, several funds have filed schedule 13's indicating that they have continued to add shares or at least maintained a majority positions.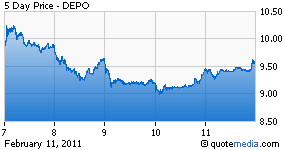 Over the past several weeks, Deltec Asset Management, and Tang Capital Partners have added to their already substantial positions. Deltec has increased ownership to 6%, Tang increased ownership to 9.9%. BlackRock (NYSE:BLK) and ThirdPoint, still remain majority holders, holding 6.19% and 9.9%, respectively. Goldman Sachs (NYSE:GS) has maintained its almost 2% position. Together, institutional and mutual fund owners claim about 60% of total shares.

What value do these large shareholders see? What makes Depomed different than any other biotech company? During a recent conference call, one of the participants, a senior managing director from a majority shareholder, may have disclosed the answer to the aforementioned questions. He stated that the management team at Depomed "is of the highest standards."

Management

Since early 2007, Depomed's management has been able to steer the company away from any dilutional events, despite several pipeline setbacks. Instead it has focused on legal and business development fronts to bring in cash via partnership deals, settlements and milestones. Besides management's emphasis on maintaining shareholder value, they have also excelled at shareholder communication through the use of quarterly newsletters communicating achievements and upcoming goals. They have held investor days, bringing in prominent speakers to discuss the unmet medical needs that Depomed seeks to meet. And, all of this was done after Depomed had chopped 25% of its staff, back in late 2007. Since then Depomed has been producing results with only 80 employees, which is exceptionally lean for a company that is valued at half a billion dollars.

Depomed's management team has proven that they are working on behalf of their shareholders. Of course, an excellent management alone doesn't make for an excellent investment opportunity, there has to be more.

Acuform Technology

The real star here, is Depomed's Acuform technology. In a competitive enviroment that includes failed accordion pills, defunct floating dosage forms, and ulcerating mucoadhesives, Acuform has stood out because of its biochemical versatility, as well as its intended therapeutic differentiation. The technology is as elegant as it is useful. It is a swelling polymeric gastric retentive pill that provides once or twice a day dosing. The pill swells to the about the size of a nickel, which prevents it from passing through the pylorus, keeping the pill in the stomach as it continually delivers active ingredient until it eventually dissolves. With regard to its biochemical versatility, Acuform has been successfully employed with three biochemically unique, FDA-approved products.
| Trade Name | Indication | Chemical Property |
| --- | --- | --- |
| Glumetza | Diabetes | highly water soluble |
| ProQuin | UTI | poorly water soluble |
| Gralise | PHN | absorbed in duodenum |
| Trade Name | Clinical Differentiation |
| --- | --- |
| Glumetza | Once-daily dosing, Tolerable titration, Increased bioavailability, Decreased nausea and GI upset |
| ProQuin | Once-daily dosing, Less adverse events, Increased bioavailability, Enhanced efficacy |
| Gralise | Once-daily dosing, Tolerable titration, increased bioavailability, decreased dizziness and somnolence |

Each of these products have either demonstrated incremental value over incumbent therapies, or demonstrated the verastility of the Acuform technology. Glumetza is a vast improvement over Glucophage, which has well-known titration issues as well as it's nasty adverse events profile. ProQuin, may not be the blockbuster that Gralise will be, but it proved that Acuform can work with more difficult chemical ingredients.

GRALISE for Post Herpetic Neuralgia

Gralise is probably the most differentiated amongst all of Depomed's FDA approved products. Below is an aggregation of data from the FDA-approved prescribing information for Gralise, Pfizer's (NYSE:PFE) Lyrica, and Neurontin. The data is presented as a percent over placebo, demonstrating Gralise's superiority over Lyrica and Neurontin.
| | Gralise | Lyrica | Neurontin |
| --- | --- | --- | --- |
| Somnolence | 1.8% | 13% | 16.5% |
| Headache | 0.1% | 4% | 0.1% |
| Dizziness | 8.7% | 22% | 21.3% |
| Drop-out rate | 2.8% | 7% | 7% |
| Dosing | 1x/day | 2x-4x/day | 3x-5x/day |

The fate of Gralise is still uncertain. Although, clearly it is a well differentiated product, Abbott (NYSE:ABT) signaled that it is unhappy with it's marketing obligations. Currently, mediation is ongoing.

SERADA for menopausal hot flashes

Serada, like Gralise, experienced a phase III setback. The BREEZE trials failed to meet some of their primary endpoints in October of 2009. After several negotiations with the FDA, Depomed eventually received a Special Protocol Assessment ("SPA"), so that they could switch the analysis of the data from parametric to non-parametric. This change will help minimize the impact of outliers or extreme values over the entire data set. A major confounder in the failed BREEZE trials was outliers that reported up to 99 hot flashes per day at baseline which spontaneously resolved.

In October of 2010, at the North American Menopause Society Annual Meeting, Depomed revealed how non-parametric analysis would have affected the previous clinical trial results. Below is the p-values of each of the 8 endpoints from BREEZE 1 and 2, using non-parametric analysis.
| | Frequency | Severity |
| --- | --- | --- |
| Breeze 1 - 4 Week Endpoint | p≤ 0.025 | p≤ 0.025 |
| Breeze 2 - 4 Week Endpoint | p≤ 0.001 | p≤ 0.025 |
| Breeze 1 - 12 Week Endpoint | p≤ 0.025 | p≤ 0.05 |
| Breeze 2 - 12 Week Endpoint | p≤ 0.005 | p≤ 0.025 |

Based on these values, we can estimate the probability of repeated results, or in other words the probability of success for Serada in BREEZE 3. Assuming that the total enrollment is equal, and using the p-values to estimate the chances of repeating results, Serada's fate in the BREEZE 3 trial looks quite favorable.
Chances of
Repeated Success
Severity: 4 week Endpoint
95.06%
Frequency: 4 week Endpoint
97.40%
Severity: 12 Week Endpoint
92.63%
Frequency: 12 Week Endpoint
97.01%
Total: All 4 Endpoints
83.20%

Based on BREEZE 1 and BREEZE 2, BREEZE 3 has a 83.20% chance of repeating results. This doesn't factor the various other adjustments that Depomed put in place for BREEZE 3. Notable changes include, a longer run-in period, and the use of cell-phone diaries that allows clinicians to call patients to ensure correct entry, if irregular responses are reported by the patient. Depomed believes that the longer run-in period, and the cell phone diaries may make for a more accurate assessment of patient's subjective values.

It's no secret that the placebo effect can be disastrous for hot flash trials, but it seems like the BREEZE 3 is well designed to combat that. The other pressing issue is the relevance of the 6 month, secondary endpoint. The FDA asked Depomed to include the endpoint but it's not exactly certain to shareholders how important this endpoint is to the FDA. Management has stated that they believe the FDA wants to ensure a trend towards efficacy versus outright statistical significance which would be difficult to achieve in an endpoint of that duration.

Given the continued reports of the deleterious effects of hormone use, a non-hormonal, FDA-approved treatment option has serious market potential. And it appears that Serada could be the first one to market. Breeze 3 should finish enrollment soon, with data lock to follow in early Q3 and with results potentially as early as October. Pfizer's completed it's enormous 2200 patient study with Pristiq for hot flashes in May 2010, but almost 10 months after final data collection, results have not been announced. This sudden and prolonged silence could mean that trial results were poor. Noven's Mesafem is undergoing a Phase III trial for hot flashes, but the company has projected that results of the trial will be announced in Q4 of 2011. Bionovo's (OTC:BNVI) Menerba, is slated to begin it's pivotal Phase III in early Q3 2011 with data available in Q4 2012. It seems that although there is some potential competition, Depomed's Serada may be the first non-hormonal treatment to reach the market.

Serada, like Gralise, is also a gabapentin formulation. With Gralise's recent FDA approval, certain risks that haunted Serada can be readjusted in Depomed's favor. Given the overall chances of success, the market opportunity, and the approval of Gralise, I believe the market has yet to factor in Serada's value.

DM-1992 for Parkinson's Disease

On February 7th, Depomed announced that they have successfully completed a Phase I study comparing DM-1992, a novel twice-daily dosage form of LevaDopa/CarbiDopa, to Sinimet, the current gold standard treatment option for Parkinson Disease ("PD") which is dosed 4 to 6 times daily. Depomed reported that they were able to maintain mean blood levels above the therapeutic level for 24 hours using only two doses. Maintaining an adequate blood level of the drug is paramount in managing PD. The problem is so severe that some patients elect to surgically implant a pump so that they can get a continuous dose of LevoDopa/Carbidopa, like Duodopa, a patient-operated portable pump that is currently marketed by Abbott.
Obviously taking a pill to achieve the same effect is preferred, and this is how Depomed's formulation meets an unmet need, yet again.

There is definatley a market for such a product and big pharma interest. GlaxoSmithKline (NYSE:GSK) partnered with Impax (NASDAQ:IPXL) for their Phase III levadopa/carbidopa formulation. In December, GlaxoSmithKline paid $12 million upfront for rights to Impax formulation outside of the US & Taiwain. They also have committed around $180 million in milestones along with a tiered double digit royalty. In 2009, Impax was so eager to get their product onto the market that with only half of their 27 patient Phase II study enrolled, they went straight to Phase III.

Medically, it appears that Depomed's DM-1992 is superior to that formulation, in that DM-1992 is dosed twice-daily versus three-times-daily. For a twice-daily product and it's longer therapeutic window, DM-1992 could bring home a sizeable worldwide deal for Depomed. For a worldwide contract, $25 million upfront, with $200-$300 in milestones, along with a double digit royalty is conceivable. More importantly, given that DM-1992 meets an unmet need, it's possible that it could be filed as a fast-track NDA and potentially be marketed in under 3 years.

DM-3458 for Gastroesophageal reflux disease ("GERD")

Depomed has been seeking a partner for DM-3458, an investigational treatment for GERD, since it released it's proof-of-concept trial in late 2007. Why is is that almost 4 years later, no partner has surfaced? It could be that pharmaceutical companies would only become interested in DM-3458 as their patents for current proton pump inhibitors approached expiration. Now, it seems like that time has come. Last month, several generic companies recieved FDA approval to market generic versions of Pfizer's Protonix. Soon, in 2013, Johnson & Johnson's (NYSE:JNJ) Aciphex will meet the same fate. And in 2014, AstraZeneca's (NYSE:AZN) Nexium will go generic. So after several years, the GERD landscape has shifted in Depomed's favor and thus should be valued appropriately.

DM-3458 is unique in that it seeks to solve the problem of Nocturnal Acid Breakthrough ("NAB"). NAB affects about half of patients with GERD, patients often wake up in the middle of the night with symptoms of acid reflux. DM-3458 is a shell and core dosage form, that releases one pulse of active ingredient when taken with the evening meal, and then 4 to 6 hours later it releases another pulse. By giving two doses, DM-3458 may improve NAB symptoms and thus meet an unmet need.

There is a market for both prescription GERD treatments as well as over-the-counter ("OTC"). For example, Santarus (NASDAQ:SNTS) received $15 million upfront from Merck (NYSE:MRK) for an OTC versions of Zegerid, Santarus's flagship GERD product. The deal also included about $30 million in other pre-marketing milestones, $37.5 million in sales milestones along with a double digit royalty. In 2010, prescription Zegerid went generic.

Clearly the GERD market is an opportunity. Depomed could pull in a partner for a prescription product, an OTC product, or possibly both.

The Big Picture

In the next several months, while Depomed's counsel is hard at work in mediation with Abbott, it is quite possible that investors may see several business development processes progress forward. That manifestation could be in the form of continued deals for extended-release metformin, a deal for DM-1992 or DM-3458.

Depomed has the technology to re-brand, re-tool, and re-purpose an army of pharmaceutical products facing patent expiration. But besides the technology, they have a management team that knows how to preserve shareholder value, how to communicate with shareholders and wall street, and that has the drive and the foresight to succeed. Given that several products in the pipeline have recently become more desirable, it is possible Depomed will move forward on the business development front. These are some of the reasons that make Depomed a company that one would want to invest in. There is a very attractive and under-appreciated long-term potential here.


For more information on Gralise, click here
For more information on Depomed's dispute with Abbott, click here
For more information on Serada, click here
For more information on the "women's health" market potential, click here
NAMS presentations for BREEZE 1 and BREEZE 2
Recent Corporate presentation, click here


Disclosure: I am long DEPO, ABT, MRK, SNTS, OTCPK:NGSX, OTC:BNVI, DRRX.