Insider trading is when corporate insiders (officers, directors and employees) buy and sell stock in their own companies. This data is available on a timely basis thanks to rules the SEC adopted per the provisions of the Sarbanes-Oxley Act of 2002. Changes in ownership, reported on Form 4, must be reported to the SEC within two business days.
We'll narrow our definition of corporate insiders as senior management and directors for tracking purposes.
Insiders may sell stock for reasons having nothing to do with future results. For instance, insiders may sell their stocks in an attempt to better diversify their holdings and because of personal liquidity needs.
Insider buying is much easier to understand.
To quote Peter Lynch:
"Insiders might sell their shares for any number of reasons, but they buy them for only one: they think the price will rise."
The question is when should investors follow insider trades? It depends. If insiders are trading as a group it deserves a closer look. A
group trade is several insiders trading over the same monthly time period. Three insiders at a big corporation [General Electric (NYSE:
GE
) for example] may not make a trend. Four or more provide a better indication
. Insider selling should constitute a larger group given that some sales may be more personal in nature as opposed to company related.
Overall, solitary trades are unreliable and ignored.
The idea behind this reasoning is simple; the larger the group, the stronger the signal about their company's prospects. This is not a new concept and with advances in spreadsheet software and data availability on the internet, it's relatively easy for the individual investor to slice and dice the data in meaningful ways. We'll look at General Electric, American Eagle Outfitters (NYSE:
AEO
), and Telular Corporation (NASDAQ:
WRLS
) to demonstrate the concept, followed by a summary.
General Electric (GE):
A market cap in excess of $200 billion GE has been somewhat of a roller coaster given the economic impact to GE Capital. So how did the insiders react? The chart below illustrates group trades as described above. All solitary trades and groups of less than four are ignored.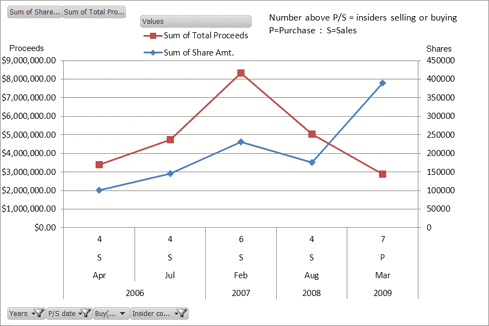 (Click to enlarge)
The information above the month indicate the following:
S = insider sales; P = Insider purchases; number = group size.

A group of seven insiders purchased stock in March 2009 for an average price of about $7.40. There are several years of data for insider selling, not uncommon among large corporations but only one hit our minimum criteria of six insider sales in February 2007. The average sale price was $36.00.

Luck of the trade or better insight into effects the financial crisis would have on GE Capital in 2007 (group selling) and again in 2009 (group buying). GE closed at $21.33, Friday 2/11/11, 188% above the insider purchases.
American Eagle Outfitters, Inc. (AEO): AEO's market cap is a fraction of GE. Rumors emerged again this week that the teen retailer was being eyed by private equity, sending shares up. These rumors have been around since August, 2010. Can any information be gleaned from insider transactions?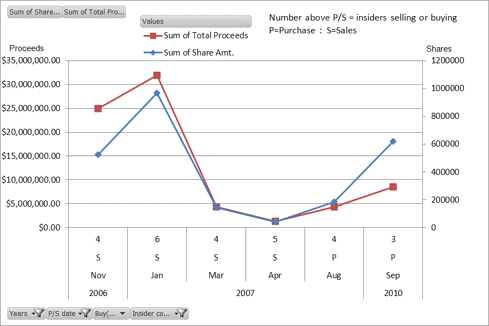 (Click to enlarge)
There is a lack of group trades over the past few years with the exception during September 2010, at an average price of about $13.75. Not enough data and too small a group to draw any correlation between the rumors and insider activity. The stock closed at $16.18, 18% above where insiders purchased.

Telular Corporation (WRLS): The smallest of the three in terms of market cap. I've written several articles detailing WRLS here. All group transactions have been buys as shown below, no group sales.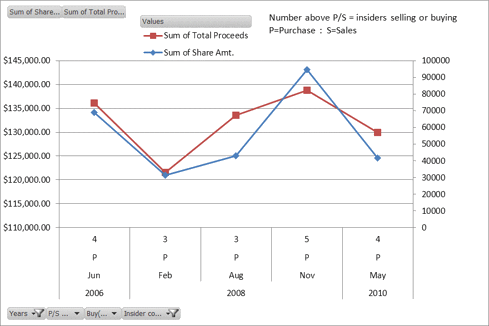 (Click to enlarge)
All insider group buys have netted sizable gains, 163% above the purchases in May 2010. The stock closed at $8.19 with a dividend yielding 5.8%.

Summary: The rationale is that senior officers and directors are more knowledgeable about the company's direction than the investing public so observing the behavior of insiders can be a useful way to supplement your research, not replace it. Some points to remember are:
It's easier to process information from insider buys since they typically buy for one reason; they believe the price of the stock is going up.
Sales can be due to reasons not company related and are not as significant as insider buying.
Concentrating on group transactions gives better insight into the officers and directors confidence going forward.
Solitary trades are unreliable.
Don't be quick to draw a conclusion. Many times there is no conclusion to be drawn, one way or the other.
Following the lead of insiders can serve as a check on any analysis but will never replace diligent research.
Disclosure: I am long AEO, GE, WRLS.