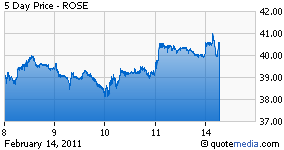 Rosetta Resources (NASDAQ:ROSE) is an oil and gas exploration and production company. Rosetta made the shift a few years ago into an unconventional player, and they seem to have done the right things, as the company has benefited. This company is currently spending most of its capital expenditures on developing the Eagle Ford position.

2010 was a good year, as Rosetta has found the Eagle Ford to be a low-risk, moderate-reward play. Rosetta had good production growth last year of 135-140 MMcfed. Its 2010 exit rate was 159 MMcfed. Eagle Ford's production was a big part of this as its exit rate was 86 MMcfed. Its 2010 reserve growth rate ended in the double digits.

After a good year, Rosetta has decided to keep their foot on the gas. Its 2011 capital expenditures budget is $360 million. Rosetta is planning for the majority of this money to be used on developing the Eagle Ford with 90% going to this area. Forty wells are planned and a fracture stimulation agreement is now in place. Gates Ranch has had its EUR revised higher. A new discovery at the Light Ranch property was just announced. Pipeline capacity has been expanded to accommodate higher production rates. Current inventories now have surpassed 1 TCFE. This increase in the Eagle Ford should continue to increase liquids production for Rosetta.

The Southern Alberta Basin is an area that is just beginning to show signs of life for Rosetta. Six wells have been drilled and an additional five wells are to be drilled in the beginning part of this year. Completions are being planned towards the end of 2011.

Rosetta currently has several assets in locations around the United States:
Eagle Ford- Core asset with 90% cap ex development.
Southern Alberta Basin-Core holding.
DJ Basin- Noncore holding (may be sold).
Sacramento Basin- Noncore holding (may be sold).
Rosetta's development of the Eagle Ford has progressed as follows:
2007-5000 net acres with Eagle Ford potential.
2008-25000 net acres, and pilot drill program to understand potential.
2009-61000 net acres, two horizontal discovery wells drilled.
2010-65000 net acres, 100% success with 22 horizontal wells at Gates Ranch.
Currently Rosetta is getting 77% liquids from their 64860 acres at Eagle Ford. Gates Ranch well economics have been quite good. Gates Ranch has an initial oil rate of 412 bopd, the EUR is 7.2 bcfe, NPV per well BFIT10 of $13.4 million, a discounted payout of 1.5 years, 240 locations for possible well sites and NPV per area BFIT10 $3.219 billion. These numbers suggest 100 acre well spacing, $.25 million in well cost, and strip pricing as of 10/26/10. Gates Ranch will provide up to 18 years of inventory. The current 86 MMBoe of production from Eagle Ford is only 5% of possible well inventory.
Rosetta has developed a sizeable acreage in the Southern Alberta Bakken. It has 300000 undeveloped net acres. It is estimated that 13-15 MMBoe per square mile of resource play could be expected. Rosetta has drilled six exploratory wells to date. These wells confirmed oil hydrocarbons in place and overpressured reservoirs. Rosetta is currently planning a multiwell vertical program. There is a current agreement with the Blackfeet Indian Nation to produce two wells per year for five years. A total of 10 wells is the minimum. With each commercial well, Rosetta is given the ability to lease 20,000 acres around that well.

Rosetta has a selective hedging program. This program has two year hedges on oil, natural gas liquids, and natural gas. There is also a fracture stimulation agreement in place for two years. This agreement is three weeks per month with reasonable pricing. Transportation and processing agreements are in place also, with added transportation in the fourth quarter of this year.

In summary, Rosetta Resources will continue to develop its Eagle Ford play. This area has become a legacy asset for the company. Production guidance of 160-170 MMcfe/d including divestment properties. Of this DJ Basin and Sacramento Basin are planned to produce 35 MMcfe/d for the full year. Its 2011 exit rate excluding divestment properties is estimated to be 155-165 MMcfe/d. Rosetta plans to divest properties if it will fund its Eagle Ford asset. What seems to be the most important has to do with the Southern Alberta Basin. This location could create some excitement in this name if several successful wells were announced.
Disclosure: I have no positions in any stocks mentioned, and no plans to initiate any positions within the next 72 hours.