Since its IPO in the early 2000s, Google has proven to be a company marked by wild success built by several key acquisitions and the top talent of its employees, and has defined itself to be the best in search and a competitor among the "bests" in several other industries. In hindsight, Google's IPO was a mouthwatering opportunity for investors. But how does Google measure up as an investment today? Google's revenues, net income, and book value are up 24%, 30%, and 28% respectively from last year, yet their stock price has gone nowhere in that amount of time.
A couple of things have happened to Google since early 2010 that are to blame.
In early 2010, Google pulled out of China. By doing so, it has limited its exposure to the largest Internet population on the globe. Antitrust lawsuits have also been building up against Google in the European Union making it more difficult to operate and threatening investors with potential fees and divestitures. Lastly, Google's CEO Eric Schmidt has just resigned his position and has left the company in the hands of its co-founder and CEO, Larry Page.
So, is Google still a good investment today?
Click to enlarge charts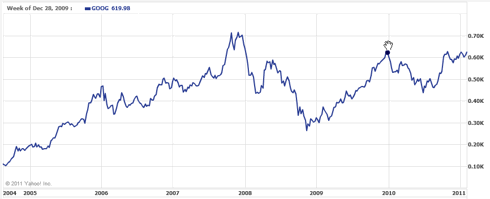 Click to enlarge

Click to enlarge
Google has been able to amass significant sums of cash over its time as a public company. Google reports in its 10k for 2010 cash and equivalents of $35 billion with another $5 billion in receivables. This is an incredible sum of money and is precisely the reason investors are attracted to Google in the first place. Google prints money!
So how good is Google at printing said cash?
Click to enlarge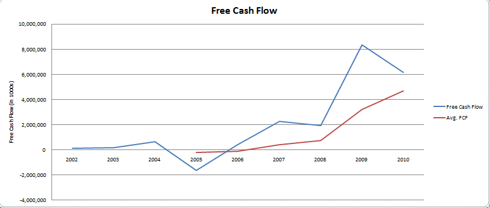 Click to enlarge
The blue line represents my estimates of Google's actual free cash flow using figures in the company's annual reports. The red line is the four year average used to smooth out the effects of the business cycle and one-time events. As we can see, Google's FCF has a habit of moving higher and the four year average has never displayed negative growth in FCF. It would be prudent to note at this point that the time period under evaluation is also a relatively short period and results are less meaningful because of that.
My estimates put Google's Free Cash Flow for FY2010 at $6.146 billion and the four year average at $4.674 billion. This means Google is currently trading for 32x its FCF and 42.5x its average FCF. These ARE expensive premiums to pay. But when we consider the compounded growth of Google's cash flows over the years these valuations become more reasonable.
Google has been able to grow its flows from $112 million in FY2002 to $6.146 billion in 2010. (It should also be noted that Google has FCF of 8.4 billion in FY2009). This growth from 2002 to 2010 represents an average compounded growth of 65% per year. The average FCF has displayed compounded growth rates of 125% per year for the last four years.
This kind of growth could quickly justify such multiples if it is sustainable. Personally, I feel that growth will be sustainable, though it will be at levels lower than ones reported above as growth will slowly revert to the mean. In the short term there may be pressure due to the rising cash wages of its employees but in the long term investors may see the continuation of Google's huge success. Every investor out there is probably kicking themselves for not picking up some Google in 2008 when its prices were really attractive. Alas, hindsight is always 20/20.
In continuing the analysis I wanted to determine Google's economic return, that is, Google's Return on Invested Capital (ROIC) in excess of its Weighted Average Cost of Capital (WACC).
In my calculations for ROIC, I used both the FCF and the average FCF as metrics of return. In determining the amount of capital that was invested in the company, I simply added together the total equity, debt, and few minor forms of financing and subtracted out cash and equivalents.
Click to enlarge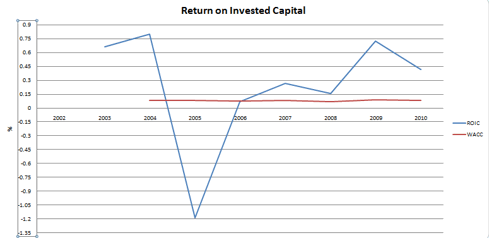 Click to enlarge
It can be seen that Google's ROIC is highly erratic and has been below my estimates of its WACC in 2005 and by just a hair in 2006. This "negative" activity is due to the company's IPO as well as the large $1.6 billion purchase of YouTube. In my FCF estimates, I have excluded the cash from debt and equity offerings as I am only concerned with the amount of money the company makes from operating activities. So the large amounts of money obtained from the IPO that were spent on expanding the company are shown as a very large negative number in 2005 and performance for the company's cash flows was poor in 2006 due to large loss of Free Cash Flow due to the YouTube acquisition.
When we view the normalized average of the FCF and use it as our metric of return the picture is a little different.
Click to enlarge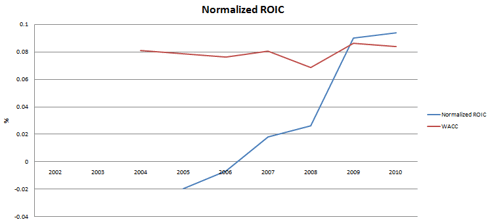 Click to enlargeThis picture shows that the four year average FCF were rarely enough to satisfy the WACC of the company and would suggest that the company was in fact destroying value. I argue the contrary because the "negative" return is due to a large "loss" of FCF in 2005 due to the subtraction of the proceeds from equity offerings without subtracting the expenses that these were spent on. This large "negative" effect from 2005 impacts the averages of ROIC reported in 2005, 2006, 2007 and 2008. We can see that as soon as the bad year falls off in 2009, the company is making returns above its WACC. The continuous improvement of the company's normalized (average) ROIC should be of huge encouragement, especially when this performance was done in concurrence with the largest global recession since the Great Depression. It's also encouraging to note that the ROIC in any given year has been very high double digits (with the exception of 2005 and 2006) and this should lead to higher average ROICs each consecutive year as long as the company's FCF is higher than that of the year four years prior.
So, looking into all of this, why do I feel that Google's cash flows are sustainable and that average ROIC will improve going forward?
Google is the most popular search engine worldwide with 85% of market share (according to netmarketshare.com). It continuously has 65-70% of the U.S. market share in the bag as well. With a larger reoccurring user base, Google can attract a larger number of advertisers and possibly charge higher prices for advertising due to ad targeting and the nature of being a monopoly.
With its purchase of YouTube in 2006, Google gained access to the largest Internet video website. YouTube has largely been a drain on Google's earnings and with a price tag of over a billion dollars, investors have been wondering if it was ever really worth it. It is beginning to look as if it was. YouTube now has more than 2 billion views a day representing a very large portion of the traffic on Google's sites. Revenues at YouTube doubled in 2010 and, if it is not profitable already, will likely be profitable in 2011.
Google also purchased DoubleClick in 2007 for $3 billion. This gave it access to the largest network of display advertisers and gave those advertisers access to Google's large user base. This acquisition allows Google to be a major player in the display advertising business as well.
Google's purchase of AdMob in 2009, coupled with its purchase of Android, has made it a huge player in mobile advertising as well. These three acquisitions make Google one of the largest players in text ads, display ads, online video ads and mobile ads. On top of this, Google is making its push into television as well and is marketing its push into the operating system business.
These economies of scope can be seen by Google's traffic acquisition costs as a percentage of revenue.
Click to enlarge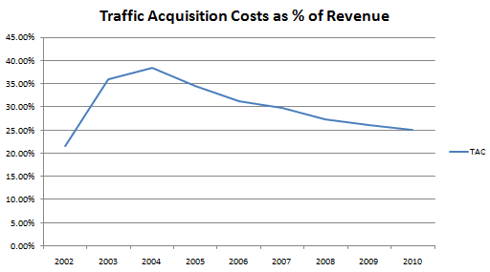 Click to enlarge
So what are the threats to this company's future success?
Pulling out of China: Google has voluntarily limited its exposure to the largest Internet market in the world. This may have drastic effects on long-term growth plans. I do not believe this to be the case though. Baidu (NASDAQ:BIDU) is the dominant player in China, but is only in China. If Google loses China but gains the rest of the world then Google still wins. I also believe that China will eventually loosen its information restrictions and Google will likely re-enter the market and do what it does best. In which case, we can expect to see large growth in China as Google will be starting from a low base in that country.
Changing CEOs: Eric Schmidt has successfully led Google since just before its IPO and has resigned as CEO, taking the position of chairman. His continued involvement is a plus and I have confidence in Page's ability to lead the company. The short term may be a rough transition but Page was the CEO before Schmidt and has been actively involved with the management of the company since.
Antitrust lawsuits: Google is subject to antitrust lawsuits in the EU and may find itself subject to fines or eventually even be forced to divest certain parts of its business in a worse case scenario. This is something to be concerned about and is taken into account for the Cost of Equity that I use to discount Google's ROIC with; however, it does not need to be seen as a negative. See Standard Oil and AT&T as two companies which were subject to the worst case scenario of antitrust provisions and how successful they were in spite of it.
Low barriers to entry in search: I do not think this one even applies anymore. While search may be an "easy" business to get into, nobody will be able to get in like Google. For example, Google offers dozens of free services subsidized by its search engine revenues. Google Maps, Google Earth, G-mail and others are wildly popular. It would be hard to replace Google's entrenchment in these areas with a simple search engine. Any start-up would have to offer more and that is exceptionally difficult at this point. Plus, Google's cash flows allow it to continue buying these companies to offer more and more services through the platforms of the services available. (Think of the potential Groupon had to mark advertisers with sales/coupons on Google maps when you are searching for directions to places).
Growth through acquisition: This strategy typically results in failure and Google is no stranger to over-paying for companies. However, all of its large, key purchases suggest that Google has the ability to identify growth areas and trends long before other corporations. This is still a large risk as Google has made mistakes before (AOL anyone?) and could potentially destroy shareholder value with this approach in the future.
Ultimately, Google has shown its ability to provide superior cash flows with a track record of growth through key acquisitions and all of this appears as if it will continue in the short term. The increasing amount of life's activities that are moving online will also continue to benefit Google as it did in 2010. These are the reasons I am gaga for Google.
Disclosure: I am long GOOG.
Additional disclosure: There were a lot of numbers involved in these calculations and the results are subject to potential errors. Investors are encouraged to do their own due diligence to verify the accuracy or inaccuracies of any reported numbers. I did not use traditionally accepted methods of calculating the Weighted Average Cost of Equity and so my results may differ from those of individuals who have adopted other methods.