Utilities continue to offer a reasonably high yield with better protection from inflation than some other income-oriented investments, like high-quality bonds. I first addressed this issue almost a year ago and followed up in November with a list of high-yielding utilities. While the group has been facing the headwinds of rising rates, it seems to be holding up to those challenges. The SPDR Utilities ETF (NYSEARCA:XLU), which consists of a broad range of utilities beyond just electric utilities, has lagged the market but performed better than high-quality bonds, which is represented by the iShares Barclays Aggregate Index (NYSEARCA:AGG):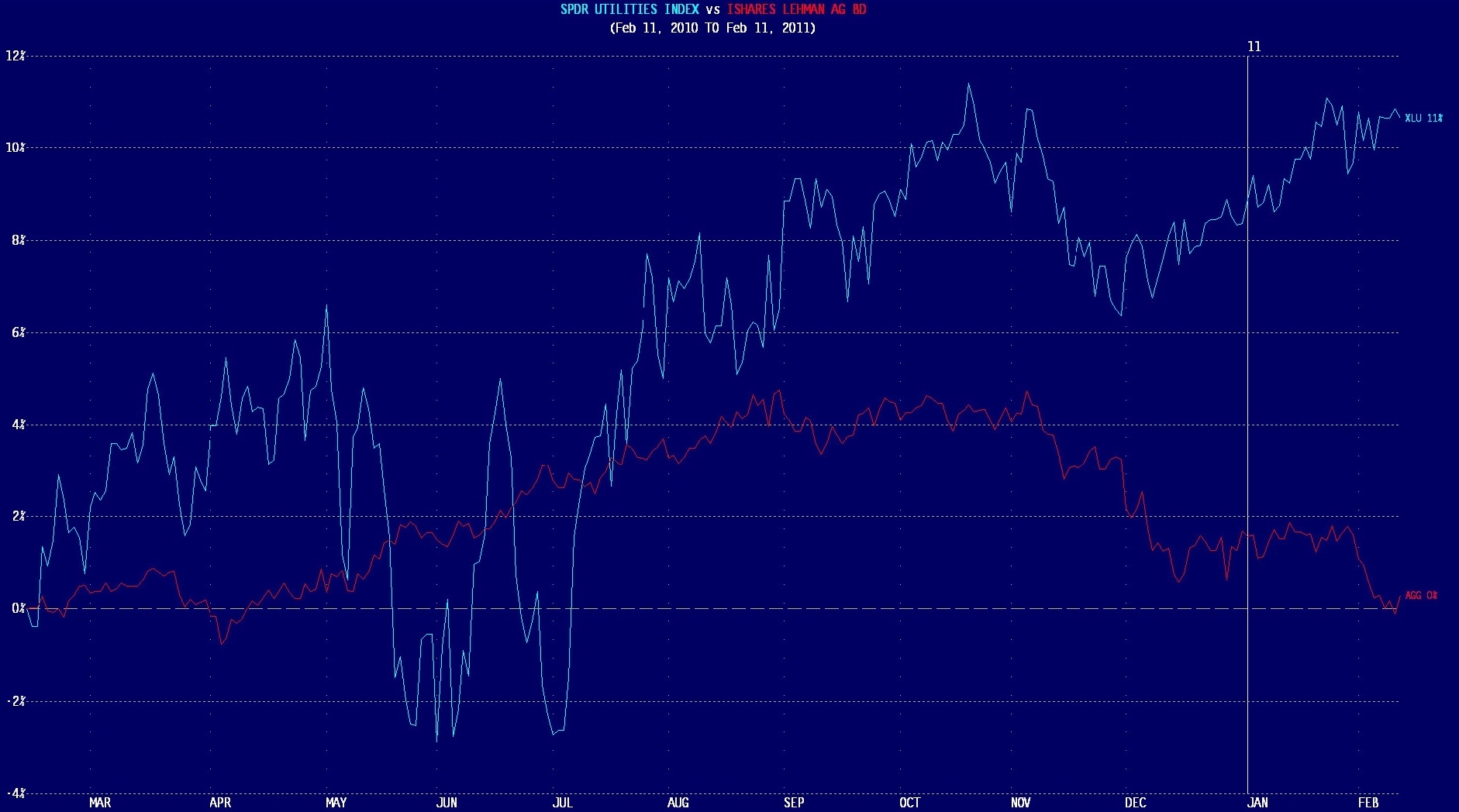 The blue line is XLU, while the red line is AGG. As you can see, over the past year, XLU is up about 11% while AGG is hugging the flat line. These numbers are not total return - income would add about 4% to both. The performance difference over the past few months has been dramatic, with bonds under pressure but utilities managing to get back to their multi-year highs set in October after a brief dip.
I continue to like utilities, though I have now sold our remaining exposure in the Conservative Growth/Balanced Model Portfolio due to my preference for other high quality dividend payers with a higher total return outlook. The extension of the dividend tax preference has helped, but I think investors are likely beginning to better understand that the dividend growth should help erode any sort of inflationary pressures that seem to be worrying the market. Also, it appears that some of the fears surrounding pollution emissions are fading.
I screened the entire utility universe for high-yielding stocks with a likelihood of dividends being maintained if not increased in coming years. Here are the parameters:
Market Cap > $500mm
Yield > 5%
Payout ratio <75%
5-year Dividend Growth > 0
Net Debt to Capital < 60%
Just six names made the cut:
Click to enlarge

The group in general is very mixed, with a few of the stocks among the largest in the country and several others much smaller. YTD, most of the stocks are lagging the broad market, with one falling somewhat sharply. Over the past year, the performance has been mixed, with two offering double-digit returns and one falling more than 10%. Two of the companies have raised their dividends in each of the past five years. The PE ratios seem low relative to the market as well as their own histories.
The only stock I follow closely is Northwestern (NYSE:NWE), which a client owns. I actually visited the company's headquarters in South Dakota this past summer and found the story to be simple, which is good when it comes to utilities. The company just raised its dividend last week when it reported EPS.
PPL Corp. (NYSE:PPL), though, is the one that stands out. Not only is its yield substantially higher, it is one of the only ones that has hiked the dividend in each of the past five years. The company is scheduled to announce its next dividend on 2/25. Its debt levels increased recently on an acquisition of two utilities from E.ON: Louisville G&E and Kentucky Utilities. The company had a large equity offering in June related to that transaction. After its recent earnings report, a couple of brokers downgraded the stock. Seems like a great entry to me, though this is a somewhat complex story. Only half the earnings are from regulated entities, and the company has extensive exposure overseas. Also, it will likely be issuing about $250mm in stock later this year.
The overall utility market continues to improve and represents value still given the yield advantage that remains relative to corporate bonds. This screen identifies some of the higher-yielding names that appear to be capable of at least sustaining if not continuing to grow their dividends.
Disclosure: I have no positions in any stocks mentioned, and no plans to initiate any positions within the next 72 hours.