NTELOS Holdings Corp. [(NASDAQ:NTLS) - $20)] is a regional telecommunications firm offering an above average yield and the opportunity for capital gains based on its potential acquisition by others. Serving Appalachia and rural Virginia, West Virginia, Maryland, and Pennsylvania, NTLS provides both wire line and wireless services. The company continues to roll out its wire line fiber-optics network through both organic growth and acquisitions of smaller competitors. Its wireless segment is the exclusive Sprint Nextel (NYSE:S) franchisee in its service area. With a dividend of $1.12 per share, NTELOS' current yield is 5.4%. While national telecoms offer comparable yields, the NTELOS yield is substantially above its regional peers.
In Dec 2010, management announced it was splitting into two companies – wire line and wireless. The separation should take place in the second half of 2011. The justification is as usually announced, with the ultimate goal of increasing shareholder value. In reality, the split will facilitate each business being acquired by others.
The wire line business has recently acquired two fiber optics companies that expands its service area and interconnects existing networks. NTELOS is the rural local exchange carrier (RLEC) in its service area, and like much of the industry, has experienced a decline in customer count over the years, albeit at a slower rate than its peers. Business strength in central Virginia, has been one of the few bright spots. RLEC revenues are anticipated at about 20% of total, down from over 50% just five years ago.
Wire line growth is in fiber optics and high speed data/business/internet service. There is an interconnection between wireless and wire line where, at some point in the transmission, the wireless transmission ends up on a wire line. Traditional copper wire infrastructure is having a difficult time handling the capacity requirement of smart phones, and wireless providers are moving to fiber optic networks for their land-based segments. The build-out of an extensive fiber optics network in its area should make the company a preferred wholesale service provider. Fiber optics network will comprise 80% of wire line revenue.
NTELOS is the exclusive Sprint Nextel franchisee in the service area, covering a swath of geography from Ohio, to North Carolina, with a contract until at least 2015. Sprint Nextel pays NTELOS service, wholesale, and roaming fees. Sprint Nextel does not have the infrastructure to provide its own service in the geographic area, and NTELOS' franchise contract prohibits Sprint Nextel from building its own infrastructure network until at least 2015.
To appreciate the assets of NTELOS, investors need to review the service maps. Its geography includes Pittsburgh, Wheeling, Roanoke, Charlottesville, and Columbus. A service map for the wire line fiber optic network is found on pg 7 and a service map for the wireless network is found on pg 8 of the company's latest investor presentation.
Map of Fiber Optic Network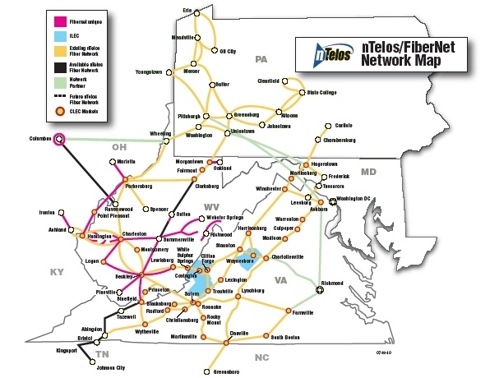 (Click charts to enlarge)
This year, the wire line business is anticipated to generate EBITDA of around $110 million and the wireless is anticipated to generate around $150 to $170 million.
In the process of splitting in two, the wire line business is expected to issue an additional $300 million in debt to repay wireless credit facilities. Current total debt is around $750 million combined.
As separate telecom companies with distinctive infrastructure assets, the separation of NTELOS makes each part more attractive to potential buyers. The questions are when, by whom, and at what price.
With a second half 2011 target date for the separation, it may take upwards of two years to acquire clearance for an acquisition by others. IRS regulations require that for the separation to be considered a non-tax event for shareholders, each new entity must remain independent for 24 months. However, a waiver to this rule may be an option to quicken the pace.
Sprint Nextel would be a logical choice to acquire the wireless business as they lack in-house infrastructure in NTELOS geography.
The wire line business could be of interest to larger peers looking to expand into Virginia and surrounding states. As the wire line industry continues to consolidate, firms such as CenturyLink (NYSE:
CTL
) should be interested in NTELOS' fiber optics network and its potential.
Speculation on acquisition prices vary, especially with the wireless assets. The wire line assets should go for about 6.0 times EBITDA, or about $660 million. The mystery is the value of the wireless assets - there have been few comparable acquisitions. Valuations of EBITDA range from 6 times to 9.5 times, or from $900 million to $1.5 billion – a difference large enough to drive a Brinks truck through. With total debt of $750, the combined equity offer could be from just under $1.0 billion to $1.4 billion. Current market capitalization is $840 million.
With 42 million shares outstanding, a combined share price acquisition target could be in the $25 to $35 range, with the variable being the valuation of the wireless assets.
There are no plans to alter the current combined annual dividend of $1.12 per share, but the breakdown between the two companies post-separation is unclear. Keep in mind Sprint Nextel offers no dividend, so an acquisition by (
S
) of the wireless assets would reduce the position's income over the longer term. However, this is offset by possible capital gains offered during a merger.
Earnings estimates for NTELOS pre-separation were around $1.40 this year and upwards of $1.70 in 2012. A 16 times 2012 earnings potential brings a target price of $27, or 35% higher than today's valuation. A 3-year chart is below: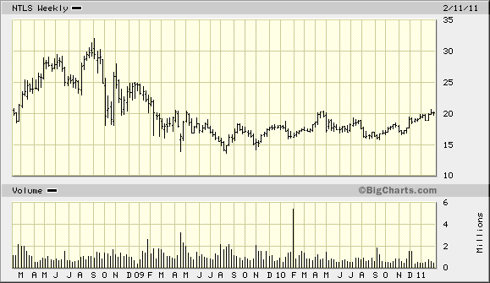 NTELOS offers telecommunication investors a 5.4% yield with the potential for a 25% to 40%+ capital gain over the next two years. While I don't usually invest on the wish of a merger at a higher price, current valuation, yield, and growth potential seems to favor NTLS. With or without a new owner.
As always, investors should conduct their own due diligence, should develop their own understanding of these potential opportunities, and should determine how it may fit their current financial situation.
Disclosure: I have no positions in any stocks mentioned, but may initiate a long position in NTLS, S, CTL over the next 72 hours.