Recently, Gary Townsend published an article here at Seeking Alpha about the management of State Street Corporation (
STT
) dedicated to increasing the company's dividend. (You can read his article
here
.) This inspired me to take a look at the company to see if the stock is a good buy at this point.
State Street Corporation is one of the world's largest institutional asset managers and financial services providers. The company is headquartered in Boston, Mass., and maintains a number of offices in major financial centers around the world including New York City, London, Frankfurt, Singapore, Toronto, Tokyo and Zurich. State Street has two principal operating groups – The State Street Bank and Trust Company, a leading custodian bank, and State Street Global Advisors (SSgA), a leading investment management company. Retail investors may be most familiar with the company as the manager for the SPDR exchange-traded funds. As of the market close on Friday, February 11, 2011, State Street had a market cap of $23.5 billion. State Street has a trailing 12-month EPS of 3.40. This gives a TTM P/E of 13.08, using the closing price on 2/11/2011 which was $46.98.
As investors, we realize that past performance only tells part of the story. What we are interested in is not past performance, but future performance.
Zacks
predicts a 2010 full year EPS of 3.67, giving a P/E of 12.80 for the full year 2011. They provide a consensus estimate of 4.24 EPS in 2011, giving this stock a forward P/E of 11.08 for 2012. These numbers look promising for a potential investment. Assuming the company hits those EPS estimates then it could be a good buy at this level. STT certainly is not a screaming bargain but neither is it overvalued. It can be difficult to find value priced stocks in the current market, given the run up that we have experienced over the past year.
The wise investor will look a bit deeper into the numbers before making a purchase, however. Here is how those numbers compare with some of State Street's peers. All EPS estimates are the Zacks consensus estimates as of 2/13/2011.
Click to enlarge

These numbers show that State Street appears to be fairly valued relative to its peers. We should continue this analysis in order to get a more accurate picture, however.
The price/earnings to growth ratio, or PEG ratio, was popularized by Peter Lynch in his book One Up on Wall Street. The PEG ratio is a valuation metric that can be used to compare the P/E ratios of several stocks after taking growth into account. The formula for the PEG ratio is:

The P/E ratio is an imperfect ratio because it fails to consider the future growth prospects of a company. Growth stocks tend to have high P/E ratios but that may not be indicative of an overvalued stock. Generally, a PEG ratio under 1 indicates that a stock is undervalued relative to its growth prospects. A PEG ratio over 1 indicates the opposite.
Here are the PEG ratios of State Street and its four peers from our previous table: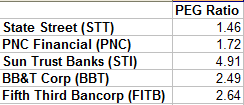 State Street compares quite favorably to its peers in this analysis, having the lowest PEG ratio of any of its similarly-sized peers. While the PEG ratio is an imperfect ratio for relatively low-growth stocks such as these, it remains useful in peer analysis and State Street does indeed appear to be the most fairly valued of its peers. This is certainly something that I like to see in a potential investment.
Another good ratio to use when evaluating financial firms is the price/book ratio. Book value is the company's tangible assets minus its total liabilities. Many financial sites will call this the tangible book value as book value in practice often includes intangibles such as goodwill or intangible assets. A Price to Book value under 1 indicates that the investor is paying less than one dollar for every dollar of assets available to the shareholders. In other words, it is analogous to buying a closed-end fund at less than NAV. Similarly, a price to book over 1 indicates that the investor is paying more than one dollar for every dollar of assets on the books. This can simply mean that investors expect management to create value from the assets that the company owns.
Here are the Price/Book ratios for State Street and its peers: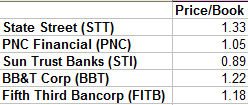 As these numbers show, investors in State Street are currently paying $1.33 for every $1 of assets on the books. This makes it the most expensive financial services provider in the peer group. This is not necessarily a bad thing, however. Investors may simply expect State Street's management to produce more value from the assets than that of the other companies. I prefer to see a P/B value of less than 1 when considering an investment in a financial services company, however.
As Gary Townsend explains in
his article
, State Street wants to increase its dividend to a target payout of 20-25%. That would imply a $0.20 quarterly dividend, which is a substantial increase over the current $0.01 quarterly dividend. He also provides a list of financial companies that are most likely to receive approval to increase their dividend. Among them are both State Street and PNC Financial Services (
PNC
), which also fared the best in the valuation analysis above.
In conclusion, State Street appears to be fairly valued in comparison to its similarly-sized banking peers. The resumption of the dividend might be enough to sway an investor interested in the industry. Please note that this analysis focused on State Street's banking peers. As State Street is also one of the largest asset managers, I intend to write a follow up analysis comparing it to its peers in that industry.
Disclosure: I have no positions in any stocks mentioned, and no plans to initiate any positions within the next 72 hours.