As Mubarak left Cairo for the resort city Sharm el-Sheikh, ending his 30-year reign, crude oil markets seemed to have suffered a split personality disorder.
Egyptian unrest is a geopolitical event very specific to the supply risk of crude oil; however, the news of Mubarak stepping down has had a diverging effect on the major oil price markers – West Texas Intermediate (WTI) on Nymex, and the North Sea Brent on ICE.
Same Egypt, Diverging Crude Reaction
On the same news about Mubarak, WTI for March delivery dropped 1.3% to $85.58 a barrel on Nymex, near its lowest closing price in 10 weeks, while Brent crude on the ICE futures exchange settled higher at $101.43 a barrel, driving the WTI-Brent spread to a record $16+ intraday on Friday, Feb. 12.
However, I believe the crude oil market, WTI in particular, has grossly mispriced the current risk premium due to the euphoria from cheering crowds and waving flags at Cairo's Tahrir Square, thinking oil supply risk has greatly diminished.
Region Stability in Question
While Mubarak did bow to peoples' wishes, one thing that's being overlooked is that Mubarak ceded power to the military instead of a sophisticated and well-organized governing body, which is no guarantee that
the ongoing chaos
will ease even after Mubarak's stepping down.
Furthermore, Mubarak is the one who managed to keep peace with Israel, thus providing stability in the region; his departure, while closing a historic chapter in Egyptian politics, nevertheless signifies further tensions and instability arising from the power transfer within Egypt, an increasingly nervous Israel, not to mention some opportunistic terrorists and "professional protesters" roaming from chaos to chaos.
Egypt Contagion Risk
Then there's the protest contagion effect that could spread from Tunisia, Yemen, and Egypt to other parts of the MENA (Middle East and North Africa) region (see map), given a similar mixture of high unemployment, food inflation, wealth gap, and an autocratic government structure.
The Gulf states such as Saudi Arabia, meanwhile, though flushed with petro dollars have their own problems of aging rulers and succession issues. This, coupled with an increasingly young and highly educated demographic makeup, creates a potential source of risk as well.
Oil Supply Risk: Algeria, Libya, Saudi Arabia
From an oil supply perspective, Algeria, Libya and Saudi Arabia are the higher risk countries, with significant oil production for contagious unrest in the immediate MENA region. Violent protests are already erupting in Algeria, where the government reportedly has shut down the Internet and Facebook services. There are also smaller protests reported in Saudi Arabia, and a planned mass protest to be launched in Libya on Feb. 17.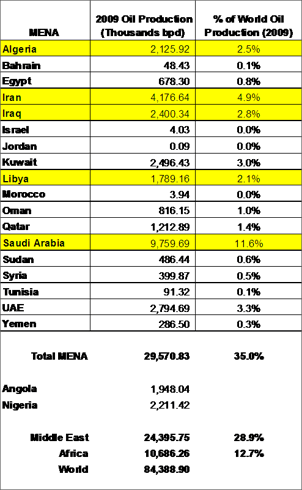 Saudi Arabia accounts for about 12% of global oil production and holds almost 25% of the world's oil reserves. These three OPEC countries combined supply just over 16% of the world's oil, while holding about 42% of global oil reserves. So, should protests in these three countries progress like the ones seen in Egypt, we are talking about 13.7 million barrels a day (bpd) of crude oil that could potentially be taken off the market, based on the U.S. EIA 2009 oil production data (see table).
Don't Forget Iran and Iraq
Moreover, due to their respective long history of civil unrest and revolts, Iran and Iraq, which seem to have either been forgotten or ignored by markets, are like two time bombs ticking louder each day with the ongoing uprisings at their neighbors. That would mean another 6.6 million bpd, bringing the total percentage of global oil supply at risk to 25%, or 20.3 million bpd.
Oil Supply Risk: MENA Region
And there's another plausible scenario that the contagion could spread through the entire MENA region. Among those countries, eight (Saudi Arabia, Libya, Algeria, Iraq, Iran, Qatar, Kuwait, and UAE) are OPEC members. Should riots erupt throughout MENA, it would mean 35% of the world's oil production, or about 29.6 million bpd, would be at risk. Not to mention these eight OPEC nations also hold about a 75% share of global oil reserves, and two more OPEC members – Nigeria and Angola—are just south of MENA.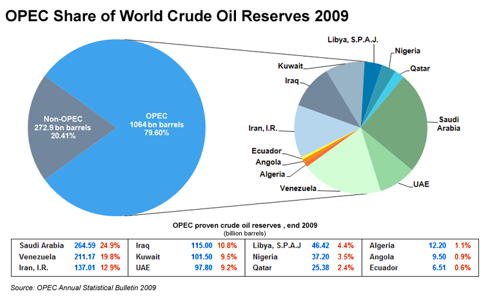 WTI: Mispriced Risk Premium
WTI has been under pressure of late due in part to record inventory levels in Cushing, Okla., the delivery point for Nymex contracts, and new spread traders artificially pushing down WTI while taking long positions on Brent.
Meanwhile,
rumors
of Saudi Arabian King Abdullah bin Abdul-Aziz's death caused crude oil to spike more than $1 per barrel on Feb. 10. And
Bloomberg
reported that Egypt's ruling army council already dissolved parliament and suspended the constitution, saying it will rule for six months or until general elections take place.
So the situation in Egypt as well as in the region is still very fluid and could change at a moment's notice, sending the crude oil market into panic mode. When that happens, WTI will have a rude awakening, spiking $12 a barrel in minutes while markets reprice the geopolitical risk premium -- and lots of blood from the resulted massive short squeeze.
Disclosure: I have no positions in any stocks mentioned, and no plans to initiate any positions within the next 72 hours.