We shared with Seeking Alpha our commodities bubble thesis back in December, and the basket of stocks we presented is up 8.38% versus 6.97% for the S&P 500 (NYSEARCA:SPY) through the Friday close. The definitive laggard in our basket has been Silver Wheaton (NYSE:SLW), our pick for playing silver.
The silver market has had a very strong correction in the time since our article, and Silver Wheaton is down -14.53% since we explained how the commodities bubble is in an early stage.
For retail investors, the easiest way to gain direct exposure to silver is the iShares Silver Trust ETF (NYSEARCA:SLV), which tracks the spot price of silver net of fees.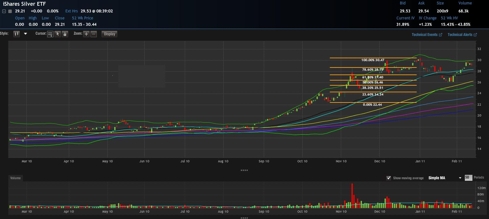 (Click charts to enlarge)
As the 1 year chart of SLV suggests, the correction in silver appears to have almost run its course with silver poised just below its 52 week highs.
At the same time, we notice that (SLW) is approaching its downtrend resistance. Silver Wheaton is not a miner, but a metal streaming company that buys silver from miners for whom silver is a by product of their primary mining production. A great example of this is Freeport McMoran (NYSE:FCX) using its secondary gold production to reduce its cash cost of copper, the company's primary product.
Silver Wheaton locks in its sources of silver at fixed costs, which are approximately $3.90/oz on an operating cost basis according to a January corporate presentation at the TD Newcrest Mining Conference available on the SLW website, so the company's earnings is leveraged to the spot silver price due to its fixed costs and unhedged revenue stream. As a result, Silver Wheaton had a much more severe correction than physical silver.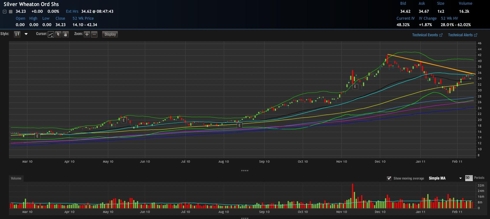 If SLW can trade through its downtrending resistance and its 50 day moving average and physical silver can break through to new highs, we think SLW sets up as a compelling trade on a momentum basis.
After all, if silver breaks out to new highs, then the earnings power of SLW is higher than it was back in December when SLW traded for $42, all else being equal.
We think we are far away from the euphoric phase of the commodities bubble, so keep an eye on SLV and SLW this week for a possible double break out. It sets up as a compelling opportunity to add to current SLW positions or initiate new positions if both break out above resistance.
Disclosure: I have no positions in any stocks mentioned, but may initiate a long position in SLV, SLW over the next 72 hours.
Additional disclosure: The facts in this newsletter are believed by the Strategist to be accurate, but the Strategist cannot guarantee that they are. Nothing in this newsletter should be taken as a solicitation to purchase or sell securities. These are Mr. Evensen's opinions and he may be wrong. Principals, Editors, Writers, and Associates of The Strategist may have positions in securities mentioned in this newsletter. You should take this into consideration before acting on any advice given in this newsletter.