S&P, Barclays and Caris all cut their price targets for Expedia (NASDAQ:
EXPE
) last week after the company's earnings call. That would certainly be enough for the shellacking that EXPE took on Friday, except for one simple fact: all of their price targets are equal to or greater than $26, and EXPE is trading at about $21. I don't know an investor that wouldn't enjoy a 20% return. So, why the sudden investor exodus? Benchmark Co and Bank of America lowered their ratings to a "hold" from a "buy," but is that really enough? What was so terrible about that earnings call that made everyone sell the leading online supplier of travel accommodations and services? Is Priceline (NASDAQ:
PCLN
) suddenly going to double in size and take over the lead?
As is usually the case in situations like these, I was intrigued by the sudden and violent drop of this stock. My general stance is that the fundamental nature of a business cannot change due to one earnings call. The next question I ask is this; is the stock cheap now or has it simply come back to reality? In the case of Expedia, I think it's cheap, investing in the right markets and primed for a major run towards a fairer value over the long-term. Short-term, the stock could take a beating as it will make long-term investments that will press margins. However, twelve months from now, this canary might be singing a different tune. I think it is only the very foolish that punish a stock that is investing in long term results at the expense of a few pennies in EPS over the short term. I've
taken an in-depth look at the earnings call already
, so this article will look primarily at why I think Expedia is cheap. Let's take a look at Expedia.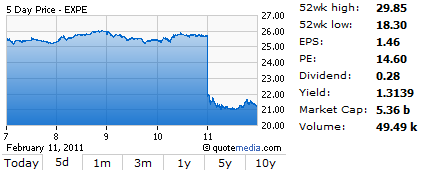 Competitive Analysis: The most legitimate gripe with Expedia is the fact that the online space is becoming more crowded and their competitive edge might not be enough to keep them growing. Priceline has been growing at a much faster rate, especially in terms of their presence overseas. While PCLN still has ground to make up, EXPE will have the change something about their international strategy to maintain their edge in international travel.
Another competitive blip on the radar screen is that of metasearch. These newer entrants into the travel industry serve to make sure that even the very lazy can check Expedia versus Orbitz versus Travelocity, etc. The metasearch can aggregate hundreds of travel sites in a single click. If these become the entry into online travel, then things like Expedia's ad revenue will decrease, their brand will suffer and their bargaining power will erode. I still think that Expedia will be the main gateway to their travel accommodations in the medium term, especially internationally. However, long term, metasearch may become a more efficient way to book travel.
These things, combined with the ease of entry into the competitive landscape make Expedia vulnerable to new competition. However, with prices so similar across many different providers, even the best technology can only do so much to improve customer results. So, what is Expedia doing to remain relevant?
Investments: One of the things I like about Expedia is their investment outlay. Their main advantage is their cash flow and size, when compared with smaller niche operators and new entrants; in order to capitalize on this and overcome their lack of flexibility, they need to make prudent investments that will solidify their position as the leader in online travel services. They are involved in China, mobile and new technologies in very material ways.
More than simply saying, "Mobile is important, we're looking at mobile," EXPE actually bought a small mobile firm that had an already popular app on the iPhone. During the earnings call Dara Khosrowshahi, CEO of Expedia, said of the Mobiata team that the:
Work that they're doing with the Expedia team is incredibly encouraging as far as radically improving the quality of our mobile product. So within in 2011, we expect to see those benefits.
This team is being leveraged to improve the mobile product across the board for Expedia. Mobiata, could be one of those investments that returns real intangible dividends in the terms of an new approach to the entire mobile sector.

Furthermore, they are doing their best to erase the growth edge Priceline has attained in the international sphere. They are aggressively pursuing this international market. Dara also stated that investors can:
Expect [Expedia] to launch in anywhere between five to seven, or eight new countries.
This is good news for the long term. Despite any increasing costs or lower monetization rates in these countries, the long term impact will be a stronger foothold in travel globally. I like the sounds of that, despite any decrease in short term results. Also, Expedia has a subsidiary, eLong Inc. (NASDAQ:
LONG
), that has been making an imprint in online China travel. As I've written previously, I think Chinese travel is potentially ready for a breakout. Expedia is standing right in the middle of that right now.
The final part of their investment plan is technological. The platform they have implemented for Hotels.com over the past year will be leveraged for the more complicated business lines of Expedia. This will allow them to improve conversion and monetization rates of Expedia in much the same way they did with their hotel business.
Increasing Costs: With this outlay of investment capital will come an increase in costs and a margin squeeze that analysts are becoming increasingly sensitive to. With the recovery beginning to manifest itself in travel numbers, many analysts are concerned that the miss by Expedia is indicative of an underlying issue with their business. I disagree, and think that the increased costs are due to the slew of investments they are making and some adjustments made during the quarter. Michael Adler, CFO of Expedia said during the earnings call that Expedia:
Accelerated the recognition of certain credit card fee payments, and these, along with some other adjustments, drove the deleverage in cost of revenue in the quarter. In fact, without these adjustments, cost of revenue would've grown slower than revenue for the quarter and for the full year.
Now, this may be just some accountant jargon justification for a number being squeezed by competitors, but it could also be a change in fee structure that had a material impact on costs. Also, the fact of the matter is that international marketing costs are outpacing domestic right now, and a decreased monetization rate is squeezing these results overseas. Once these markets mature a little more, expect the returns to increase from those investments. For now and the immediate future, however, the outlook is tight.
Valuation: Now, despite the challenges facing Expedia in the online travel sector, I think they are undervalued. Their recent hit was too much for the actual news that they reported and I feel now is a good time to get in for a long term, fundamental investor. Why do I say that? A few things:
Expedia is an industry leader that has the capital and technological foundation to perform over the long term. They are making the right investments at home and abroad and paying attention to emerging trends like Mobile long before they are a major driver of revenues. This anticipatory move is being made for the long run, which should always please a fundamental investor. Also, this stock is relatively very cheap compared to their historical numbers. Their PE of less than 15 is half what it was only three years ago.
As a result of this and all the previous items covered, I am confident giving Expedia a price floor of $25 and a ceiling of $32. This represents a significant upside to the current price of ~$21. I think that over the long run, the investments being made by Expedia will pay off and help them maintain their edge in online travel.
Conclusion: Expedia is an example of my favorite type of stock; beaten down by one earnings report with significant upside and value. Although the industry is competitive, I believe the technological advantages and acquisitions that EXPE has made recently will be converted to returns down the road. Their multiples and fundamental valuations are very attractive, and they could. One earnings report doesn't a company break, and I feel that now is the time to get in on an industry leader making moves to stay relevant.
Disclosure: I have no positions in any stocks mentioned, and no plans to initiate any positions within the next 72 hours.