Here are four companies with interesting trades that appear moving into earnings ...

Dr. Pepper Snapple (NYSE:DPS) - The soft drink company is looking to make a major improvement YOY on its Q4 earnings from 2010. They are slated to report an EPS of 0.64 vs. 0.44 expectations. The company disappointed last quarter when they met consensus estimates, but this will be a big growth quarter for the company YOY, and the stock is trading at very low valuations with an RSI nearing 30. Other soft drink makers have been mixed, but Coca-Cola (NYSE:KO) beat earnings exceptionally while Pepsi (NYSE:PEP) beat earnings but disappointed overall. With expectations seemingly so low at this point for DPS, the company should be able to move up into earnings and even a slightly bullish report should send this stock flying. The company reports on Thursday.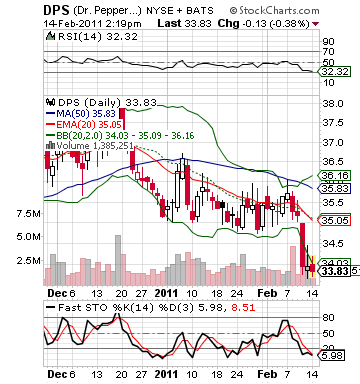 First Solar (NASDAQ:FSLR) - Despite the company's exceptional movement of over 20% since the beginning of the year, this earnings report is crucial for First Solar. A good report could take the stock in Q1 to 200, while a weak report will be very hurtful to the gains it has seen as of late. The company is expected to report an EPS of 1.76 vs. 1.65 during the company's typically slowest quarter. The company has seen a lot of great deals made in the past few months in the U.S., India and China, and we are expecting big things. MEMC gave us a snapshot of what should be on tap for a lot of solar companies, and First Solar will set the tone for the rest of the industry moving forward. The company reports on Thursday, and if they are good, this stock will fly much higher as it will break any resistance to 200.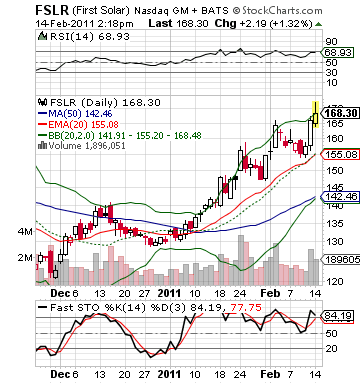 Newfield Exploration (NYSE:NFX) - The independent oil and gas company reports earnings on Thursday with expectations slightly lower YOY at 1.25 vs. 1.40 EPS from one year ago. The company, however, should be guiding well in its report and that seems to not have a significant impact on the stock yet as it is still undervalued and has room to move. The company expects production to increase 8-10% in 2011 and the company is looking to boost its oil production over natural gas as oil prices continue to rise. NFX should provide nice guidance that has not been priced into the stock, and we expect it to move higher off earnings.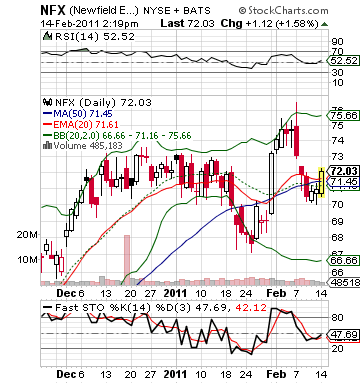 Nexen (NXY) - Another independent oil and gas company, Nexen also reports earnings on Thursday, and we have positive expectations for the company. Much like NFX, the company is expecting lower earnings YOY at 0.41 vs 0.49 EPS. The company is lower on natural gas drops in price, but much like NFX should be looking to guide well into 2011, and that has not at all been confiugred into the stock price. The company, which also has a chemicals business, appears to be getting out of that area and diverting attention more to oil and gas. With oil prices bottoming, this one should follow higher after a strong report.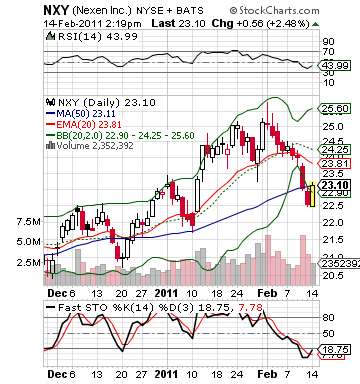 Disclosure: I have no positions in any stocks mentioned, and no plans to initiate any positions within the next 72 hours.