Netflix (NASDAQ:NFLX) is up big on Monday on news that Qualcomm Inc. (NASDAQ:QCOM) revealed that Google's (NASDAQ:GOOG) Android platform would be able to soon stream Netflix movies and TV shows. Android powered tablet computers and cell phones will give consumers the option to stream content from Netflix, thus expanding Netflix's potential user base. Google is up $1.80 on the news while Netflix bubbled to fresh all time highs by another $16.48 or 7.13%.

If these 7% daily moves in Netflix aren't considered froth in the markets, then I don't know what would qualify. Good thing Whitney Tilson decided to cover his short position, because apparently investors have gone gaga for Netflix.

Completely forgetting what happened last time we saw this type of exuberance in the marketplace, investors continue to push the stock into unchartered bubble territory. Despite the fact that NFLX is trading at nearly 85 times last year's earnings, investors continue to plunge hundreds of millions of dollars into the company.

Now, as a short-term momentum play, this isn't so bad of a stock ride. But as a long-term investment, this has got to be one of the most overvalued names on the Nasdaq. Yet, for those who are interested in playing the momentum on Netflix, keep a very close eye on the long-term trend line. As soon as that trend-line breaks, look out below. If the market momentum begins to turn, look out below.

Yet, right now Netflix is nicely contained in a very wide upward channel with significant volatility, making it a very lucrative trading opportunity. See the chart below.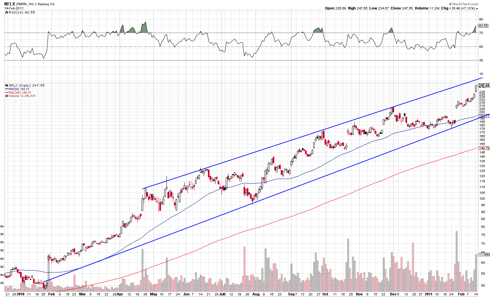 Disclosure: I have no positions in any stocks mentioned, and no plans to initiate any positions within the next 72 hours.