Pope Resources (POPE $41) has announced 4th quarter and year end 2010 results. POPE is the smallest publically traded timber company. The most intriguing comment in the press release was from David L. Nunes, President and CEO,
For the full year, the primary driver for our results was the strong demand from China for Pacific Northwest sawlogs, which resulted in a 63% increase in our harvest level and a more than doubling of the proportion of harvest volume sold to the export market over the prior year. While poor housing markets are expected to remain a drag on both domestic lumber and real estate markets in 2011, the export log market has remained strong and continues to support increased log pricing and higher harvest levels.
The China connection remains the hot topic in the rebound for the timber industry over the past year. Most every conference call and company yearend press releases will make reference to strong interest from China. I wrote a series of articles on the topic in 2010. Across the board, export revenues are up, prices are up, and profits are up. So are share prices, with many stocks trading at mid-cycle valuations. Pope Resources is one such situation.
For background, review an article from last May (here). The story can be updated, but the investment theses remains unchanged, just a bit more expensive. POPE is structured as a MLP, the only one in the timber sector, and offers distinct tax considerations.
For year 2010, cash from operations, a key criterion for evaluating MLPs, was $9.0 million, or about $2.15 a share, and represents a vast improvement over the $0.17 a share in 2009. Net income is reported at $0.43 per unit holder, up from a loss of -$0.07 in 2009.
Timber sales led the way in the improvement over 2009 performance. From the release:
Fee Timber operating income for 2010 was $9.7 million compared to $3.7 million in 2009, driven by the combined effect of a 63% increase in harvest volumes, from 32 MMBF in 2009 to 53 MMBF in 2010, and a 19% improvement in average realized log price, which increased from $410 per MBF in 2009 to $486 per MBF in 2010. In response to a surge in demand for logs from buyers in China, we harvested more timber than initially planned for in 2010 and more than doubled our export mix, which increased from 15% in 2009 to 33% in 2010. Healthier export markets also contributed to a year over year 27% increase in domestic log prices and allowed us to increase our sawlog harvest mix, which helped to reduce pulp log volume to 17% of the total harvest in 2010 from 23% in 2009.
With reduced harvests over the past few years, and a sustained harvest level in the 60 MMBF range with an annual mercantile growth rate of 4%, POPE could harvest upwards of 50 MMBF over its sustainable levels due to previous year's shortfall.
Management has been active in selling conservation rights to its timberlands, generating $2.4 million in 2010, down slightly from the $3.3 million in 2009. These rights allow POPE to continue harvesting assets but transfers future development rights. With a lack of current real estate sales common to timber companies, the sale of conservation rights tends to replace that lost revenue and income stream.
The company recently announced the purchase and retirement of about 7% of outstanding units, potentially adding to future earnings and distributions per unit and potentially higher share prices. However, a very low float and a relatively illiquid market need to be noted. POPE has a market cap of $190 million and average daily volume of 9,000 shares. POPE has no following on Wall Street and institution own only about 10% of units, with insiders holding about 28%.
Over the past year, unit prices have climbed from the low to mid $20s to the low $40s. During the end of the last cycle, earnings were over $5.00, distributions were $1.80 and unit prices were at $50ish. Without a doubt, POPE is trading at mid-cycle valuations. While destine to increase as the domestic housing market eventually improves, the current distribution of $1.00 yields a 2.5% return, not outstanding by any measure. Even with a doubling of the distribution, yield on invested capital at today's unit price would equate of 5.0%.
A 10 year chart is below, and incorporates the last downturn and subsequent recovery. The spike in 2005 was caused from an initial coverage and "buy" recommendation by an investment newsletter and subsequent large short-term buying (click to enlarge):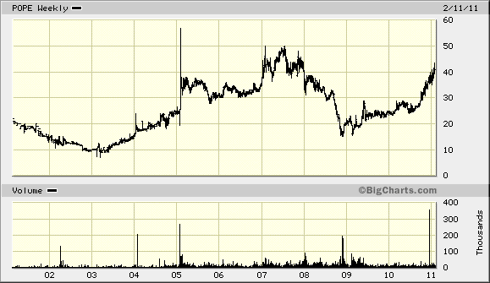 Click to enlarge
Looking at the recovery from the last downturn, unit prices ran from their double bottom at around $10 in Nov 2002 and February 2003 to just under $50 in 2007. This is very similar to the double bottom just under $20 experienced in December 2008 and February 2009.
The easy money has been made for investors who have owned POPE since early last year. Maybe at the top of this cycle, led by higher prices, continued export demand, and increased domestic consumption, POPE will generate earnings in the $4.00 to $5.00 range, and distributions in the $2.00 range. This could lead to unit prices in the mid to high $50s and on a good day, pushing $60, and could generate about a 35% to 40% gain over the next few years, or a total stock return of about 11% to 13% a year.
We could get their quicker if POPE could ship their excess above sustainable harvests to China at slightly better prices.
As always, investors should conduct their own due diligence, should develop their own understanding of these potential opportunities, and should determine how it may fit their current financial situation.
Disclosure: I am long POPE and have been a unitholder since 2004.