The Swiss franc, or "Swissie", as it is known by traders, first gained a reputation as a safe haven currency after the First World War.
The fundamental reasons behind the attractiveness of the franc as a safe haven are very much the same now as they were in the 1920s.
Switzerland has long benefited from a stable, conservative economic and political system that has kept volatility to a minimum. The country has also developed a world class financial and banking system that facilitates inward investment.
Switzerland's neutrality during both world wars of the last century was one of the major catalysts that attracted investors. Governments and central banks got into the habit of holding some Swiss francs in their reserves as a hedge against economic downturns, increasing these amounts when the bad times inevitably arrived.
The growing importance of the United States dollar and the emergence of the Japanese yen as a so-called "hard" – or strong – currency did little to dampen enthusiasm for the franc as a fallback option.
Many economists believed that the introduction of the euro in 1995 would reduce the franc's status as a safe haven currency.
Early indications showed that the strength of the euro had eroded the importance of the franc. But the financial crisis and resultant recession saw renewed enthusiasm for the Swissie that suggested its importance during times of hardship remained undiminished.
Switzerland's traditional conservative economic approach ensured that it did not become mired in the same crippling debts as other European countries. And although the financial center did not escape the crisis completely unscathed, Swiss banks by and large – UBS the exception – remained relatively stable without government assistance.
The franc continues to function as a small reserve currency; it will not be an essential part of the global monetary system, but investors like a safe alternative. Investors could profit from it by buying Swiss stocks in their own currency.
A stock that is worthwhile to look at is Zurich Financial Services Group (OTC:ZFSVY).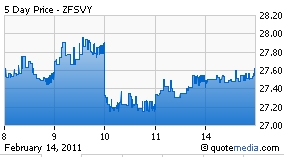 Zurich Financial Services Group is one of the world's largest insurance groups, and one of the few to operate on a truly global basis. With 60,000 employees serving customers in more than 170 countries, their business is concentrated in three core business segments: General Insurance, Global Life, and Farmers.
The company offers a comprehensive range of general and life insurance products and services for individuals, small businesses, mid-sized and large companies and multinational corporations. Zurich combines strong market positions in personal, commercial and corporate insurance in North America and Europe, and growing positions in Asia and key emerging markets.
Last week, Zurich Financial (CHF 267) presented 4Q10 results which were fairly in line with expectations, with the book value coming in stronger than expected and ZFS raising dividends higher than expected, leaving the stock trading at a sustainable 6.5% dividend yield. Underlying results seem to be stabilizing and ZFS seems to be sharpening up the pricing a little, which is leading to an improved combined ratio and profitability.
For 2010, business operating profit was down 13%, at USD 4.9bln, largely based on higher levels of payouts as a result of large loss events (natural catastrophes, etc). Net income also dropped 13% to USD 3.4bln, leading to a return on equity of 11.4%, up significantly on last year, but still slightly weak in comparison with historical trends. Looking at the underlying trends, the non-life business saw large payouts put pressure on the combined ratio which weakened from 96.8% to 97.9%. But the company's focus on margins led to the pricing trend continuing to accelerate, with prices 4% higher than last year in the last quarter, an acceleration over 3Q10.
Book value was up 2% q-o-q to USD 32bln, largely thanks to a positive revaluation of the stake the company owns in New China Life insurance. The regulatory solvency ratio remains very strong at 243% and risk based capital ratio improved from 114% to 119% and is now at the top of the company's target range (110-120%), leaving the company will financed. As a consequence of this, the management decided to raise the dividend once again, by 6% to CHF 17 per share, leaving the stock trading at a 6.5% div yield. The stock trades around 8.5x 2012 earnings, which is a slight discount to the sector and low in a historical context.
Zurich Financial is well run, well capitalized and now focusing more on underlying profitability. With interest rates, investment markets and economic growth picking up, this insurer is ready for the future.
Some more information about their credit ratings and business can be found in the links below:
http://zdownload.zurich (.pdf)
Disclosure: I have no positions in any stocks mentioned, and no plans to initiate any positions within the next 72 hours.