By Richard Block
If you own shares of the Ford convertible preferred stock (F.PS), it's decision time because the shares have been "called."
On March 15, the company will redeem those shares for about $50.87 each (redemption price plus unpaid distributions).
These are convertible preferreds, so shareholders also have the option to convert each preferred share into 2.8769 shares of Ford's common stock (NYSE:F). With Ford closing at 16.38 on February 11, that would be worth about $47.12. (The preferreds closed that same day at $51.03.)
For preferred shareholders, this is good news and bad news.
The good news is that all of the distributions promised ($3.25 per year per share) were paid – even though some of those payments were made late.
The bad news is that there's no more 6.5% yield (based on the share's par value of $50), so income investors will have to look elsewhere. Although it's possible that the company will initiate a dividend on its common stock, it doesn't seem likely that it will have a yield anything close to 6.5%.
A look back at Ford
It's certainly been a wild ride for Ford. Here's a look at a hypothetical $10,000 investment in the Ford preferreds if you'd purchased them soon after they were first issued in early 2002. The green line shows the value of the shares, while the purple line includes the distributions of $3.25 per year.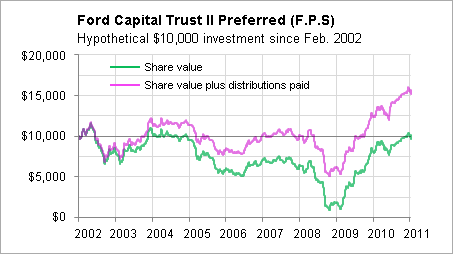 From a risk-adjusted standpoint, this doesn't seem to be great performance. It all depends how you measure risk, of course, but the company's future seemed questionable even before shares melted down in 2008.
Recent investors, however, might be more pleased. Here's a chart showing the hypothetical performance of a $10,000 investment in both the Ford preferred and the common stock since August of 2009.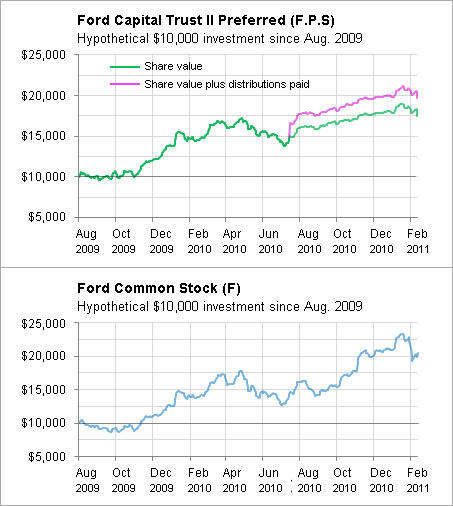 Note that the purple line that shows distributions on the preferred shares doesn't appear until July of 2010. That's because the company suspended payments in March 2009, but reinstated the dividend and caught up on missed payments last July.
I'm not sure how many preferred shareholders will be interested in converting their shares to common stock. This could increase the overall shares outstanding, but I'm guessing (and it is just a guess) that the company's financials already reflect the potential dilution to common shareholders.
Ultimately good news?
I have to say that while this may not be the most amazing comeback story ever (and the company may still face headwinds), it's still impressive. Over the past few years, you could have easily made the case that this company was destined to go belly up.
So what to do now? If you'd bought the preferred for their convertibility value, well you got to collect some pretty decent dividends over the years, but the company's common stock has to rise to at least $17.68 by March 15 to make conversion worthwhile. (That's the $50.87 the company will pay in cash divided by the 2.8769 conversion ratio.)
But as I mentioned before, income investors addicted to high yields will need to look elsewhere to get their quarterly fix of dividend payments.
Disclaimer: Content, including research, tools and securities symbols, is for educational and informational purposes and should not be intended as a recommendation or solicitation to engage in any particular securities transaction or investment strategy. You alone are responsible for evaluating which securities and strategies better suit your financial situation and goals, risk profile, etc. The projections regarding the probability of investment outcomes are hypothetical and not guaranteed for accuracy or completeness. They do not reflect actual investment outcomes and are not guarantees of future results, and do not take into consideration commissions, margin interest and other costs that will impact investment outcomes. Content may be out of date or time-sensitive, and is subject to change or removal without notice. Supporting documentation for any claims made in this post will be supplied upon your email request to editor@zecco.com.