Last night we sent a note to subscribers announcing we are pulling Netflix (NASDAQ:NFLX) out of The Strategist Paper Portfolio.

Our reasons for this decision are based on the psychological and quantitative aspects of the investment tripod (fundamentals, quantitative, psychology).

Psychologically, the sentiment on Netflix has shifted dramatically away from the negative extreme since the public mea culpa of Whitney Tilson that he had covered his short position in Netflix. Mr. Tilson was one of the most public short sellers of Netflix, and since his decison to throw in the towel we saw a very interesting headline on CNBC.com "The Last Short Standing on Netflix."

Overall, it feels like capitulation is close on Netflix. We may be missing out on a climax top, but the prudent course of action at this point is to take gains in a stock that has been a very profitable trading name for our newsletter since its inception. After all, climax tops have a nasty habit of inducing euphoria in even the most disciplined of traders.

On a quantitative basis, Netflix is at its most overbought level of the past year. A truely remarkable statement considering the price performance of Netflix. The past times Netflix has achieved a similar overbought state, it has pulled back to the 50 day moving average before achieving new highs.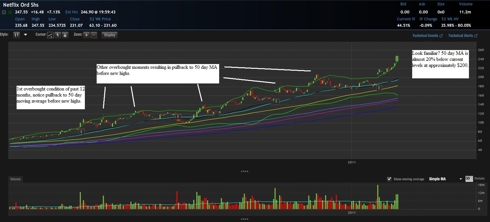 (Click to enlarge)
The fundamentals are unchanged on Netflix, but the quantitative analysis is not constructive in the medium term. It also strikes us as bizarre that the public "give-in moment" on a sentiment basis is now. Feels like back when our editor was nine when Cisco (NASDAQ:CSCO) topped out and Cramer claimed that Cisco shares were a better currency than U.S. dollars. (To be fair to Cramer, he has been right all the way up on Netflix).

Bottom line, even though we are relative strength/momentum investors who have been bullish on Netflix since fourth quarter 2009, we just do not like the present picture on Netflix quantitatively or psychologically. NFLX is out of The Strategist Paper Portfolio effective the market open on Tuesday.

Disclosure: I have no positions in any stocks mentioned, and no plans to initiate any positions within the next 72 hours.

Additional disclosure: The facts in this newsletter are believed by the Strategist to be accurate, but the Strategist cannot guarantee that they are. Nothing in this newsletter should be taken as a solicitation to purchase or sell securities. These are Mr. Evensen's opinions and he may be wrong. Principals, Editors, Writers, and Associates of The Strategist may have positions in securities mentioned in this newsletter. You should take this into consideration before acting on any advice given in this newsletter. Investing includes certain risks including loss of principal.