Last Wednesday, San Diego based Mad Catz (NYSEMKT:MCZ) announced outstanding results for the December 2010 quarter, reporting $93 million in revenue and 16c in 'pro forma' earnings. This is by far the company's highest-ever quarterly revenue and operating profit for the seasonally strong December quarter and year-to-date period.
See Full Earnings Call Transcript
Fiscal
Year Ending

Dec Quarter (Q3)

Year-to-Date (9mos.)

Revenue
(in $ mill.)

'Pro Forma'

Earnings

Gross

Margins

as % of

Revenue

Operating
Expenses

as % of

Revenue

Revenue
(in $ mill.)

'Pro Forma'

Earnings

Mar 2011

93.0

0.16

28%

11%

150.3

0.17

Mar 2010

48.8

0.10

33%

17%

92.7

0.12

Mar 2009

40.8

0.03

26%

21%

89.8

0.00

Mar 2008

34.3

0.06

37%

21%

65.7

0.08

Mar 2007

36.5

0.07

28%

13%

80.4

0.05

Mar 2006

45.0

0.00

15%

15%

83.5

(0.06)

Mar 2005

52.8

0.07

25%

13%

90.2

0.08
On the day following the quarterly report, the stock closed at $1.45 (up from $1.21 prior to the news), and is currently trading in the $1.60s. However, as explained below, the stock price still lags the recent improvement in its operating fundamentals, and offers investors having a modicum appetite for risk the opportunity to capitalize on the momentum into 2011 associated with an improvement in global economic fundamentals as well as company-specific initiatives.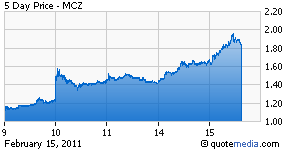 Company Background
Mad Catz is a leading third-party provider of accessories for all three major videogame platforms: the Sony (NYSE:SNE) PlayStation®, Microsoft (NASDAQ:MSFT) Xbox®, and Nintendo (OTCPK:NTDOY) Wii®. Its core products include controllers, memory cards and RF switches, which offer a value-priced, feature-rich alternative to OEM products; the 'GameShark' line of videogame software enhancements and proprietary videogames; and other premium products to enhance the gaming experience. These include the 'Saitek' line of simulation products such as steering wheels and guns, 'Cyborg' line of pro-gaming products such as gaming mice and keyboards, and the 'TRITTON' line of premium gaming headphones. In addition, Mad Catz also sells the 'Eclipse' line of home and office computer products including specialized mice and keyboards; 'Airdrive' line of headphones for iPhones; and has signed licensed agreements with major sports names, including the NFL, MBA, and MLB, as well as entertainment names, including Disney (NYSE:DIS) and Marvel (MVL), to produce co-branded accessories.
In the latest December quarter, over 30% of its sales came from accessories for the XBOX platform, another 20% each from the Playstation and Wii platforms, and the remaining 30% from PC and other platforms. As a result, the company 'wins' no matter which gaming platform gains market share so long as it continues providing cutting-edge accessories to enhance the gaming experience.
To that end, the company has an active acquisition strategy, whereby it supplements its organic growth and internal product development with selective acquisitions of product portfolios that fit within its strategy of providing cutting-edge high-performance gaming accessories. A recent example would be the $5.1 million purchase in June 2010 of TRITTON Technologies, a provider of premium gaming headsets that retail from $69.99 to $169.99. Since the acquisition, TRITTON has already contributed over $20 million to Mad Catz revenues compared with $8 million for the 12 months prior to the acquisition, and is poised to contribute even more with the recent Microsoft agreement (explained below).
In its latest December 2010 quarter, Mad Catz derived 40% of its sales from outside North America. Also, besides its headquarters in San Diego, Mad Catz has operations in Greater China, which are responsible for some product development but mainly to manage the outsourcing of manufacturing of company products to contract manufacturers in South China.
Valuation
In its conference call, Management indicated that they expect that factors that contributed to their outstanding December 2010 quarter will continue to drive growth going forward. This assessment by management is supported by several factors including an improvement in the global economy that is likely to lead to higher sales of videogame consoles and videogame accessories and also company-specific initiatives that may lead to higher top-line revenue growth.
Chief among these company-specific initiatives is the recent February 2nd exclusive agreement with Microsoft to produce licensed, co-branded wireless headphones for XBOX 360®. This deal may further accelerate revenue growth going forward as Global XBOX® sales are running at 40 million units annually and the TRITTON branded headphones are premium-priced at between $69.99 and $169.99, so even if Mad Catz captures an insignificant 3%-5% additional share of that market based on the agreement, it will be a significant upside to current sales revenue.
And while the company pushes on the top line by having its strongest portfolio of new products in Mad Catz's history, it is also equally focused on pushing more of this growth down to the income statement, as is evidenced by the lowest operating expense ratio ever of 11% of sales this quarter, down from 17% in the December 2009 quarter and 21% in the December 2008 quarter (see Table above). Gross Margins however were lower in part due to fluctuation of FOREX rates compared with the prior period, and also due to a change in sales mix toward lower margin Rock Band 3 related products.
The stock currently trades in the $1.60s, a level at which it traded twice recently in March 2005 and June 2007. However, the company generated $52.8 million in revenue and 7c earnings per share in the prior December 2004 quarter and $36.5 million in revenue and 7c earnings per share in the prior December 2006 quarter. (The number of shares outstanding were 54 million in 2005 and 2007 compared to 56 million currently.) So, with $93 million in revenue and 16c earnings per share in the current December 2010 quarter, roughly double the revenue and earnings level compared to the two prior quarters when the stock traded at these levels, the stock appears cheap and is poised to appreciate from here. This is even more so considering the strong 90% year-over-year revenue growth rate in the current quarter v/s the less than 10% growth rates in the prior years.
Also, the company trades at a discount to peers operating in the videogame accessories 'space', including Electronic Arts Inc (ERTS), a developer of videogame software and content; Take-two Interactive (NASDAQ:TTWO), a developer of videogame software, hardware and accessories; and THQ Inc. (THQI), a developer of videogame software.
| | | | | |
| --- | --- | --- | --- | --- |
| | (MCZ) | (ERTS) | (TTWO) | (THQI) |
| Current Price | $1.61 | $18.40 | $15.97 | $5.60 |
| Projected 2011 Annual Rev ($m) | 180+ | 3850 | 1200 | 875 |
| Market Capitalization ($m) | 90 | 6200 | 1360 | 380 |
| Price-to-Sales (NYSEARCA:PSR) Ratio | <0.50 | 1.6 | >1.10 | >0.40 |
| Current TTM Earnings | 0.18 | 0.52 | 0.85 | (0.38) |
| Current PE | <9 | >35 | 18 | NA |
| Current Top-line Revenue Growth Rate | 90%+ | Negative | 20% | Negative |

As is evident from the Table, MCZ trades at a steep discount based on both current Price-to-Earnings (PE) ratio as well Price-to-Sales (PSR) ratio compared with its peers, while at the same time exhibiting much stronger revenue growth.
The company currently has no analyst coverage, and there are no analyst estimates for future quarters. However, assuming say even a modest improvement from the 18c TTM annual earnings to say 22-25c for the March 2012 FY, and applying even a nominal 12-15 PE to that would yield a price target of $2.50-$3.50+, almost double the levels at which it trades currently.
But of course, the stock over time and with some consolidation could well exceed those levels as growth might well exceed the nominal estimates made above, in part due to momentum from the TRITTON brand and with help from the recent Microsoft XBOX® agreement. Further, Institutions currently hold only 5% of the total shares outstanding or less than $3 million worth, so any buying pressure from Institutions on recognition of this growth story may lead to a higher growth premium being built into the stock price.
Disclosure: I am long MCZ