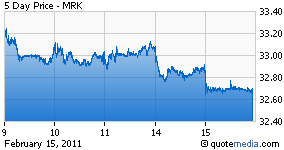 Merck (NYSE:
MRK
) shares have dropped significantly in the past couple weeks and I think now is a good time to start accumulating these shares. Today, shares are trading at $32.69, down from a 52 week high of about $39. Shares dropped when guidance disappointed some investors during the conference call. I think the drop is overdone as MRK is still estimated to earn about $3.72 per share for 2011 and almost $4 in 2012. The markets have had a great run with many investors chasing higher risk stocks. Drug stocks like Merck are seen as more defensive and less exciting when markets are running hot, but they tend to perform much better than high risk stocks do when markets correct. In the past few quarters, the markets have tended to rise into earnings season and correct shortly thereafter when strong earnings take a backseat to geopolitical, economic and other headline concerns. If we see a market correction, many investors are likely to rotate back into "boring" stocks like Merck for safety and a rewarding dividend.
The dividend yield on Merck is one of the highest in the Dow index and right now the yield is about 4.6%. MRK also has an excellent balance sheet with plenty of cash to fund drug development.
Merck has about 20 promising drugs in development. Their new drug pipeline include about 18 drugs in phase two, 19 in phase 3, and 6 more candidates which are under review. For more detail on the pipeline which has candidates for everything from asthma, to cancer to diabetes, visit Merck's
website
.
On all fronts MRK shares promising from these levels. MRK shares offer investors a low pe ratio, a dividend yield that is about 4.6%, earning per share that could support continued dividend increases, and a number of promising new drugs.
My strategy (as usual) is to take an initial position into MRK which I will average into over the coming weeks. This will allow me to take advantage of any further market weakness caused by either specific weakness in Merck or the drug sector as well as any market weakness or corrections. In the meanwhile, I will be collecting dividends of 38 cents per share each quarter. The next dividend should be declared in March and made payable around the first week of April. I won't be surprised if MRK announces a small increase in it's dividend rate this year. If you want to generate additional income on these shares, you may want to sell out of the money call options as I plan to do.

Disclosure: I am long MRK.