In light of the events unfolding in the Middle East, I thought it would be worth taking a look at how ETFs trading on US exchanges that correspond to the Middle East are faring, and where they may be headed from here.
First, to recap the situation, we've seen the following over the past several weeks:

1. Regime change in Egypt
2. Protests and demands for regime change in Algeria, Bahrain, Iran, Yemen, Tunisia
3. A number of catalysts have been cited for this popular uprising, though one common theme is a rise in food prices.
Below is a chart corresponding to GULF, an ETF consisting of publicly traded companies having their shares listed on a major stock exchange in Bahrain, Egypt, Jordan, Kuwait, Morocco, Oman, Qatar or the United Arab Emirates.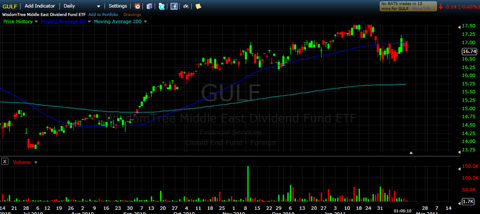 Click to enlarge


We see price begin to decline as the revolution in Egypt progressed. As I believe we will see a contagion effect here -- meaning regime change spread throughout the Middle East -- I think we may see further price declines. In terms of technicals, I think rallies may be a good opportunity to initiate short positions, particularly if the market remains below key moving averages.

While GULF has rallied over the past few days at the time of this writing, volume has declined during this time (a case of volume divergence). In my opinion, this strengthens the case for additional moves down in GULF.


As always, feel free to share your insight and questions in the comments area below.

Disclosure: I have no positions in any stocks mentioned, and no plans to initiate any positions within the next 72 hours.