The severe weather across much of the country took a bite out of retail sales in January, as promotional activity and gift card redemptions were not enough to offset the effects of winter storms, limited winter merchandise stocks, and consumers who seem to be mired in a post-Holiday hangover.
The Commerce Department reported this morning that Advance Estimates of U.S. Retail and Food Services sales for January rose an adjusted 0.3% from the prior month to $381.6 billion, below the 0.5% gain analysts were expecting, while sales increased 7.1% (unadjusted) compared to the year-ago period. This was the seventh straight monthly increase and 15th straight year-over-year gain after 15 consecutive months of declines, which was the longest such streak on record.
Total sales excluding Autos were up 5.4% in January from the year-ago period, while total sales less Autos and Gas Stations showed a 4.5% year-on-year increase. Nominal sales have finally returned to peak levels – for the second straight month total adjusted sales reached record levels, slightly above the previous high set in November 2007.
For the month, Auto Dealers (+15.9% YoY / +0.5% MoM), Gas Stations (+12.2% YoY / +1.4% MoM), and Nonstore retailers (+13.4% YoY / +1.2% MoM) were among the strongest gainers, while Department Stores (-0.9% YoY / +0.5% MoM), Furniture & Home Furnishing Stores (-0.2% YoY / -0.3% MoM and Electronics & Appliance Stores (-0.7% YoY / +0.3% MoM) were the laggards.
According to the National Retail Federation (NRF), retail industry sales (which exclude automobiles, gas stations, and restaurants) for January increased 0.2% seasonally adjusted from December and 3.5% unadjusted year-over-year.
"In spite of the economic uncertainties that still exist, consumers are clearly demonstrating their desire to spend on discretionary items once again," said NRF President and CEO Matthew Shay. "The industry is certainly benefitting from the renewed confidence we're seeing in shoppers, although sustained growth in 2011 will largely rely on improvement in key economic indicators like employment and housing."
While consumer confidence continues to improve and the job market has shown signs of stability, this retail rebound faces significant headwinds.
Gas prices continue to creep up and are currently more than 20% higher than a year ago at $3.15/gallon and the highest since October 2008. According to America's Research Group, 65.% of consumers will slow their spending when gas hits $3.75 a gallon, which is nearly double the 38% who cut back spending when gas hit $4.00 a gallon several years ago.
Adding to retailers' woes, surging cotton prices and increasing manufacturing costs in historically cheap-labor countries such as China and India will force companies to make tough decisions as far as passing on costs to penny-pinching consumers vs. crimping margins.
We are anxiously awaiting the flurry of Q4/fiscal year earnings reports over the next few weeks and will get more clarity on the outlook for the rest of 2011, as well as what retail executives have to say about the challenges they are facing.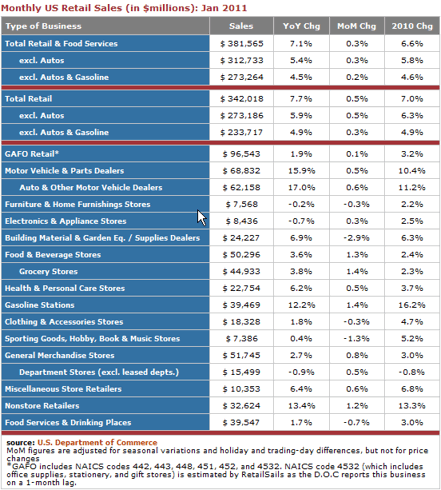 (Click to enlarge)
Disclosure: I have no positions in any stocks mentioned, and no plans to initiate any positions within the next 72 hours.