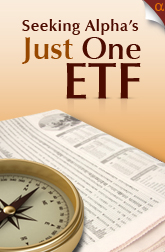 Several times a week, Seeking Alpha's Jason Aycock asks money managers about their single highest-conviction position - what they would own (or short) if they could choose just one stock or ETF.
---
Bob Barry formed Barry Capital Management, an RIA based in Hackettstown, N.J., in 1995. A CFP, he previously served as chapter president in the International Association for Financial Planning; worked on its merger with the Institute of Certified Financial Planners; and served as the first elected national president of the new entity, the Financial Planning Association.
Which single asset class are you most bullish (or bearish) about in the coming year? And what ETF position would you choose to best capture that?
On balance we tend not to make big sector bets, but we do like information technology as a niche strategy for this year. We think that there are considerable benefits across the sector and we're hopeful that this position, which we put into all four of our model portfolios back in early 2010, will continue to add additional alpha.
We have been using Vanguard Information Technology ETF (NYSEARCA:VGT) exclusively to fulfill this mandate. While there are other alternatives at different capitalization ranges and across other subsectors, we like the exposure via a broader based cap-weighted index such as this. To our way of thinking, if investors can garner returns in this cap range, they'd prefer to secure those gains with the larger-cap names in this segment of the sector than to hunt and peck in a swath of lesser-known names and leaner market caps. The 2008 anxiety hangover can be calmed somewhat with the familiarity of nearly 98% coverage of the U.S. market cap.
Our belief is that the larger-cap/broader exposure makeup of this fund gives investors something easier to recognize. This, we feel, will make our job of keeping them invested considerably easier, as we can balance any short-run volatility with a purposeful conversation on company quality and proven track records; as opposed to trying to rationalize lesser-known products, companies and lines of business.
How does VGT fit into your overall investment approach? Tell us a bit about your strategy and goals.
We pride ourselves on being able to use our comprehensive financial planning approach to capture the day on client emotions, keeping them grounded based on overall portfolio returns that are tied specifically to policy implementation and goal achievement. The quieter the portfolio, the easier the "ride" for the client and the fewer challenges we're faced with in managing investor stress.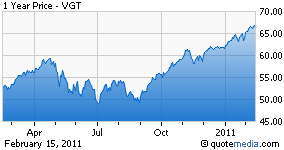 Our goal in the sector, as noted, is to participate in the broadest sense and add incrementally to our overall model returns. Vanguard's broad market exposure and low expenses suits our style and our client's perfectly. While there's a higher correlation with VGT to the S&P 500 than some advisers might like, we think that given a balance between the behavioral issues for investors and how those issues manifest themselves within the confines of "relationship management" we think we get the best of both worlds: sector participation and foundational support in the high name recognition and Vanguard's branding and history.
Tell us a bit more about the sector. What makes it your top pick?
We think that this sector has, at its disposal, adequate cash and opportunities to sustain a meaningful effort in the near term. While the sector will face some inevitable fits and starts, we think that consumer demand and corporate demand will be strong. When economic times call for "nimbleness" and innovation, the tech sector is "tooled" to perfectly take up the challenge.
How does your view compare with consensus sentiment on IT?
The overall sector view we believe is that one of the first areas that will benefit from a loosening of the purse strings is IT. First, it had been one of the hardest hit when corporate cutbacks came in; secondarily, we think that the view is, in part, that it's easier and cheaper to let technology pick up the work-to-worker productivity gap than it is to add jobs and increase payroll.
Where we may differ with the general consensus in the sector is on two fronts, and ironically, one of those is a potential negative and one a potential positive.
We think that there will have to be some cannibalization in the sector; the shift from mainframe computing to cloud-based computing has inherent in it some pragmatic difficulties. The positive is that we think that the consumer side of the demand is likely to be even higher than the corporate side, as expenditures heat up to both (a) keep pace with the content flow and (b) prove a worthy alternative to travel, vacations and buying bigger and bigger televisions and sound systems.
Also, the shift in social media vs. "Web-based" enhances the market for "walk-n-talk" devices such as smartphones and tablets like the Apple (NASDAQ:AAPL) iPad.
What catalysts, near-term or long-term, could move the sector significantly?
We remain cautious in the regard that in this sector as with the overall market, it's easier to imagine things going wrong than it is to imagine any single thing going particularly right. But that being said, we think that the "top-heavy" nature of this ETF can be a concern, there's a high concentration in the largest holdings and we think that the onslaught of "cloud computing" might prove to be a shorter-term impediment, but a potential game-changer nonetheless.
Let's delve into the top-heaviness a little. More than 25% of VGT's success has been tied up in Apple (AAPL), Microsoft (NASDAQ:MSFT) and IBM (NYSE:IBM). As those firms go, so go all the broad tech ETFs. For those bullish on the sector, do you think there's any added benefit to be had from subsector funds, like hardware (NYSE:IAH) or semiconductors (XSD, SMH)?
We do think that there's potential value in the subsectors, but not at our firm and not within our models, because it's not how we market our services. If and where risk profiles allow for more short-term volatility, we think that there can be added value by allocations to the subsectors. We do however see this as a more complicated bet since to our way of thinking, you'd have to be making decisions based on system configurations and inventory.
What we love about the broader story is that it's easier for a broader audience to relate to the overarching theme. They're bombarded with technology-related news and advertising and you can make a pretty rational case for the sector without having to delve too far into "what's under the hood."
Most clients, at least at our firm, want to know that "the car is going to start and run efficiently" - beyond that, they don't care very much about the underlying mechanics of how or why. Perhaps it's our planning orientation that leaves us with the conclusion that the broader theme is easiest to get buy-in on, and with that, easier for our clients to remain committed to the strategy.
InformationWeek's survey says 55% of firms expect to increase IT spending this year, most of them by more than 5% - with much of the increase going to services. VGT is correlated fairly well with the Technology Select Sector SPDR (NYSEARCA:XLK), but is heavier on services firms vs. XLK's exposure to telecoms; might VGT be a more pure play on services spending?
We do think that VGT is strongly positioned to take advantage of the services spending play. At our own firm, our IT budget has gone through a dramatic change with a shift almost entirely out of hardware and support to cloud computing and services. As that's happened, our system configurations and devices (note that a few years ago "devices" wasn't even a term in the mix, largely) have had to keep pace; we've been in on every iteration of the iPhone and iPad and now consider them necessities.
Our support costs have dropped nearly 90% and our budget internally is now based more on subscription costs for cloud-based services. This relates back to the point we've advanced on subsectors; we think that specific hardware configuration and manufacturing of the components thereto, while also "enticing," are harder to define and determine.
What could go wrong with your pick?
If we go through an extended period of negative consumer and corporate economic sentiment and the "willingness" to walk the transom cash-in-hand subsides, we could be in for a less profitable ride. As it relates to personal buyers, just given the amount of content being created, we see this as an unlikely outcome, but it remains a near-term concern. Fragile as investor psyche is; we don't see it taking much to limit shopper willingness and enthusiasm.
While the sector may to some extent be able to drive activity within its own ranks, merely trading goods amongst the sector itself might be "activity" but we don't know that it's the kind of activity that necessarily impacts the bottom line of anyone of any import. On the corporate side, we think that the potential for "skimping" is far less likely, with "roles" and "goals" needing to be met across the corporate platform. At present we see technology as a well entrenched representative in the fight for profitability and increased market share.
You talk about personal buyers and "the amount of content being created"; what do you mean by that?
While we think that corporate buyers might be more sensitive to the economics in general and thereby reduce spending if we have any substantive retrenchment in the economy, we don't see this having as big an impact with the general consumer, because of the amount of content that is being created for use on consumer devices. With the continued production of "apps" of all kinds across mobile phone, tablet and even now desktop configurations - as well as conventional media's continued foray through sports, movies, music and more - we think that the consumer's appetite for these services will continue to increase and the desire to have the newest and most efficient devices on which to use these configurations will only increase. With Verizon's (VZ, VOD) debut of the iPhone upon us, the rumors of iPhone 5 in summer, and a possible new iPad before year end, the race in the consumer sector seems to have no real end in sight.
While corporate IT departments may make do with what they have - or scale substantive changes into out years when they expect revenue projections to be better, or at least more stable - again, we think that there's more of a chance of a "stall" in spending, corporate vs. personal.
Thanks, Bob, for sharing your choice with us.
Disclosure: Long VGT.
Read more Just One ETF interviews »
If you are a fund manager and interested in doing an interview with us on just one stock or ETF position you'd hold, please email us at Just One Stock.