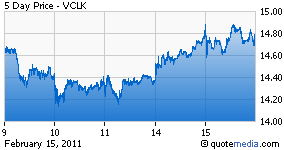 ValueClick (VCLK) is in the business of getting people to click on ads, and it appears they're doing it well.

The stock charged 9.5% higher to 16.23 in Tuesday's after-hours trade on the back of better-than-expected results and guidance.

With a strong near-term history of seeing more aggressive next-day trading following earnings-driven evening gains we would look to play the shares on the long side.

VCLK has recorded an earnings-driven after-hours gain in 6 of the last 11 quarters tracked in our MT Pro database. Also, 83.3% of the time (5 out of 6 times) the stock followed-through in the same direction by the close of the next day's regular session compared to the Extended Hours "effective close." When it followed-through, the price closed further in the same direction on average by 9.4% (in 5 events) from the "effective close."

The strong historical data on the upside, combined with firm upside support in Tuesday's after-hours trade would have us looking at potential long entry points Wednesday between 15.90 and 16.20, an area that could see pops back into the lower- to mid-16s.

In Tuesday's after-hours trade, VCLK vaulted to an early evening high of 16.55 before coming under some sharp downside pressure that took it back to the 15.83 area. It bounced between 15.91 and 16.50 before stabilizing in a tighter upside range between 16.16 and 16.40 through the mid-session and second-half of evening trading.

A pre-market open Wednesday may have potential near levels surrounding 16.20.
Disclosure: I have no positions in any stocks mentioned, and no plans to initiate any positions within the next 72 hours.