We never know what news or global event will spark a flight to safety; could it be yesterday's disappointing retail sales report? While we can't predict what market events are on the way, we can look at the economic calendar for clues. You may want to bookmark this page and check it over the next two weeks.
February 16, 2011: Housing starts, producer price index, and industrial production.
February 17, 2011: Consumer price index, jobless claims
February 18, 2011: Ben Bernanke speaks
February 22. 2011: Case-Schiller, consumer confidence
February 23, 2011: Existing home sales
February 24, 2011: Durable goods, jobless claims, new home sales
February 25, 2011: GDP
February 28, 2011: Personal income, pending home sales
One of our market models, based on thirty years of market history, has moved into the low end of an unfavorable range relative to the outlook for stocks (NYSEARCA:SPY) over the next six months. As we guesstimated on February 9 (see calendar below), it is prudent to have a correction strategy in place since the odds of a pullback kicking off in the next two weeks are too significant to ignore.
The table from 02/09/11 is still relevant.
The market model says "be ready for possible pullback" (click to enlarge images):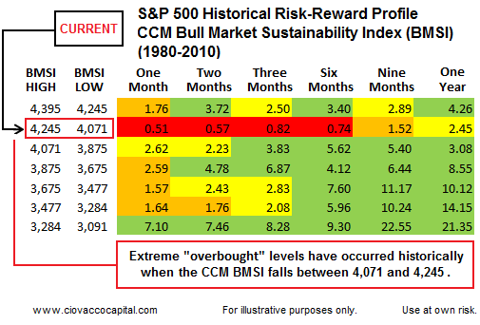 Click to enlarge
In terms of strategy, not much has changed relative to our comments made in Bears May Be Taken to Woodshed During Next Correction. That post provided a shopping list of ETFs we will consider during a correction. We remain happy to hold our long positions, including IEZ, XLE, XLI, and SCHB. However, we are very reluctant to start buying from the ETF shopping list, which includes RJA, SMH, OIH, JJG, and VGT.
While we are concerned about a correction, the short-term health of the S&P 500 has been improving again recently, which speaks to the strategy of holding our current positions for the short-term.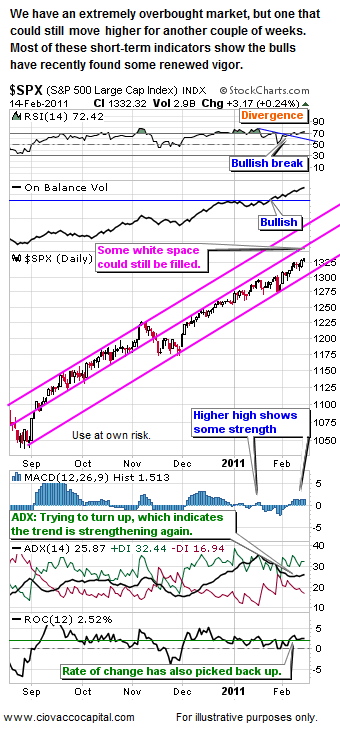 The next two to three weeks could be very interesting – stay tuned.
Disclosure: I am long IEZ, XLE, XLI, SCHB. Generally, I am long global stocks and commodites