Hudson City Bancorp (NASDAQ:HCBK), the nation's largest thrift institution, has been showing up on many value stock screens after hitting a new 52-week low. Although the company reported fourth quarter earnings that beat expectations ($0.25 EPS vs. estimate of $0.22), this was a decline from Q4 2009 earnings ($0.28 per share). In addition, Hudson City's Chairman and CEO Ronald Hermance stated that this downward trend in earnings from Q4 2010 would likely continue throughout 2011. Numerous analysts have downgraded the stock and investors have been dumping shares – starting from the day before the earnings announcement, the stock dropped over 17% within one week. However, given the company's growth over the past 10 years, this could turn out to be a tremendous buying opportunity for long term investors.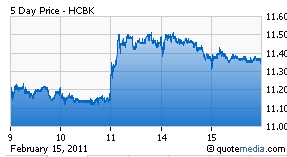 Hudson City Bancorp is the holding company for Hudson City Savings Bank, a savings and thrift company with over 130 branches located in the New York metropolitan area and a presence in 10 of the 50 most affluent counties in the U.S. The company has grown assets from $28.1B to $61.2B in the past five years alone, and is now ranked among the top 25 banks by assets. At its core, Hudson City has a very simple business model: be the low-cost provider that can offer the best mortgage rates to creditworthy borrowers. As the most efficient bank in America, it has proven its ability to keep expenses down and pass these savings onto customers in the form of attractive loan rates, particularly focusing on the jumbo mortgage market. So to determine the bank's potential over the next 3-5 years or more, investors must ask themselves, can the bank still find and attract these highly desirable borrowers? I believe they can, although they now have a new competitor that is very hard to beat.
In 2010, HCBK still originated $5.83B of mortgage loans. While this is a 3.8% decrease from the amount originated in 2009, it does clearly demonstrate that the bank can attract customers and underwrite mortgages. Furthermore, their origination efforts have been offset to a degree by prepayments of existing loans. As interest rates decline, more customers look to refinance their mortgage at a lower rate. So at best, the bank is now carrying a mortgage on its books that pays less interest. At worst, the refinancing is done by a competitor and the bank no longer receives any interest income from that customer.
However, I suspect this will slow down as we move through the credit cycle and interest rates are no longer declining. In addition, interest rates are being artificially held down by government intervention in the bond and mortgage market, but this level of intervention cannot go on indefinitely. And that leads us to my next point on Hudson City's new competitor – the Federal government.
In addition to originating its own loans, Hudson City also purchases mortgages from other financial institutions. To put it bluntly, this segment of their business has fallen off a cliff. In 2010, mortgage purchasing plunged to ¼ of the level in 2009 ($764.3 million vs. $3.16 billion, respectively). Why? The main reason is that government sponsored enterprises (GSEs) have been buying these loans instead, usually at a price that Hudson City cannot compete with. According to Hermance, 90% of all purchasing was done by GSEs in the last quarter of 2010 meaning that everyone, including Hudson City, was crowded out of the secondary mortgage market by the federal government.
In an attempt to combat the downturn in the real estate market, Congress raised the limit for conforming loans from $417,000 ($625,500 in high cost areas) to $729,750. In other words, they made it possible for Fannie Mae (OTCQB:FNMA) and Freddie Mac (OTCQB:FMCC) to enter the jumbo mortgage market. The higher limit was set to expire at the end of 2010, but Congress extended it through September 2011. However, this most recent extension only marginally passed in the House (228-194), and given the current Republican majority in the House, along with their clearly stated goals of reducing the deficit and reforming GSEs, it is highly unlikely it will pass again. So in September, the conforming loan limit could drop to $625,500 in high cost areas, and possibly even lower nationwide.
In light of all the challenges and uncertainties, Hudson City's CEO has been intelligently positioning the bank for long term success. He has publicly stated that he will not expand the bank's assets in order to pursue new business at a level that is unprofitable to Hudson City in the long term, and continues to stick with a conservative underwriting approach. He has also been expanding the bank's MBS portfolio, adding variable rate securities that balance the fixed rate mortgages on its books and hedge against the potential rise in interest rates.
Given the track record of both the company and its management over the last 10 years, as well as the growth potential for the company as government intervention declines and the mortgage markets normalize, I think Hudson City presents a great buying opportunity at this price. In the meantime, I am happy to collect the 5%+ dividend.
Disclosure: I am long HCBK.