Yingli Solar (NYSE: YGE) reported an extremely strong third quarter for their fiscal year 2010. Like many solar peers, all of YGE's metrics went up sequentially, as well as on a year over year basis. Unlike prior quarters that tainted the company's earnings in one fashion or another, Yingli's Q3 2010 earnings were perhaps its first relatively clean quarter in some time.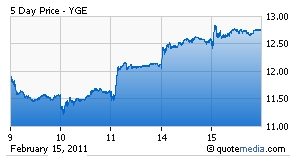 For the first time since the credit crisis hit in late 2008, most of YGE's operational metrics have come closer to normalized levels. Yingli's .44 earnings per share for the third quarter was a glimpse of their true earnings power which Wall Street may have incorrectly discounted due to the company's spotty recent reporting history.
Since this is my first write up of Yingli Solar, I will try to discuss more about the company than the earnings they reported for the prior quarter. It's more important to understand what differentiates solar companies than rehashing their earnings reports, which people can access through press releases.
YGE is a fully integrated crystalline based solar company. The company produces its own wafers, cells, and modules. On a capacity level, Yingli is easily among the top five globally, if not top three. As discussed in my prior articles, this business model cuts out the middlemen at each vertical and results in lower production costs. Being fully vertically integrated can also add other synergies, such as logistic benefits, which in YGE's case is centralized production for the vast majority of their capacity. Less steps involved and less people to deal with throughout the production process incrementally adds to cost savings.
The company has also standardized their production by producing solely multi-crystalline products which generally have lower production costs than their mono-crystalline counterpart. As a result, Yingli is among the global leaders in lowest processing costs at .74/watt for their most recent quarter. In the past year, YGE did take steps that diverged from this model, however. The company has added both upstream capacity with their polysilicon plant as well as downstream systems business. Both of these new verticals should have a very limited effect on their core operations of module production until they can be scaled up to higher ratios of their overall capacity. They have also added mono-crystalline production to cater to their higher efficiency second generation Panda product line.
Why did Yingli's earnings lag many peers during the past couple of years? Outside of one time charges the company periodically took, which in many cases were legacy effects that needed to be readjusted post credit crisis era, YGE never wrote down their silicon inventory. This was dramatically different as all of their peers wrote down their high cost silicon inventory as prices collapsed from over 400/kg to under 100/kg pre and post credit crisis periods in late 2008.
Instead, they chose to blend down their inventory costs gradually over many quarters. It took over a year of inventory cost blending to get their silicon costs closer to peers, who in some quarters recognized half the silicon costs YGE posted. In a sense, YGE's advantages were masked by metrics which were not yet normalized relative to peers. When these costs were eventually blended down closer to levels posted by peers, Yingli started to post margins which were in the top tier of their peer group at over 30%. It was not until their last quarter that they were able to blend their silicon inventory costs below 70/kg when some peers were at 50-55/kg.
As a result of the company's blended silicon costs reaching levels closer to peers, YGE should post another good quarter as they report their fourth quarter earnings. Although their blended silicon costs will increase slightly due to the company's spot market exposure, asp increases mainly due to currency should offset this cost increase such that per watt gross margins should be maintained.
A slightly higher blend of second generation mono-crystalline Panda products should also increase blended unit costs slightly, but at the same time should provide slightly blended asps due to the premium nature of this product line. At this point whatever earnings Yingli posts might be academic as everyone is looking forward into 2011, but as usual, I will give my estimates for the quarter then discuss how YGE is positioned moving forward. Normally, I excluded non-operating expenses such as foreign exchange translations, but for this quarter the amount as well as deviation should be small enough to be included without increasing the degree for errors too much.
Revenues: 587m
Shipments: 330mw
Asp: 1.74/watt
Unit Cost: 1.15/watt
Gross Profit: 196m
Gross Margin: 33.4%
Operating Expenses: 56m
Net Interest Expense: 14m
Forex Loss: 5m
Tax: 18m
Minority Interest: 25m
Net Income: 78m
Share Count: 160m
EPS: .49
At an initial glance, 2011 really does offer a lot of uncertainties for the industry. In the boom year prior, many companies in the industry increased capacity dramatically. If one were to look at the raw numbers, it's easy to see how there is a high degree of over capacity unless industry growth were to surge unexpectedly again to levels above the 25gw range. If industry shipments stay level or only increase moderately to the high teens of megawatt range, a good deal of industry capacity will probably not find a home. If history provides a guide then higher cost or lower tier producers will be impacted first while lower cost and higher tier companies gain market share at their expense.
Many companies that probably had no business expanding so aggressively during boom periods could find themselves in financial difficulties. On one hand, they could be blamed for reckless management, but on the other hand, return on investment was so high using boom period metrics that a single good year of business could provide an 100% payback on capital investments. Without another huge boom year however, one good year of business might be all some of this newer capacity will enjoy.
As a result, this year could be an extremely bi-polar year for the solar industry. As subsidies in key markets continue to go down, this might mark the last year of legacy higher cost producers whose businesses may have been set up only to take advantage of highly subsidized demand. Newer capacity, which easily found a home last year, could face a harder time finding buyers this year as bankability issue arise on brands with limited history.
In addition, a fair amount of the new capacity added in the past year is extremely fragmented in that they are single vertical capacities that have to go through several middlemen in order to complete the entire value chain. As gross margins on a per watt level contract as they must in parallel with subsidy cuts, fragmented capacity, even at lower cost levels, could find it harder to fill capacity since it results in the end product having a higher cost. In a sense, although there may be a lot of capacity built within the industry, not all of this capacity is "good" capacity. At certain points, "bad" capacity will simply be shut down since it's unlikely companies will operate for negative gross margins.
In contrast, Yingli's position within the industry is much different. As noted, YGE is a fully integrated producer with an industry leading low cost production. They have also spent years building up their brand and business relationships. The company does business with other key industry players who have a higher chance to maintain their level of business. In a more competitive buyer's market, YGE's competitive positioning with low cost and high bankability make the company's products a higher tier choice among larger, more established downstream industry players. As long as overall industry demand is above Yingli's peer group in costs and bankability, the company is likely to sell out their capacity and thus gain market share vs. those who cannot. This isn't as much of a bold prediction than that of history repeating itself when one looks at the solar industry in recent years.
If the thesis above holds, 2011 should be another year of growth for Yingli. Although the company's per watt gross margins will contract as average selling prices decrease, the rate of the company's shipment growth increase should exceed the ratio of per watt margin contraction. As a result, the company's absolute level of gross profits should increase and with economies of scale should translate to similar, if not better, net income metrics.
On a more analytical level, and based on the company's statements as well as other derived metrics, YGE should be able to ship more than 1800mw of products this year while per watt gross margins could contract from around .60/watt last year to around .45/watt this year under more conservative estimates. Although I don't want to make a general annual estimate ahead of the company's own guidance which they have yet to announce, at face value, the results YGE produces in the fourth quarter of 2010 should able to be annualized for 2011.
Due to seasonality as well as capacity expansion cadence, quarterly results could be more lumpy, but the overall annual earnings Yingli should be able to produce this year would put the stock trading at around the mid-single digit multiple level currently. The market ultimately puts a value on any company, but current valuations may be considered on the low side compared to mean historical market valuations given YGE's top tier competitive position.
Disclosure: I am long YGE.