"Buy one get one free" is a classic promotional offer, but rarely do you find a company offering this deal on its stock rather than on one of its products. Nevertheless, that is the offer that
Biglari Holdings (NYSE:BH)
, formerly known as Steak n Shake, is extending to its investors. According to SEC filings, Biglari Holdings Inc. is a diversified holding company engaged in a number of diverse business activities. The company has operating subsidiaries in two main areas: restaurant operations and investment management, and its long-term objective is "to maximize per-share intrinsic value of the company". So, it's safe to say the company is not just flipping burgers and mixing up milkshakes. It is vital that investors understand all the divisions of the company, as well as management's plans for future growth, in order to assess the potential risks and rewards of investing in Biglari Holdings.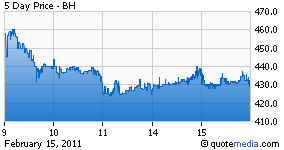 The restaurant operations consist of Steak n Shake and Western Sizzlin. Steak n Shake is a restaurant chain with ~500 locations throughout the country that has been serving up "the finest steakburgers" and "hand-dipped milkshakes" to customers since 1934. However, in 2006 the company's profits began to slide, and its stock price followed, making it a target for value oriented investors. By November 2007, hedge fund manager Sardar Biglari established an 8.6% stake in the company through his hedge fund, the Lion Fund. Less than a year later he was named chairman of the board and subsequently CEO following a proxy battle and shakeup of the company management.
So far he and his business partner, Philip Cooley, have been successful in their efforts to turn around the company. Biglari immediately began reviewing the entire budget and tax liabilities for the company and identified areas that could yield significant savings. His tax-consulting project resulted in a $16MM tax refund from fiscal year 2006, and by 2009 capital expenditures had dropped to $5.6MM (compared to $31.4MM the year before) - the lowest level of the entire proceeding decade. At the same time, customer traffic and same store sales turned positive in Q2 2009, after 17 quarters of straight decline, and the business posted positive operating income. On March 30, 2010, Biglari Holdings completed a $23MM acquisition of Western Sizzlin, where Biglari also served as CEO, consolidating his restaurant holdings. Biglari has clearly stated that the Steak n Shake operations will follow Western's strategy of pursuing growth through franchises and real estate holdings, instead of opening additional store-owned locations.
Despite management's success so far with the restaurant operations, investors should not overlook the other areas the company is involved in. In addition to restaurant operations, Biglari Holdings also has operating businesses that are involved in asset management. These include Western Advisor, a registered investment advisor that manages $45 million for clients, Western Realty L.P., which holds real estate investments, and Biglari Capital, which is the general partner of The Lion Fund, L.P. The Lion Fund is the hedge fund Biglari setup 10 years ago, and it continues to operate under Biglari Holdings. So investors quite literally own a hedge fund, which receives performance-based fee from its investors and in turn pays these fees up to the parent holding company.
Biglari's personal compensation has also been redesigned and modeled after the performance-based fee structure typically used by hedge funds. According to the incentive bonus agreement shareholders approved last year, Biglari is entitled to receive a performance bonus based on the change in book value of Biglari Holdings. Specifically, he receives 25% of any increase in the book value above 6%, with annual high watermarks. For example, if the company's book value is $100MM and it increased by 10%, Biglari would receive 1% of the book value [(10%-6%)/4], or $1MM as a performance bonus. This is on top of his base salary of $900,000, as well as the natural increase in net worth he would experience from simply being an owner of the company's stock. To be fair, Biglari is required to invest 30% of the post-tax amount he receives back into the company through stock purchases on the open market. In addition, the performance bonus is capped at $10MM, so he does not have unlimited upside. Still, it feels as though Biglari is creating a hedge fund (poorly) disguised as a stock, rather than being a true partner with his shareholders.
Overall, management's ability to quickly identify problems in the operating businesses and make improvements has been very impressive. The restaurant operations have been improved and are generating positive net income again. Furthermore, Sardar Biglari has a track record of successfully managing money and producing strong returns. However, Biglari Holdings is starting to display the lack of transparency and high "fees" that are typical of the hedge fund industry. Investors should be sure that they understand the company is not a "pure play" restaurant investment, and that they are comfortable with the approach that the CEO is following.

Disclosure: I have no positions in any stocks mentioned, and no plans to initiate any positions within the next 72 hours.