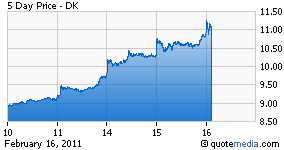 Delek U.S. Holdings (NYSE:DK) is a company of three divisions. These division are petroleum refining, marketing and supply, and retail convenience stores. Being a refiner, it is fairly obvious this company has been on a tear, as the whole sector has. Delek has a niche refinery capable of 60000 bpd. The refinery has a 9.5 complexity. It has 420 retail locations in eight states. It owns and opertates pipelines and terminals in Texas. This company also has 34.6% interest in a 75000 bpd refinery located I Arkansas.
The refining segment of this company is seeing better Gulf Coast refining economics. There has been a year over year increase in 532 Gulf Coast crack spread. Delek has experienced an improved distillate crack that has helped to offset the lower gasoline crack spread. Delek has also stated that there has been a noticeable change to an improving economy.This company is also seeing lower capital expenditures for 2011, completion at Tyler completed.
The Tyler refinery was impacted in July and August of last year for maintanence which affect throughputs. While offlne in the third quarter of last year Delek accelerated discresionary maintainance. Market conditions are still favoring the Tyler location. Tyler currently produces 59% gasoline, 37% diesel and jet fuel, and 4% is other, while 3% of production is petrochem.
Delek has plans for a significant decrease in capital spending this year. Delek's capital expenditures for the refining segment usually comprise 70% to 90%. It has very few regulatory projects remaining. It seems Delek is planning to spend its extra cash on stock buybacks and M&A if the opportunity presents itself.
The retail segment has seen a recent improvement. Same store sales have rebounded. Favorable ethanol economics have benefitted margins. 30% of stores have been remodelled. It has added quick service resaurants to locations. Delek is currently looking to sell lower performing assets, and use the money to pay down debt.
Since Sept. 30, 2010, Delek has been remodelling its store base with the goal of 30% of the total stores. A significant increase in merchandise sales will help to fund this project. Delek would like to focus new construction in high growth areas such as the Southeastern United States. This remodeling seemed to have worked as year over year as increased gasoline was sold (2.8%) In the legacy stores, the 70 reimaged stores had a gasoline increase (3.8%). Same store merchandise sales were 4.2% while the reimaged stores were up 6.8%
Delek has decided to carry more unbranded merchandise as they capitalized on this during the recession. These products are higher margin and cheaper for the customer. Delek's fresh food services has helped provide better profits and volume.
Delek' marketing and logistic segment. Company owned pipelines pump oil to the Tyler refinery. Annual cap ex for this segment is one million a year from 2006 to 2009. The marketing aspect of it business has seen steady improvement the last five quarters. Look for this part of the company to have a steady profit in upcoming quarters.
Delek's production in 2007 was 63% refining. In 2008 that number decreased to 47%. In 2009, it changed to 61%.
In summary, this company has many things going for it, but I am not as bullish as I am with some of the other refiners. I do like this company but only on its refining division. They should continue to see small to moderate growth out of their retail section. The refining division is different as we may see large margin improvement and a steady increase in production. This stock has really been ripping. I would buy on pullbacks.
Disclosure: I have no positions in any stocks mentioned, and no plans to initiate any positions within the next 72 hours.