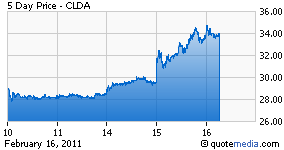 Shares of Clinical Data Inc. (NASDAQ:CLDA) were on the move Tuesday, flying up to 17% higher on more than triple the average volume before modestly pulling back to close 14%higher on the day.
No news was released in conjunction with the surge in CLDA share price, although the CEO of the company raised some eyebrows when he cancelled his scheduled presentation at the 13th Annual BIO CEO & Investor conference taking place in New York City on Tuesday.
Talk of a buyout by a large pharmaceutical company has been the subject of speculation since the approval of the antidepressant drug Vilibryd last month, and the last-minute cancellation of the CEO's presentation has many investors now believing that an announcement is close.
It's also possible, however, that the sharp spike in price was related to short covering and an updated price target from a Wedbush analyst, who is now stapling a $42 expected price tag on the stock.
Vilibryd, with its favorable side effect profile, is expected by many to leap to the front of the antidepressant class and ultimately rake in about $2 billion in annual sales, assuming additional approvals around the globe.
Those lofty expectations would make the current trading prices look like a steal in the long run and heavily justify the Wedbush price target, but it's also worth noting that Clinical Data is now a billion dollar company and doesn't even have its product on the market just yet.
Jumping in at this point, near the assumed highs, could still be risky.
That said, Clinical Data's pipeline is robust enough to support continued long term growth, should any additional markets make it to market. A Phase III trial for Stedivaze in cardiac stress testing is underway as of November of last year, with a second Phase III trial scheduled for 2011.
Additional earlier-stage products treating various indications only offer more potential value to a prospective buyer of the company.
Regardless of any pending announcements, Tuesday's significant spike in price after the cancelled corporate presentation has the rumor mill swirling.
This stock has been on the move since mid January, how much higher can the speculation take it?
Keep an eye out for news.
Disclosure: I have no positions in any stocks mentioned, and no plans to initiate any positions within the next 72 hours.