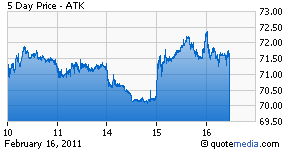 While most defense stocks like Lockheed Martin (NYSE:LMT), L-3 Communications (NYSE:LLL), Northrop Grumman (NYSE:NOC) and Raytheon (NYSE:RTN) are up approximately 10% this year, there is one that is down for the year so far. That stock is Alliant Techsystems (ATK), a manufacturer of ammunition, aerospace structures and rocket systems.
With a market cap in the $2 billion range, the company is a tenth of the size of the major defense contractors. It could make a nice acquisition target for a mid-size company like L-3 Communications, a European firm like Finmeccanica (OTCPK:FINMF), BAE Systems (OTCPK:BAESY), or a private equity firm.
Most of the company's $4.8 billion annual revenue is relatively stable and recurring. The U.S. Department of Defense accounts for approximately half the company's revenue. There is some concern that with military operations winding down in Iraq and Afghanistan, and the pressures on the U.S. defense budget, this revenue will decline. While this is a legitimate concern, the magnitude is probably overstated. Most of the ammunition used by the defense forces is used for training, which is independent of active military missions.
Ten percent of the company's revenue is from NASA, with approximately $100 million from the space shuttle program and $400 million from the Constellation program (meant to be the replacement for the space shuttle). This revenue is at risk as the space shuttle program is reaching the end of its life and Constellation faces significant opposition.
For the fiscal year ending March 2011, the company is expected to show net income of approximately $300 million or $9 per share, relatively stable with the year ago figures. The company is projecting free cash flow of $275 to 300 million. It has generated only $54 million in the first nine months, with a big increase in receivables, so this is a cause for concern and needs to be watched.
The company's pension plan had losses in the 2008 downturn, which are being amortized over five years. This has caused a $50 million (pre-tax) headwind. Effective 2007, new employees are not in the pension plan (only 401K plans), so the pension becomes less of an issue over time.
The company's capital management has been somewhat shoddy, with the company making acquisitions, hoarding excess cash, and issuing unnecessary debt. The company recently instituted a dividend amounting to $0.80 per share annually, and one hopes that this is a step towards returning a meaningful amount of cash to shareholders.
With sustainable earnings power in the $9 per share range, ATK shares should be trading at $90, in line with the valuation of other defense stocks. From a recent share price of $72, that's 25% upside.
Disclosure: I am long ATK.